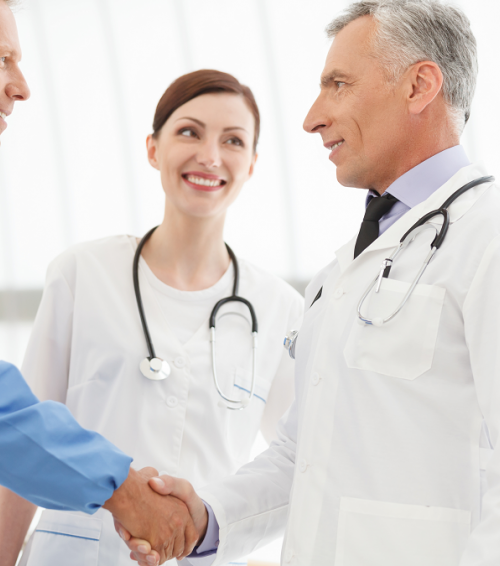 Locum tenens jobs vary in duration. I've done positions as short as one day — flying south, arriving at the clinic early in the morning, and heading back home later that night. No matter the length of your contract, here are three easy strategies you can use to help make a smooth transition upon your exit:
1. Put Patient Care First
When it comes to your patients, you'll want to prepare for a smooth transition as your days wind down. Perhaps you were covering for someone on leave for several months and have developed a somewhat steady patient population. Consider gently reminding your patients that their primary care physician will soon be returning to resume care. Helping them understand the transition will be made as smooth as possible can help alleviate some understandable fears.
Although electronic health records (EHRs) are widespread across many facilities, some still utilize paper charts. You may want to take short notes — particularly about patients you may be most clinically concerned with — so you can pass this information on to their primary care provider or the next locum. You could do this with a handwritten note placed on the patient's paper chart or with popup reminders in the EHR system you're using. A brief provider-to-provider phone call akin to "signing out" in residency may be appreciated, but if it's clinically pertinent, you may want to ensure the information is formally documented.
Lastly, if there are labs, imaging, or any other tests you've ordered for which you don't expect results before you leave, ensure you have a plan for a colleague to follow those up.
2. Communicate With Office Staff
It's crucial to inform the staff you'll be leaving. When appropriate, give them ample notice so they can plan accordingly. Front staff may need to change your schedule so you're given some extra administrative time to wrap up your clinical assignment. Perhaps the front staff will also need additional time to inform patients that follow-up appointments will be with the new or returning provider.
Provider call schedules need to be reworked, so the more time the administrative staff has, the easier the process will be for them. If you're set up with a work email account, consider adding an automatic signature response so your colleagues are aware of your upcoming departure. Inform your on-site contact person about your new address for any mail forwarding. Having an open attitude and communication with everyone can leave a lasting positive impression and keep the door open for possibly returning on a future assignment.
One extra tip: If you're using an institutionally-based UptoDate at your current assignment, consider claiming your CME credits before you leave. Once you do, you may no longer have login access to your account. Every little CME credit helps toward maintaining your medical license.
3. Stay Organized
Before leaving, don't forget to return any office keys, medical equipment, lab coats, etc. Collect and organize all work-related receipts for tax purposes. You may also want to review your employment contract to see if there are any responsibilities you need to fulfill before your departure.
You'll likely be in close communication with your locum tenens recruiter while you wrap up your assignment, particularly if you're switching to another job. Now is a good time to confirm a few logistics: Are your licensing and credentialing up to date? Is orientation all set up for your next job? Have you confirmed travel and accommodation details?
Or, perhaps not. If you're taking a break, then enjoy your time off — flexibility is one of the great perks of doing locum tenens work!
Do you have any suggestions on how to transition from a completed assignment? Share your tips in the comments below! Ready for your next role? Check out Barton Associates' open locum tenens jobs!