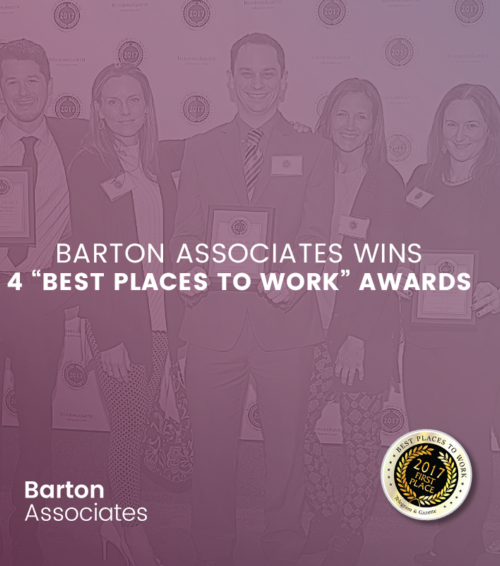 Barton Associates' Worcester, MA, office is the proud recipient of four awards in the Telegram & Gazette's annual "Best Places to Work" contest.
The Worcester office was recognized in the Small (1–200 employees) category for the following achievements:
Best Benefits Program
Best Boss (Vanessa Moriarty, Senior Manager)
Best Company Party
Best Workplace Culture
Barton Associates opened its Worcester location in January 2016 at 50 Prescott Street in Gateway Park. The Worcester office has nearly 18,000 square feet of prime office space and is just a short distance from great colleges, universities, and the city's bustling downtown area. Downtown Worcester boasts a plethora of delectable lunch options and easy access to the highway, and the cost of living is relatively low compared to other major urban areas in the Northeast.
"Our Worcester office is a melting pot of personalities and cultures," says Ian Kimberley, a senior fulfillment specialist in the Worcester location. "Our team is full of hard-working, driven individuals who are looking to build their careers and enhance their job skills."
The award-winning Barton Associates benefits package includes 401(k) with company match; health, dental, and vision insurance; gym-membership discounts; flexible spending accounts; and generous paid time off.
Barton Associates has eight locations in six states (MA, CT, NH, FL, TX, AZ) and is currently staffing for various roles in all its offices.
To learn more about working at Barton Associates, visit BartonCareers.com.