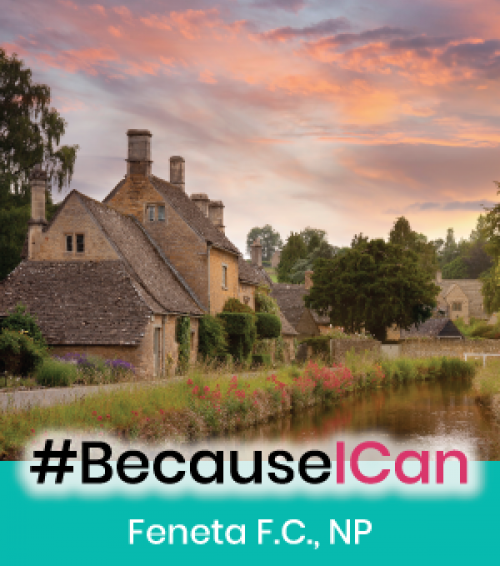 #BecauseICan is a Barton Associates campaign featuring the real lives of locum tenens providers and the reasons that they do locum tenens work. For all of the providers featured, the flexible nature of locum work allows them to live life on their own terms. Whether that means frequent travel, volunteer work, or extra time to pursue a passion, this campaign features great providers who live life on their terms because of all they CAN do with locums.
For these providers, the answer to the question "Why Locum Tenens?" is Because I Can!
Why Locums?
"Because, I love my life," said Feneta F.C. when asked about why she continues to do locum tenens work.
After severely breaking her leg in a skiing accident in the 1980's, Feneta went back to college to pursue a career in healthcare. She is a family practice nurse practitioner (NP) and specializes in urgent care and emergency medicine. For the past nine years, Feneta has been doing locum tenens full-time.
"I think it's actually made me, probably, stay in healthcare longer. I think, if I were working full-time, I probably would've retired by now."
"I have elderly parents back home in England, and this was a good way to enjoy life and then also, to be able to go see my parents when I wanted to," she said. A common positive attribute associated with being a locum provider is having the ability to build your schedule to meet your needs. "I love it because it does give you incredible flexibility and, for me, at this point in my life, this is very important," she said.
Feneta spends a majority of her time working on Cape Cod in Massachusetts. She not only loves the area, but, being a California native, takes solace in knowing it is a shorter flight to England if need be. "It's straight over to the east coast, which, when you're working, is something that I really want to be able to say, 'Okay, I might have to leave'," she said.
Locums v. Permanent
Having several years under her belt as a permanent provider, Feneta is easily able to compare working full-time versus being a locum. "Working full-time, you have your own patient set, you probably know what your day is going to bring, or, if you're in the emergency room, you know your hours. And, I think you probably have a little more home-time in the evenings, you're probably doing quite as much charging," she said. "As a locum, you tend to have a little less time because you are impacted a little bit more, but then, you also know that, at the end of the assignment, you have months or whatever time you want as free, and, to me, that's just worth a million dollars."
The Recruiter and You
An experienced recruiter can make all the difference in the world for a locum provider. As a recruiter, your job is to take care of your providers in any way you can. For Feneta, she got that and more. "When I first started doing locums I worked with two other companies, and then I met Barton and since then, it's been smooth sailing," she said. "The most important things for your recruiters: you want somebody who listens to you, knows you, knows what you want, what you don't want, and then the communication is open, and I think Vanessa (Feneta's recruiter) has always done that for me. And, unfortunately, some of the other companies, they don't do that. They don't pay attention to detail. I had this one person that continually texted me all the time about these jobs for veteran's affairs and, not being an American citizen, I cannot work there."
What's Next for Feneta?
"I definitely need to go to a couple of different states, like Montana," she said. However, Montana is not the only state on Feneta's bucket list. She also would like to see South Dakota, Texas, and Minnesota. As many locum providers do, Feneta enjoys traveling. Next, Feneta plans to return to England to visit her parents before returning to the United States and continuing her journey as a locum tenens provider.
Thank you Feneta for taking the time to speak with us! Safe travels!