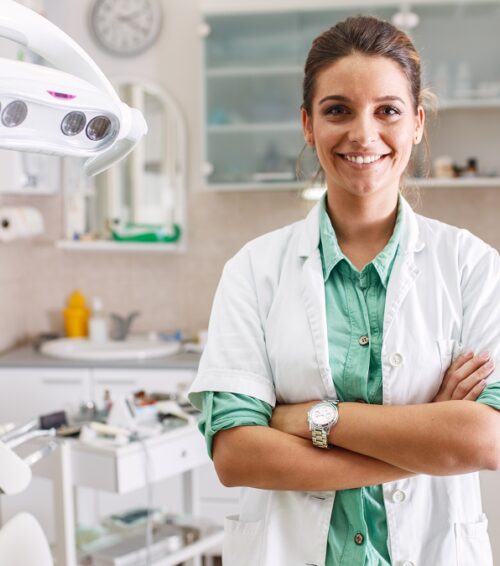 Since 2001, Barton Associates has been a leader in the locum tenens industry, placing physicians, nurse practitioners (NPs), physician assistants (PAs), and certified registered nurse anesthetists (CRNAs) on assignments across the United States. But did you know we also work with dental professionals and oral surgeons?
Barton Associates has dentistry assignments in a variety of practice settings and geographic locations, ensuring we have the perfect assignment to meet your personal needs and preferences. In the last calendar year, Barton Associates' dental professionals worked nearly 600 assignments, providing nearly 56,000 hours of dental coverage.
Looking for more information on what you can expect as a dentist working with Barton? You've come to the right place! Here are answers to our most frequently asked questions, designed to help you decide if locum tenens assignments with Barton Associates are a good fit for you:
1. What Kinds of Jobs Can I Work?
Barton Associates works with a broad range of dental professionals. While many of our available positions are for general dentists, we also regularly work with dental specialty providers such as pediatric dentists, oral surgeons, and endodontists. These positions challenge providers to work with a variety of populations and in many different practice settings, further diversifying their skill set.
But don't just take our word for it. We spoke with Dr. Dan S., a locum tenens dentist, to learn more about a typical day in his life on assignment. Dr. Dan has experience treating underserved populations in locations ranging from Wisconsin to Alaska, and he said this has taught him a lot about dental health in different parts of the country.
"There's always going to [be] multiple appointments, so it's just trying to help people out the best you can and answering questions," he said.
One of Dr. Dan's biggest takeaways from locums assignments? The importance of easing patient fear, a common aspect of dental visits. "You can pinpoint what [the patient] is nervous about," he said. "You talk it over ahead of time, and then they're in a much better mental frame of mind to process [the procedure]."
2. Where Will I Work?
When you choose to provide dentistry coverage with Barton Associates, you'll have the ability to see the country — and practice dentistry while you do it. We place providers from coast to coast, and in the last year, our locum dentists practiced in 38 of the 50 U.S. states.
Last year our most common assignment destinations for dental professionals were Alabama, Illinois, Ohio, Texas, and Wisconsin. We've placed dental providers across the nation, however, from North Carolina to California.
Locum tenens positions give you the opportunity to choose a practice setting you're familiar with or the chance to experience practicing in an unfamiliar setting to see if it's right for you. Our dentistry positions encompass the full suite of practice settings, including more traditional, private dental practices and mobile dentistry opportunities that allow our providers to take their skills on the road to where they are needed most.
Feeling adventurous? We also have nontraditional assignments that offer dentists the opportunity to get off the beaten path. When Dr. Dan worked in Alaska, he traveled by plane to treat underserved children in remote communities who had gone years without pediatric dental care. If you're looking for a new way to ply your trade, locum tenens could be a perfect match for you.
3. How Long Are the Assignments?
Working as a dentist with Barton Associates gives you the opportunity to choose an assignment with a duration that matches your schedule. Locum tenens assignments for dentists can last anywhere from a couple of days to a year or more. The average length of recent dental assignments was approximately two months; we also have assignments that offer locums the ability to provide coverage on an ongoing basis, with no fixed end date.
In addition to assignments of varying lengths, our nationwide network of dental facilities means we can match you with full-time openings, part-time positions, and everything in between. Whether you're looking to pick up a few extra shifts or seeking an assignment that takes you somewhere new for a month or longer, we likely have the perfect position for you.
4. What Are These Positions Like?
If you're a dental professional thinking about taking on a locum tenens assignment, you probably want to know assignment details such as how many patients you'll see in a day and which procedures you'll be required to complete. With Barton Associates' nationwide client network, we have assignments that vary in patient volume, from less than 10 cases per day to fast-paced assignments where a locum may encounter a greater number of patients. Many of our assignments will require the locum to see patients of all ages, including both pediatric and geriatric cases; however, we also often see positions looking specifically for pediatric or adult dentists.
While assignments vary, there are some that require applicants to be comfortable performing specific procedures. The most common is anterior and molar root canals. Whether you love to do these types of procedures or would rather steer away from assignments that might require them, we will work with you to find the right match.
5. How Can I Learn More?
We've done the work for you! Explore the current job market for dentists here.
Whether you're looking to take your skills to a new locale or simply to pick up a few extra shifts here and there, Barton Associates has a dental position for you.