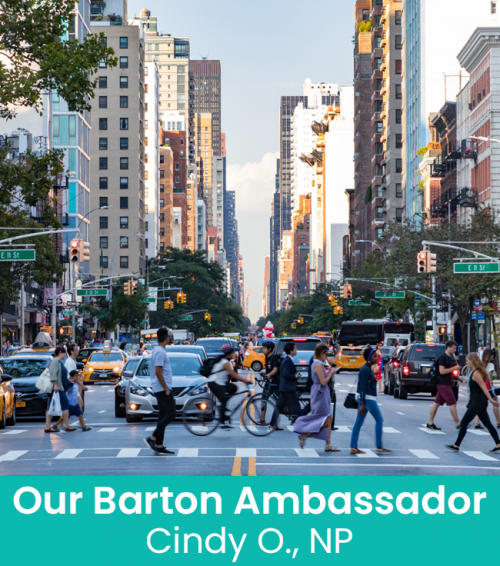 Cindy O. is a board certified nurse practitioner, locum tenens provider and our very first Barton Ambassador! With the help of her recruiter Adam C., Cindy has completed locum assignments throughout the east coast.
Earlier this year, Cindy has left her home state of Florida to take an assignment in New York, where she has been sharing her journey with us. The following blog post is written by Cindy, who teaches us a bit about cortisol for stress awareness month.


When doing locum travel, another advantage is having the time to finally do the "One day I am going to….." activities, because there is no grass to mow, meals to cook, house to clean etc. You literally go to work and return to your own apartment to do those 'one day' things.
My dream has always been to learn more about photography as a hobby and for work, become certified in anti-aging and open my own practice. Being in NYC during the worst part of winter allowed plenty of time to dive in, since weather definitely affects the ability to do anything else. I do believe if I did a study, I would probably find that the most famous authors, poets, artists were probably single, alone, and living in weather that forced them to work on their inner passion.
Since arriving to my assignment in New York, I have completed my board certification in endocrinology and I am now working on peptide certification. From trying new restaurants with my family and finishing certifications to taking new exercise classes (like aerial yoga!), locum assignments are the perfect time to try new things and accomplish your "one day" goals.
One of the things that I discovered in my anti-aging research is the effect of rising and falling cortisol levels on our bodies and aging. This is a result of stress! So since April is stress awareness month, I thought I would share this idea on this blog with tips on how to fix it. This is a brief description, not in depth, but you will get the idea as you read:
What is Cortisol?
Cortisol is a steroid hormone that has an important role in helping us respond to stress. It is important to have a balanced level: not too much, not too little. New experiences, if they bring stress, can make cortisol levels rise – this happens for all of us! For me personally, I know that my levels went up significantly, coming from a small town in the South and landing in the middle of one of the largest cities in America (with a car!)
How Did I Know I Had Too Much Cortisol?
WEIGHT GAIN: Even my face was rounder.
MUSCLE WEAKNESS: It was an effort to carry my purse, I thought it had a 10-pound brick in it! But it was the same purse!
ANXIETY: No one had to blow their horn for me to feel their horn blowing at me!
THIRST: I couldn't get enough water!!
SEX LIFE: I am single, and had no interest in changing that fact. Any thoughts of relationship were completely dismissed from my thoughts.
FATIGUE: I was sleeping, but always felt exhausted.
So, reversing this increase in cortisol is reversing potential aging. I have eight more weeks in NYC. I know if I continue to go in this direction, I am increasing my aging 10-fold.
How I'm Lowering My Cortisol Levels
LESS CARBS!: Stop eating the NYC pizza and bagels, and change to an anti-inflammatory diet, low in processed foods and high in antioxidants. So more blueberry smoothies!
MEDITATION OR MINDFULNESS: I had a car in front and bus behind me. The bus driver blew his horn because I wasn't moving when it was obvious that I couldn't move. This was raising my cortisol level by the second. So, I am designing a sign that I can hold out of my window while I deep breath that says, you blowing your horn is aging both of us, so please stop! I will move when the traffic moves.
TIME IN NATURE: Spending time outside to lower cortisol levels is in every piece of literature… but they don't live in NYC! It took awhile, but I did find several parks that were not in the "tourist" list that were actually cozy and nicer for feeling like I had an earth day. I could feel the difference as my cortisol level took a break. Unfortunately, driving to get to these places put it through the roof. But eventually with my new signs, I can fix that.
EXCERCISE: Muscle weakness is a sign of too much cortisol, so exercise is even more difficult. But after a big workout, I feel like I can take on any NYC cab driver one-on-one 🙂
SUPPLEMENTS: Yes, there are supplements that completely work to reduce cortisol levels naturally. Or at least balance them! Ashwagandha, astragalus, holy basil and rhodiola are my favorite picks.
It's Not Just New York
I know I am picking on New Yorkers and it seems unfair, so I thought about things that I grew up with that would raise a native New Yorker's cortisol level and not affect mine at all….here are a few:
On a really hot day in Florida, you can find a fresh water spring almost anywhere to jump into. The manatees congregate there to avoid the boats and not wanting to be cut by their propellers. You're likely to come face-to-face with these sweet sea cows….They are the size of cow, so if you don't know how gentle and sweet they are, they can be scary!
Hurricanes! We literally throw hurricane parties, it is a day to enjoy friends and family and go camping inside your house.
Gators are a real thing at home. I have fished on the bank of a river with a cane pole and when I stood to leave, the item I thought was a log raised up with me and went the opposite direction. I have water skied and fell into lily pads on the suwannee river feeling the tails of the gators rub against my legs and never missed a beat.
Thanks to the the flexibility of locums, I get to head back to Florida for a break next week!
By knowing what events are likely to raise your cortisol levels, and how to address them, you can prevent making them go up too much. And luckily, the longer you stay in a place, the more you get used to it. So the things that used to raise your cortisol levels will do so less over time. After taking locum assignments across the country, I imagine you'd be able to handle anything!
Until next time!
Cindy
Want to learn more about locum tenens with Barton Associates? Fill out the form and one of our representatives will reach out to you!