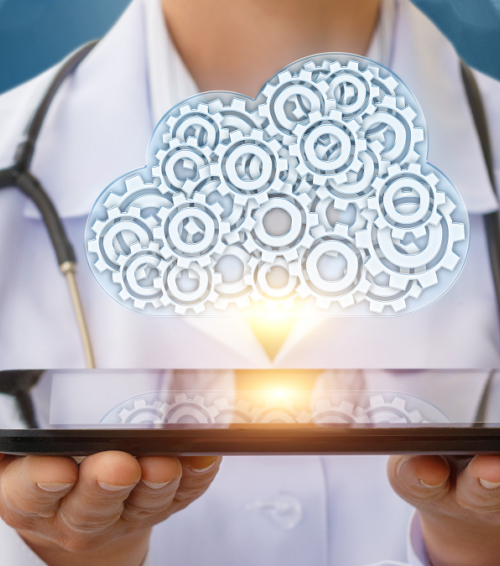 You're likely familiar with the cloud's presence in the healthcare industry, at least at a general level. After years of hesitation, organizations have finally embraced this technology, investing large portions of their budgets into various cloud-based programs and healthcare software solutions. This, in turn, has transformed the healthcare industry at every level.
Although its presence is easily observed, the way cloud technologies meet all of healthcare's needs is a bit harder to grasp. Take, for example, software as a service (SaaS); it may just seem like another acronym to remember, but it reflects the endless utility cloud-based tools have to offer organizations large and small — and, if your company has invested in tech recently, it most likely describes the healthcare software solutions that now help you carry out the core of your responsibilities.
1. Cloud Tech Is Making Everyone's Job Easier
There's a fair chance the cloud-based tools you and your colleagues use were brought in to simplify some aspect of the job. These tools are versatile enough to fill nearly every workplace need, streamlining tasks such as email, word processing, billing, and even complex electronic health record (EHR) systems.
Modern EHR systems are perhaps the best example of the simplicity cloud tools offer healthcare professionals and their employers. Instead of buying, building, and maintaining SaaS health records systems, facilities only need a reliable internet connection to have full records management capabilities. Off-site devices push the software to the organization's desktops, handle data routing and storage, and manage administrative tasks such as bug-fixing and updating. Requiring little input or effort, these cloud-based health records systems reduce the money and time wasted on implementing, updating, and maintaining older, on-site options.
For healthcare organizations, this model provides a chance to buy EHR tools a la carte — using only what they need, when they need it. Meanwhile, employees get a consistent user experience wherever they're working: The locum tenens nurse practitioner traveling between a health system's locations can access the system using the same login at any of the organization's facilities.
2. Mobility: Cloud's (Other) Biggest Asset
If anything, portable convenience is the biggest benefit cloud-based healthcare software solutions can offer employees. SaaS tools aren't bound to a particular hardware type or operating system; if a device has a web browser, it can run the software.
Electronic health records are only one example of how beneficial this mobility is, but it is an industry-altering benefit. With the ability to enter notes directly into a records system from a tablet rather than copy-and-pasting them at the end of the day, cloud-based EHR systems are improving efficiency by streamlining providers' time-consuming administrative responsibilities.
This shift toward flexible productivity, along with the larger, bring-your-own movement — in which employees are authorized and even encouraged to use their own hardware — is partially the result of the nation's workforce changing and getting younger. A product's ease of use and access are expected features among millennial employees, many of whom have grown up using the same tools organizations are rushing to implement today.
As these people become the majority of the workforce, the demand for these features isn't likely to go away. As a result, expect the focus on flexibility in digital workspaces to grow, and for cloud tools such as SaaS solutions to drive that change.
3. Cost and Scalability Are Top Benefits for Employers
Other benefits of cloud technology concern the organization itself, both in terms of total cost of ownership (TCO) and the ability to scale. As an added benefit, many of these technologies seem to have been made specifically with the healthcare industry in mind.
The rapid expansion and popularity of walk-in and retail clinics illustrate just how beneficial these features are for the healthcare industry. Historically, opening new healthcare facilities required a significant IT investment. Cloud technology changed this; because SaaS tools are offered a la carte, adding the services to more computers simply requires increasing your subscription cost. And, because these services are powered by off-site hardware, parent companies need far less in terms of back-end infrastructure such as servers. This shift in responsibility makes opening new locations more cost-effective than ever, allowing organizations with aggressive growth plans to realize their goals without the complexity and costs of a traditional infrastructure.
After a start slowed by security and HIPAA-compliance concerns, the relationship between cloud-based services and the healthcare industry is beginning to flourish. As capabilities improve and providers continue to identify problems SaaS and healthcare software solutions can solve, these two will likely grow closer. From improving individual tasks to enabling the rapid establishment of new locations, the advances made in cloud-based software have and will continue to mean great things for the healthcare industry.
How are cloud products used in your facility? What do you like about them, what could be improved? Share your opinions and experiences with us on Twitter!