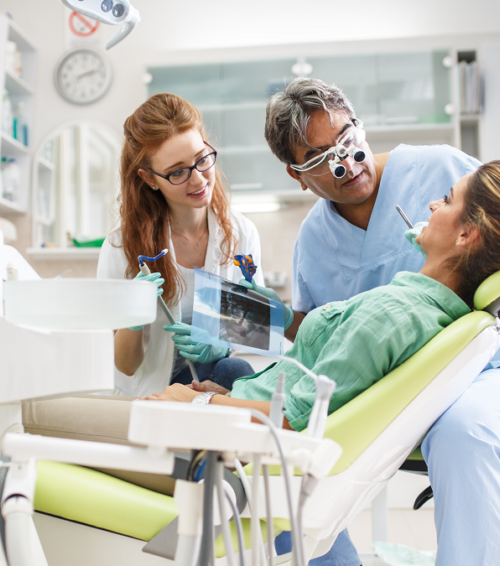 Whether you attribute the dental industry's staffing troubles to regional talent imbalance or a full-on dentist shortage, there's little question it's in a pinch when it comes to meeting demand. — especially in underserved communities. Dental demand already outpaces supply across all 50 U.S. states, and according to data from the Human Resource Statistics Administration (HSRA), this gap is projected to grow an additional 4 percent by 2025.
All that said, when you need talent in the dental world, you need it fast. Growing wait lists and exhausted staff are no joke, regardless of the problem's source. That's especially true in a field where people may not seek help until the pain (and related complications) grow agonizing.
Enter locum tenens. Popularly presented as a medical solution to combat the physician shortage, this growing industry has plenty to offer dental offices and their patients, too. Here's how dental organizations can put traveling dentists to work in their own offices.
Ease Patient Anxiety
People hate going to the dentist. It's a well-traveled trope and the source of a million amusing wall hangings in offices all over the country — but also the absolute truth. As many as 30 to 40 million Americans carry a hearty fear of the scraper, comprising a group larger than the populations of Ohio, Pennsylvania, and Illinois combined.
Following this logic, then, it's easy to see why so many patients all but refuse to seek dental aid if they can't see their permanent dentist. If you've ever had a patient decline treatment during a favorite practitioner's vacation, you know exactly the effect a sudden departure could have. When the patient backlog is reaching critical levels because of the staffing shortage, extended staff absences, or other factors, it can be nearly impossible to put patients in the precise seat they demand.
Here, locums help by spreading the patient load around. Offering less choosy patients (think newcomers and those who are in pain) a quicker seat with a vetted, qualified locum professional can free your permanent staff to see their regular patients; in turn, this can lower anxiety all around, because your patients get faster help and your office deals with fewer calls a day asking about regular staff's availability.
For nervous patients, hearing they'll have to sit around and dread their visit for weeks before being seen can be torture, even if they aren't dealing with pain or significant dental issues. In states such as Texas, Florida, and California, bringing on a traveling dentist could help keep ballooning waitlists down to acceptable levels.
Harness Business Benefits
Regardless of the reason for your facility's need, partnering with a locum tenens agency is one of the most useful staffing tools at your disposal.
Filling temporary gaps with highly skilled contractors is often next to impossible without a dedicated talent pool helping out, especially during a staffing shortage. Even if you could find a dentist willing to cover those two weeks, going through all the paperwork and other administrative onboarding would likely make the experience more trouble than it's worth.
Furthermore, locum solutions offer vetting that's hard to obtain from standard staffing without extensive background checks and other lengthy processes, many of which are handled by third parties themselves. With locum tenens, skilled traveling dentists are available for the picking. From selecting talent that fits your needs to screening and beyond, a dedicated locum agency removes enough administrative overhead to make that short-term hire a lot more feasible.
Maybe you live in a state already feeling the sting of a dental shortage. Maybe you're dealing with a temporary vacancy and need a quick fix. Either way, locum tenens provides a faster path to solutions that work for you and your patients. Don't let a gap in talent affect your ability to provide top-notch dental services!
Is your facility feeling the effects of the dentist shortage? Maximize Barton Associates' locum tenens staffing solutions and request coverage today

.