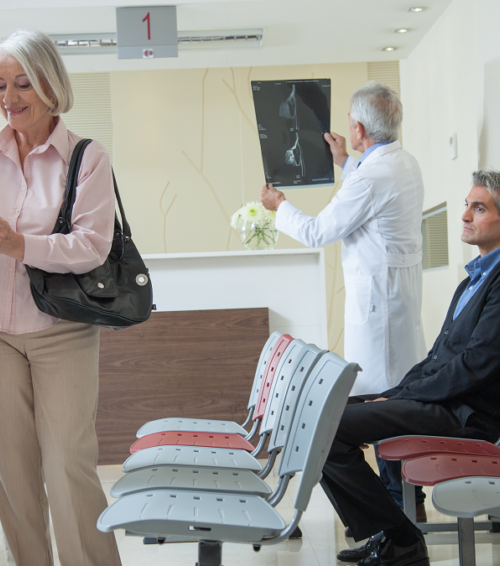 In terms of satisfaction, running a well-established private practice has to be one of the most fulfilling callings a clinician can pursue. Considering the challenges of running a business, the staff-management aspect, and the sacrosanct duty of providing care, ownership means a level of blended duty relatively few other professionals will ever realize.
The role also carries an edge of stress, however — one that can become increasingly less bearable as the responsibilities pile up. As Dr. Linda Girgis notes, health entrepreneurship frequently comes with overwork and potential professional burnout: the inability to fully enjoy one's job or role. Considering the time, effort, and expense clinicians put into attaining their respective titles, that's the definition of an undesirable outcome.
While owning a practice will always come with a deep commitment to the job and an intense schedule because of it, locum tenens services can bring entrepreneurial pressures down to a bearable level. If you own a private practice or you plan on stepping into an ownership role in the future, here's why you need a locums agency on your speed dial:
1. It Lets You (Temporarily) Pick and Choose Your Responsibilities
Dr. Girgis' suggestion to take advantage of a locum service and treat yourself to a vacation isn't just smart — depending on your situation and stress levels, it may be some of the best advice you've read in a long time. Even so, a full break from the realities of entrepreneurship isn't always necessary (or even possible), and taking a temporary ownership-only role by leaving the caregiving side of things to a qualified professional can be every bit as relaxing as a full-on trip away from home.
To this end, locum tenens reflects perhaps the single best way to make a short departure from the health side of the business. For clinicians who relish the simple pleasures of a staycation (sleeping in, lounging on the couch watching Netflix all afternoon, catching up on all those household tasks the business has forced you to put off for the past year, etc.), onboarding a temporary professional could mean a chance to run the business from home, or on a relaxed schedule. How nice would it be to come in mornings to handle the business side and take off before noon?
2. It Saves You from Suffering During Staff Vacations (and Other Time Off)
Other vacations — namely, those taken by employees — are unavoidable, and most owners would rather burden themselves than lay the extra workload on the missing employee's colleagues. Nobody wants to press a hard-working staff harder; more, it's sometimes easier to handle things yourself, even if it means handling two peoples' jobs on top of ownership tasks.
As in the previous item, locum tenens can curb staff vacation pressure, giving you a competent, qualified professional to step in while your employee takes that long-awaited trip. Considering the links between overwork and burnout, that's an attractive benefit for everyone in the office.
3. It Keeps Your Head Above Water When Patient Volume Increases
Certain spikes in patient volume are to be expected: spring break or the first weeks of summer vacation in a pediatric dentist's office, for example. Others come out of the blue, leaving ownership and staff with little chance to raise their respective heads above the weeds, let alone figure out what happened.
Either way, the benefits of temporary staffing are plain to see here. Because locum agencies have ties to a deep talent pool and ability to send staffers on their roster anywhere, they can have help to you in a hurry: in many cases, companies like Barton Associates can have a locum at your office in as little as 24 hours. Planned or unplanned, speedy deployment can be a big help when added patient load threatens to become a bad thing.
4. It Hedges Your Bet When Patient Volume Keeps Increasing
It can be hard to tell whether the increases in business mentioned above are a temporary phenomenon or a sign the business needs to grow. The uncertainty may impact ownership's ability to make qualified decisions, because every choice the organization makes comes with an inherent degree of risk. Do you go through the time, effort, and expense of finding a new candidate for a boom that may slow down in a month's time, or overwork your staff on the assumption that things will soon level out?
In this sense, locum tenens is a great way to test the waters of expansion without fully buying in (or pushing your staff too hard with a refusal to). If the end of your locum's contract comes and new patients are still beating down the doors, it may be time to make a fresh hire; if things revert to their regular pace, you can stand pat without worry. That's a better option than overpaying for a clinician you don't technically need or forcing your employees to take a larger percentage of the load than they should — and another sign of just how useful temporary staffing can be in a private practice.