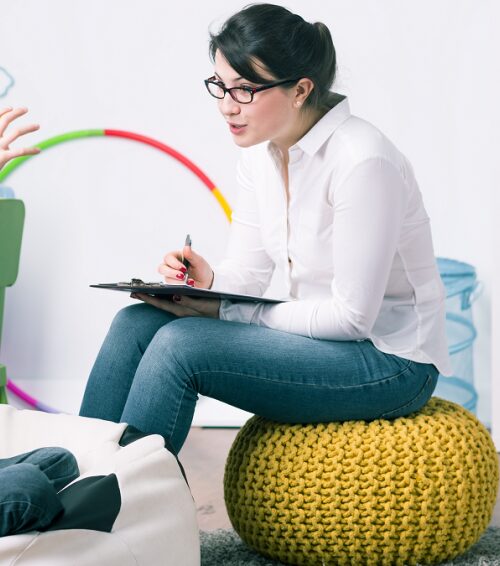 Building rapport with children and adolescents with mental health conditions requires unique skills, particularly in the context of locum tenens assignments, which tend to be short term. This article reviews best practices for interacting with younger patients and discusses special considerations for temporary work assignments.
1. Use Age-Specific Language
When conducting health assessments, communication is key, and the manner in which you communicate with children should vary depending on their age. For the youngest children (birth through six years), use simple language with descriptive and sensory words. Rhymes, riddles, and tongue twisters help build quick rapport.
For those ages seven to 10, stories about friendships, daily activities, and new talents help open up conversation and provide insight to their thought process. For older children (11 to 14 years), recognize their need for independence and allow them to discuss their role models and stories about their friends and family.
2. Start With Their Interests, Not the Problem
Younger patients need time to acclimate to a clinical environment. Use small talk. It's often best to start by asking about one of their interests before diving into questions about the presenting problem. If possible, ask the parents about the child's interests or look for clues such as a hairstyle, t-shirt, or accompanying book, purse, or handheld game. You can also begin by allowing the child to explore the toys, books, and furniture in your office.
3. Appear Calm, Friendly, and Open
Children are aware and sensitive to your presence. With younger patients, especially those with anxiety or depressive disorders, it's best to appear assured and calm. This will communicate to the child that they can relax and trust you. You'll want to be supportive and encouraging so the child feels comfortable with the answers they're giving you. Friendliness is key as well. An open, friendly tone with a warm smile helps children feel reassured and less afraid.
4. Create a Playful Environment
Your office space should be both calming and playful. Using stuffed animals, sock puppets, dolls, and even video games can help children relax and open up to you. Your office should not feel scary or intimidating. Instead, it should invite children to be themselves and not fear coming back in the future. A colleague once told me, "You don't want your office to look like their school principal's! It's not a punishment to come see you!"
5. Be Positive and Give Praise
Anytime a child responds to you in a way you were hoping, give positive reinforcement in the form of praise. Let them know that's exactly what you were looking for and that you appreciate it. For example, if a child shares a traumatic experience with you, thank him or her for sharing it with you and explain this will help you support them in the best way. Children respond very well to praise, and they'll be more likely to repeat that behavior with you in the future.
6. Consider the Temporary Nature of Locum Tenens
Locum tenens assignments are often short term, so there are a few things to keep in mind when treating younger patients. Plan ahead to bring toys or other therapeutic artifacts with you on your assignment. Considering the shorter work period, you'll also need to build rapport quickly. When possible, prepare to leave by being honest with your patients about the short duration of your assignment, express warm, positive feelings toward the patient, and validate their subjective experience of loss. Finally, thoroughly document your findings and treatment plan for the next provider. If applicable, meet with him or her in person to discuss patient progress.
How do you develop relationships with your younger patients? Are you interested in locum tenens psychiatry? Check out Barton Associates' open locum tenens jobs

!