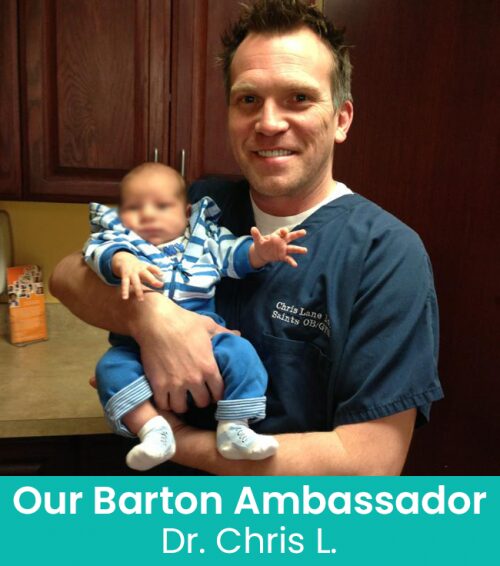 Dr. Chris L., D.O. is a board certified OBGYN, Barton Associates locum and our newest Barton Ambassador. With the help of recruiter Gabrielle G., Dr. Chris started locum tenens as a way to ease out of his private practice. Now, he has left his home state of Oklahoma, and is a full time locum tenens provider on assignment in North Dakota.
Thanks to Dr. Chris and Gabby, the Barton Team was able to catch up with Dr.Chris, learn about how he first started with locum tenens, his experience working with Gabby, and more. This is his story:
Dr. Chris L., OBGYN, had been in private practice for 13 years and was working at a hospital when it got bought out. His private practice in Oklahoma was very busy.
"I was kind of looking for a way to maybe ease out of my practice," he says. "I have two boys that are 14 and 8, and they're in every sport known to man. It just got to where I was missing things I couldn't put a price on."
That's when he started looking into locum tenens: "I wanted to work for a couple days, and then be back with my boys."
Dr. L. started talking with many recruiters. Rather than making him excited about the prospect of the locum lifestyle, he encountered a lot of noise.
"There were a lot of very impersonal, headhunter type people who are kind of wanting you to stop talking about your kids and just see if they can get you put you someplace," he remembered. "I started getting a bit like, maybe I won't do this."
Enter Gabby, the Barton recruiter that Dr. L works with. From the beginning, she was personal, prompt and attentive. After they first spoke, her work ethic became apparent.
"Gabby calls me back the following day, and within two days she had done more than all the other recruiters combined. I mean, I had offers from every corner of the universe, in two days already. She explained a whole lot of things to me that the other ones didn't know or didn't tell me."
"Gabby was the first ray of light in a sea of a lot of very impersonal people," he says.
Once He Was on Assignment…
Dr. Chris L.'s first assignment was in North Dakota. While everything didn't go exactly as planned, things were still taken care of: this time, by another Barton teammate, Ana R., a travel services associate.
"We had a problem with our rental car and the guy that came to help pull us out when we were stuck… he had a heart of gold, but he pulled us into a tree! I'm panicked about the car and things, and in less than five minutes [my financé] was on the phone with Ana, who is just like, is he okay?"
I'm like, am I okay…did you see the back of that car? And they were like, is it totaled? No. 'Oh ok, we'll take care of it. You know. This is just what we do, and don't worry about it.' Really? Wow."
Working with Gabby Has Changed His Perspective on Locums
While Dr. L says that he will sometimes work with other agencies for back-up, he makes it quite clear that Barton is first choice.
"After working with Gabby and Barton, it's just tiring working with the other ones. It really is. It's like working with a 14-year-old child," he recalls.
"With these other firms, all of a sudden it's an urgent issue, down to the wire trying to get the license and all that. With Barton, it's never like that. Gabby doesn't blow smoke and mirrors. That just makes a big difference to me. Don't sugar coat it."
"Honestly, if it wasn't for Gabby, I don't know if I'd be doing locums."
His Advice for Others
When asked what advice Dr. L would give to others who are looking into doing locum tenens, he talked easily about the best way to get started and why people shouldn't be deterred from trying locum work.
"If you're just coming out, Barton is the one to go to first. And if the recruiter you have is half as good as the one I have, you're set. Not only does Barton have the recruiter, they have a whole department of people. It has to pass through their firm internally. The check and balances that you go through with Barton… it just reeks of being prepared."
"Barton has done such a good job, and knowing my frustration of other firms, I wouldn't want anyone to go through that. It's not a rat race with recruiters like Gabby and Barton."
His Locum Experience
As for his own experience, Dr. L talks about the changes that he has seen in himself, going from his past position to locum tenens. Specifically, he experiences less burnout and more meaning in his day-to-day work.
"The small community where I grew up, people have a sense of entitlement, they tend to – or maybe it's the administrative people. Either way, you just tend to get a little bit burned out, and they don't realize really how much you're helping."
"When we got up to North Dakota, we just had the best time – besides the -44 degree windchill. But I mean other than that, Gabby really sent us to a place that somewhat inspired me."
"Everyone was just so appreciative. It really felt like it was meant to be there."
Luckily for Dr. L, locum tenens work means helping a population in need without sacrificing on other things, like pay:
"I have to make sure my family is taken care of, but if you can get both and feel like, "Man, I'm really making a difference!" that makes it feel like I'm going to leave the assignment much better than I found it."
And what is the impact of that?
"If it hadn't been for Gabby and Barton… Well, it's changed by whole outlook on a lot of things," he says.
Want to learn more about locum tenens with Barton Associates? Fill out the form and one of our representatives will reach out to you!