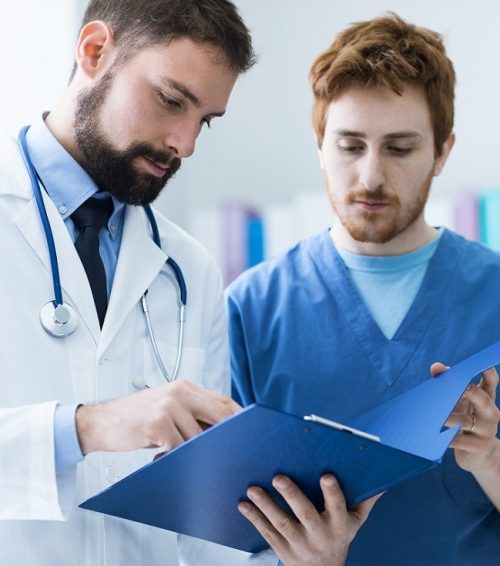 Have you thought about creating your job?
If you're an independent contractor and you enjoy doing locum tenens work, figure out what you'd like to do and make your position. The employment possibilities may be greater than you think even if a job has not been officially advertised. Think outside the box. Assess your skills set and your interests in medicine.
What clinical setting do you prefer to work within? What clinical and/or administrative tasks do you enjoy doing?
Tally up your ideal job attributes and give an honest look at your areas of strengths and weakness. If you don't see the kind of job you're seeking, then create it and package yourself to advocate for why you are the ideal candidate. To get you started, here are a few examples:
Performing locums work in the outpatient setting does not necessarily mean seeing patients from 8-5 in a clinic.
Think about your own prior clinical experiences and what areas can be improved on. For example, primary care physicians are getting swamped with indirect clinical duties such as prescription refills, return phone calls to health insurance companies for prior authorizations, following up on lab results, and so forth.
Take a look at the needs of patients for example. From the patients' side, understandably, patients and their family members want timely return phone calls from their physician. They don't want to have to call in multiple times for prescription refills or play phone tag for lab results. Some of these concerns are being addressed with the use of electronic health records (EHR) and patient portal access. However, it can still take a significant amount of time each day for physicians to take care of these tasks in an efficient and timely matter.
One potential solution for an employer to help alleviate the burden would be to have a locum tenens physician responsible for some of the above duties. With the use of EHR, a locum physician would log in, even possibly from home, to help clear the backlog of refills, calling patients to discuss lab results, etc.
Perhaps you enjoy teaching and working with students.
If so, consider creating a locum tenens position where you can work as a preceptor. In addition to the traditional realm of teaching medical students and residents within an academic institution, another idea is to ask locum tenens agencies if they have any clients that employ newly graduated NP or PA students. You may be able to design a position that might be a combination of clinical work with precepting non-physician practitioners.
Another idea is to create and offer short or long-term clinical rotations at the high school or college level for students. If you like to serve within a mentorship or advising role, even setting up an informal shadowing program for pre-med students might be appreciated and beneficial for both employer and you.
Lastly, two other unique options include working as a triage physician or serving in a consultant role.
We all know that today's healthcare issues include a shortage of primary care physicians and continuing challenges in patient access. One way to assist a healthcare facility is to get involved with triage to help with patients being seen in a timely fashion and also deciphering who may be able to be helped over the telephone rather than an in-house appointment.
Additionally, if you have expertise in a particular area, another option could be serving as a consultant. This could help provide a second opinion perhaps for more challenging medical cases. It could be advantageous if you represent a specialty that is especially limited at a particular healthcare facility that you are considering applying to. However, please be mindful of the potential medico-legal implications of "curb consults".
If you're having difficulty finding a particular locum tenens position, perhaps it is time to create your own and get the word out to potential employers. Think about your interests and strengths and how you can apply both to be of service to others. Go for it – you have nothing to lose!
Want to learn more about locum tenens with Barton Associates? Fill out the form and one of our representatives will reach out to you!