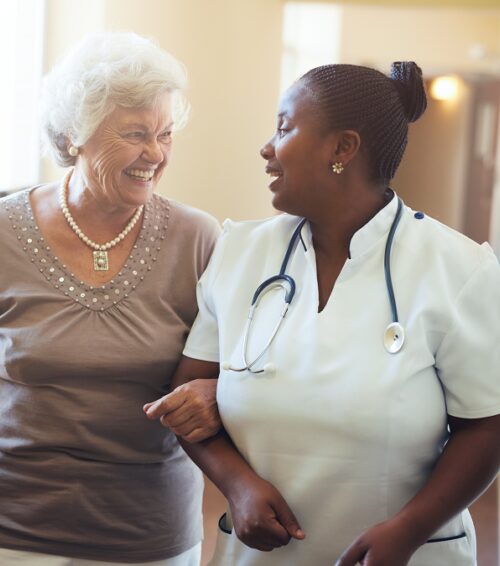 For many nurse practitioners (NPs), in-home health and well-being assessment roles offer a flexible schedule and the opportunity to provide great care beyond the walls of a hospital or clinic. If you've chosen to pursue a career in health risk assessments, you already know you're in for a change of scenery. But what does that mean?
When you take on this position, you're moving away from the structure and consistency of a traditional healthcare environment. While this brings comfort and convenience to your patients and offers you a more well-rounded provider experience, it also presents a handful of interesting challenges.
How will you prepare for the unexpected in home healthcare? Here are four factors — all unique to the in-home health and well-being assessment environment — that you should be ready for:
1. Pets
The pet is a part of your patient's family, home, and life, and it's important to be sensitive to this relationship. Having a pet offers several benefits to senior patients, according to Senior Living Blog, such as improved mood and eating habits, greater social interaction, and enforced routine.
At the same time, pets should be taken into account when evaluating the patient's comfort and safety. Take the necessary steps to ensure they aren't distracting you or your client from the visit. Some articles advise home health providers to ask clients to completely remove pets from the area during a visit.
When it comes to your safety on the job, unfriendly or aggressive pets must be considered. Though most providers don't encounter this issue (in this study, only 6 percent of surveyed home health providers reported aggressive pets in a patient's home), it's important to be prepared. If you do encounter a pet you're not comfortable around, do not hesitate to ask your client to remove the pet during your visit and/or report the issue to your recruiter.
2. Technological Issues
Providing home healthcare means handling medical records, data collection, and other paperwork remotely. While using a hospital or clinic's technology may have provided a reliable experience while on site, this isn't necessarily something to count on in a patient's home.
That being said, coming prepared for the possibility of encountering technological issues is a must. As a home health provider, your role requires flexibility. If your client can't guarantee consistent internet access, keep a pen and paper on hand to take notes and plan to do your charting at a later time.
Fortunately, technological innovations can also greatly improve patient care in a home health environment. Online communities for patients and applications for disease management are a few examples of technologies that promise to improve the experience for patients and providers alike.
3. In-Home Hazards
In addition to monitoring your patient's health, risk assessments require you to check the safety of the home environment and, as the title suggests, help prevent future risks. Similar to our point about technology above, you'll be without a hospital or clinic's resources to detect them. With this in mind, be aware of different risks throughout your patient's home — including some that may not be immediately obvious — and take the necessary steps to correct them.
Some hazards to be on the lookout for include:
Poor air quality.
Clutter and other obstacles on the floor, stairs, and other areas where the patient could be at risk of tripping and falling.
Functionality of assistive technology such as canes, walkers, bath benches, and ramps, among others.
4. Patient Independence
In a traditional hospital or clinical environment, the patient would likely be on a strict schedule of medications, supervised by providers around the clock, and removed from certain in-home distractions. At home, however, the patient has greater independence. While this autonomy is one of the many benefits of in-home health and well-being assessments, it also poses a few unique situations.
Without the nearly constant supervision of a traditional healthcare environment, the patient is often left free to take their own initiative. This could mean:
The patient isn't always taking their medications at the same or correct time.
The patient, or the patient's family members or other informal caregivers, might forget to relay important information when you arrive.
Keep this in mind at the beginning of your visit. Prioritize a check-in with the patient and their family about when and if medications were taken, and be sure to ask about other factors that might have affected their care regimen and how you'll approach it going forward.
With these four points in mind, you'll be fully prepared to provide the best home healthcare possible to individuals who may not have been able to receive it otherwise.
Want to learn more about in-home health and well-being assessments? Click here

, read the details, and fill out the form to let us know you're interested!