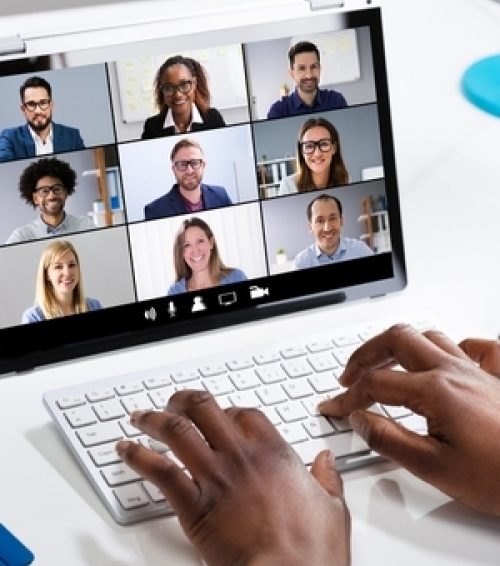 Recent world events have required practicing social distancing to decrease the spread of the coronavirus. This has resulted in many people being unexpectedly thrust into working remotely, and an increased need for healthcare staffing. Healthcare workers are usually on the front lines, but often healthcare management and administrative staff may work remotely. This can result in a combination of remote, and on site, employees.
Managing Remotely
Although these are less than ideal circumstances, according to this 2019 survey, 99% of those surveyed stated they'd like to work remotely at least some of the time. It can be hard to feel connected with employees when you can't stop by their office, or gather in the conference room.
Remote work can have benefits for employees and managers such as scheduling flexibility, a better work and life balance, reduced costs, improved team collaboration, increased productivity, and a wider selection of candidates. Being a remote manager can be challenging. It requires increased organizational skills, and a focus on proactive communications to gain employee trust and respect. A few challenges that can accompany working remotely can include:
Miscommunication
A lack of engagement
Feeling that individual work isn't recognized, or supported
Less sense of community
Feelings of isolation, or a lack of support
Distractions reducing productivity
Longer work hours due to difficulty unplugging
Micromanaging due to a lack of trust
Employee Onboarding
Strive for a consistent employee experience when you have a combination of on site and remote employees. Consistently convey company culture and values to ensure employees feel like they're part of the larger organization, and all working toward the same goals. Some may be doing the same job, but the way work is completed, shared, stored, and communicated, will differ. Strive to maintain employee connection with a combination of virtual meetings, and in-person gatherings, to decrease feelings of working in an independent silo.
Make sure employees have the appropriate digital resources, and know how to use them. A virtual work environment comes with different challenges for storing information, cyber security, communication policies, and necessary education in use of technology. There are a variety of remote tools that can be utilized, including: Google GSuite, Slack, Dropbox, Microsoft Office for Teams, Trello, Asana, and video conferencing rooms like Skype, Zoom, and Google Hangouts.
Effective Communication
A remote work environment can present communication challenges. Proactive, authentic, professional, communication is essential for effective management. Make it easy for employees to ask and answer questions in real time on any device. A few ways to nurture communication include to:
Use a variety of virtual tools such as email, phone, and video
Encourage being offline when work is done
Allow for online expressions to build company culture with a virtual water cooler
Provide ongoing feedback and recognize accomplishments
Schedule one on one and team meetings
Allow time to listen to employee concerns
Managers may be uneasy about being unable to consistently monitor productivity, and this can result in micromanaging. Encourage independent decision making by focusing on outcomes, and not the process, or the number of hours spent in the office, to achieve goals. Monitor productivity by setting reasonable goals, and checking in regularly, to determine progress and offer assistance with obstacles.
Virtual Meetings
Meetings are often relied upon for discussion, problem solving, and to relay information. Virtual meetings can be just as effective. Video conferencing can reduce miscommunication that can occur with phone or email which doesn't always allow for verbal cues in tone of voice, and the observation of body language.
For increased meeting productivity:
Determine who is essential for the meeting
Have an agenda
Plan for how new information will be disseminated
Schedule the meeting in advance
Consider individual time zones
Meetings are only beneficial if there is participation and the correct information is received. Encourage interaction and create voluntary engagement by defining individual roles and expectations for the meeting, and then allow for a recap to reduce miscommunication.
Mastering Virtual Work
Remote working isn't ideal for every company, or every employee. While it can have many benefits, such as increasing the quantity and quality of candidates for your next healthcare position, it's beneficial to anticipate the challenges that can accompany working remotely. Mastering a virtual work environment can assist in maintaining employee engagement, even if your remote work is only temporary.
Want to learn more about locum tenens with Barton Associates? Fill out the form and one of our representatives will reach out to you!