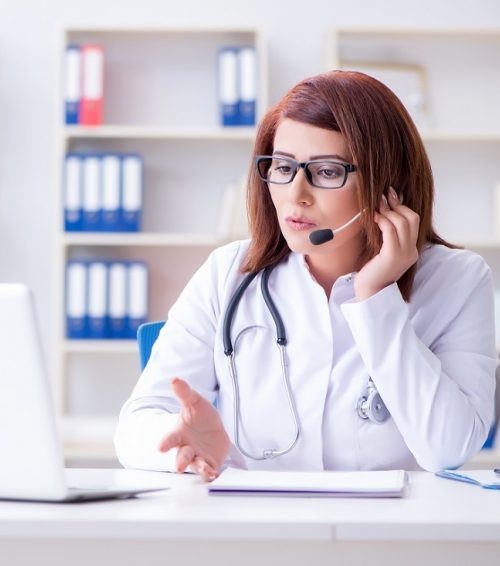 A growing field, telemedicine is medical care provided to patients through the use of technology such as an online portal. If you are a healthcare facility, have you considered offering telemedicine to your patients and/or your staff? Here are four reasons why telemedicine can be beneficial to your organization.
Increased Healthcare Access
With a national shortage of primary care physicians, it is becoming increasingly harder for patients to find a primary care provider. For new patients, it may take longer to find a new doctor as some doctors may no longer be accepting new patients because their panel is full. For established patients, there may be an increased wait time for follow-up appointments. Slots left open for same-day appointments at health care facilities can get booked up quickly.
As a health care facility, offering telemedicine to your patients can be beneficial. Providing online or telephone care increases access to patients who need to be seen sooner than later. It can particularly be a helpful tool for patients with low acuity medical concerns therefore freeing up office appointments for those who may need to be seen in person for more high acuity or chronic medical needs.
Convenience for Patients
Patients want to be seen when they need medical help. Many times, an appointment is booked days to weeks out for a non-emergent but acute or semi-acute issue and patients understandably can be frustrated by this. Creating scheduled same-day slots can help with this, but these appointments may fill quickly. Consider having a telemedicine physician who could either work from home or on-site to see patients online. These visits would ideally be for non-urgent and simple medical concerns. Telemedicine can offer ease and convenience to your patients, improving access to medical care in a timely fashion. It can also provide an alternative work option to staff allowing them to work from home seeing patients.
Cutting Cost
Increasing access to medical help can cut healthcare cost. By offering telemedicine appointments, you can help reduce the likelihood of patients visiting an urgent care center or the ER. In some instances, telemedicine can help in the management of patients with chronic co-morbidities. With some programs, the monitoring of vital signs such as blood pressure and blood glucose levels helps patients to be followed closely with the aim of lowering the chance that these individuals end up in the ER. These cost-savings also are beneficial for patients. As more employers offer their staff telemedicine as a health insurance benefit, the costs to see a healthcare provider is less expensive than a visit to an urgent care facility or ER especially for those who are under-insured, uninsured or have high deductible health insurance plans.
Schedule Flexibility
Medical appointments can't always be slotted into a typical noon lunch time break, making it challenging for full-time employees to see a medical provider for a health reason. Taking off time from work to do so is not necessarily ideal for either employee or employer. Offering telemedicine as a health care benefit to your employees is a great way to facilitate easy access to medical care in a convenient fashion.
Providing telemedicine as a service may even attract new health care professionals to your organization. Offering telemedicine as a way for your physicians to take care of patients, adds an additional level of flexibility to their work schedule. For instance, by providing telemedicine your healthcare facility can offer medical evaluation and treatment to patients around the clock. Therefore you can offer your staff physicians the option to work early morning, evening and weekend hours or some sort of combination with regular clinic hours. In addition, having one or more physicians working from home seeing patients, can free up office space and associated administrative costs.
In summary, telemedicine has many potential benefits for both patients and health care organizations. If you do consider offering telemedicine to your patients, keep in mind some of the following points. Will you be offering low acuity care or management of chronic co-morbidities? One advantage to having telemedicine services attached to your onsite facility, is that you can offer follow-up appointments in person if need be. For instance, if a patient makes a telemedicine appointment for follow-up of their hypertension and their medication is adjusted by the physician in that visit, it would be simple to set up a subsequent in-person appointment to have that patient's blood pressure checked to make sure it's within normal range.
Regular quality assurance is key. Consider having ongoing meetings with telemedicine staff to review monthly cases, concerns raised, and areas to improve on. Examine the telemedicine experience from the patient's perspective also. How quickly are they being seen by a health care provider once logged into the portal? Are lab test results being followed up and conveyed to the patient in a timely manner? Is the portal user-friendly on both the physician and patient side? Lastly, make sure there is a way for patients to leave feedback after their visit has been completed.
Want to learn more about locum tenens with Barton Associates? Fill out the form and one of our representatives will reach out to you!