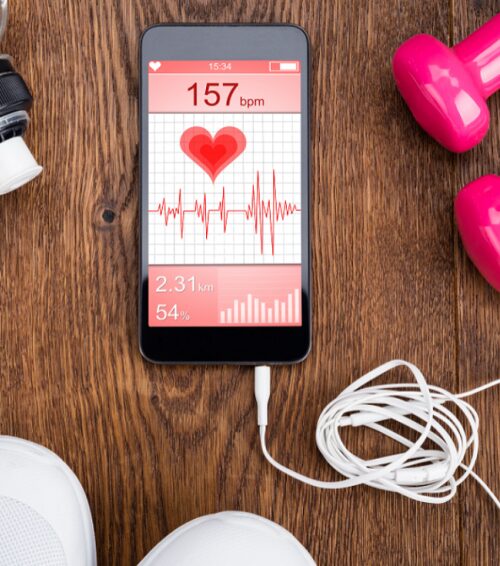 As a care provider, you know the deal: Along with diet, daily exercise is important to maintaining a healthy lifestyle. The Department of Health and Human Services recommends that healthy adults get, per week, at least 150 minutes of moderate aerobic activity, 75 minutes of "vigorous" aerobic activity, or a combination of both.
Achieving these goals may be easy when you know about local walking trails, fitness centers, and athletic complexes, but what about locum tenens providers who regularly find themselves in exciting new places?
Here's a list of five excellent fitness apps that can help providers stay healthy on assignment. As a bonus, you can also suggest them to any patients looking to maintain a healthier, active lifestyle.
Price: App is free; training plans are purchased via a one-time, upfront fee.
Available on iOS and Android.
Cody offers access to workouts in a wide range of disciplines, such as yoga, bodyweight movement, barre, weightlifting, and many more. The app's training plans combine video-based training from top fitness coaches with an interactive community of like-minded people who help users be as healthy as they can be. Each fitness program is available for purchase individually, so users can buy the exercises they like from the coaches they like.
The app is compatible with the Apple Watch, and its integration with the iOS Health app suite is seamless. Users can watch their videos on their television if they have an Apple TV, and the app also offers offline access so people can download and view their videos even when an Internet connection is unavailable. A virtual journal helps users store notes, photos, times, and locations of past workouts, and Cody's community lets people follow their friends, meet new ones, and offer each other encouragement with likes and comments.
Price: $2.99; in-app purchases available.
Available on iOS.
When thinking about important traits for a personal trainer to possess, words like encouraging, focused, and motivational come to mind. CARROT Fit, from the makers of the other CARROT-branded apps, takes a different approach. Through a combination of threats, ridicule, inspiration, and bribery, this app helps you get fit — or else.
CARROT Fit tracks weight and BMI, as well as how many steps users take throughout the day. The sarcastic AI personality has one goal: "to transform your flabby carcass into a Grade A specimen of the human race." This app takes the typical hour-long workout and condenses it into a shorter time period, making it ideal for people with busy schedules. With 24 exercises available for free or purchase and more than three hours of tips, encouragement, and ridicule, users will never want for "inspiration" when it comes to starting a workout.
Price: Free.
Available on iOS and Android.
Human seeks to change the way we think about personal fitness apps. Rather than counting steps walked throughout the day, Human uses a different metric: the number of minutes per day the user is active.
The rationale here is that counting active minutes is easier for people to understand than the more abstract number of steps. Human gives users the goal of being active for a minimum of 30 minutes per day, and it uses data from other users nearby to show how you stack up against the people in your city.
Those who own an iPhone 5S or later can use built-in fitness-tracking features and sync exercise data to iOS Health to get a complete overview of their daily activity.
Price: Free; premium upgrade available.
Available on iOS and Android.
Lose It! is a one-stop shop for everything people need to get fit and live a healthy lifestyle. Put in your age, height, weight, and weekly weight-loss goal, and Lose It! uses this basic health information to create a custom plan. You can also elect to set goals for other important health factors, such as activity level, blood pressure, and sleep.
In addition to health monitoring, the app features a database with more than one million food items to help people track calories and macronutrients. A barcode scanner allows users to scan common food items and easily add them to their daily intake.
Lose It! integrates with many existing digital-health devices, including Nike+ FuelBand, Fitbit, and UP by Jawbone.
Price: Free.
Available on iOS and Android.
The last option on this list isn't a fitness app, but maintaining an active lifestyle is only half the battle. In fact, it's often said that abs are made in the kitchen.
HealthyOut recognizes that what you eat matters. The app finds nearby restaurants that offer dishes with half the calories and fat of typical dining options, and then takes it a step further by allowing you to search by dietary considerations, such as vegan, vegetarian, lactose intolerant, gluten sensitive, low carb, low calorie, low fat, high protein, and heart healthy. It includes support for popular diets such as Paleo, Atkins, South Beach, and Zone, among others. You can also filter restaurants by cuisine, specific ingredients, and type of dish.
And, if you're tired of eating salads, you can use HealthyOut's most popular filter: "Not a Salad."
Which apps do you regularly use or recommend to patients? Did we miss any great ones? Tweet us
@bartonlocums
.