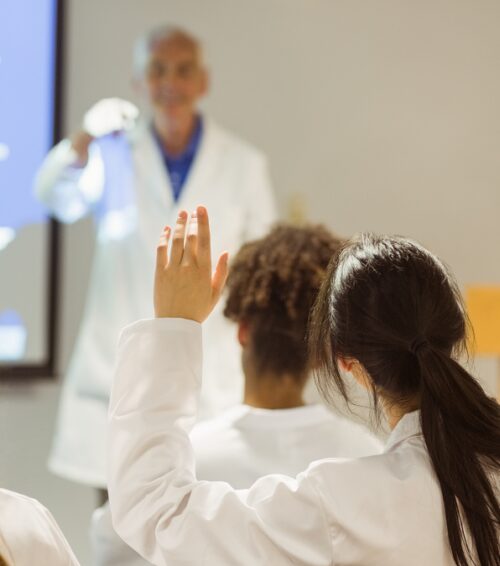 Editor's Note: Updated June 2019
Physician assistants (PAs) are one of the most sought-after healthcare providers. As the physician shortage worsens, this demand is only predicted to grow in order to meet patient needs. As a result, the increase in job opportunities for PAs is attracting many aspiring healthcare professionals to this advanced-practice role.
In order for would-be PAs to become PAs, there must be a large network of affordable and accredited institutions to educate qualified students. Fortunately, the number of accredited physician assistant programs is on the rise, reflecting the growth of the field. Let's take a look at just how quickly these programs are emerging and what factors are behind this educational expansion.
The Demand Rises
According to the Bureau of Labor Statistics, "Employment of physician assistants is projected to grow 37 percent from 2016 to 2026, much faster than the average for all occupations." The incredibly high demand for PAs is driving the creation of new physician assistant programs.
Dawn Morton-Rias, president and CEO of the NCCPA, is amazed at the PA profession's growth and noted that:
"There is high demand for PAs. They are utilized and integrated into the healthcare sector across all disciplines and settings and in all 50 states. Every state has legislation enabling physician assistants to acquire licensure. Evidence suggests that there is a continued demand for healthcare providers as implementation of the ACA continues and growth in PA programs continues and we continue to see good employment across the U.S."
How Did This Happen?
According to Public Health Reports, the PA profession is predicted to grow by 72 percent by 2025. There are several factors driving this increased demand, such as the physician shortage and cost-effectiveness.
As the physician shortage worsens, the importance of PAs as care providers increases. With new legislation expanding their scope of practice and practice autonomy, PAs are picking up the slack. This development isn't new, either: An inadequate number of primary care providers led to the emergence of the PA profession in the 1960s.
According to the American Academy of PAs (AAPA), physician assistants are attractive from a budgetary point of view: Because they are able to treat Medicare and Medicaid patients in a more cost-effective manner, PAs are an appealing solution for budget-conscious healthcare facilities. The education and training to become a PA is less intensive and lengthy than that required to become a physician, making it possible for these providers to quickly begin helping patients.
New PA Programs Emerge
As of June 2019, there are only 242 accredited physician assistant programs throughout the United States, but that number is increasing. in the recent past, the Physician Assistant Education Association's (PAEA) accreditation review board awarded accreditation to eight programs in April 2017 alone, and 24 programs are on track to become accredited by next month, July 2019. The announcement of these programs is part of a larger trend to increase the number of PA programs across the country to meet the increase in demand.
Morton-Rias notes that education programs are struggling to meet the demand and keep up with the country's need for healthcare providers. Here are a few of the emerging physician assistant programs and how they are helping the healthcare industry:
The Adventist University of Health Sciences physician assistant program offers an exciting curriculum that gives students early and thorough exposure to clinical work, helping them become competent clinicians who are able to care for a variety of patients with special needs. Because of the school's religious affiliation, the program puts a strong emphasis on taking into account every patient's spirituality and spiritual needs. The program has been granted a probationary accreditation status by the PAEA.
The PA program at Emory & Henry College in Florida has been granted a provisional accreditation status and boasts student-friendly features such as small class sizes to help support the growth of the individual clinician. One particularly attractive feature is the program's simulation suite, which will be equipped with seven separate patient exam rooms, three simulation mannequin labs, and a cadaver lab in order to provide a wide range of opportunities to practice medical skills. Students will also be able to gain clinical experience from the very first week of the program with the opportunity to work at the nearby Mel Leaman Free Clinic.
Charles R. Drew University hopes to distinguish itself from others by offering a program that allows PA students to simultaneously become certified nutrition support clinicians. These clinicians are able to take care of the special needs of parenteral and enteral nutrition patients, and they tend to work in hospitals and in-home health settings. This program has also been granted provisional accreditation by the PAEA.
Across the country, new physician assistant programs are emerging to meet the demands of the healthcare industry. As the physician shortage continues to worsen and the demand for medical care increases, these programs are hoping to support the healthcare industry not only by sheer numbers, but by offering high-quality, innovative curricula to make the process more efficient and effective.