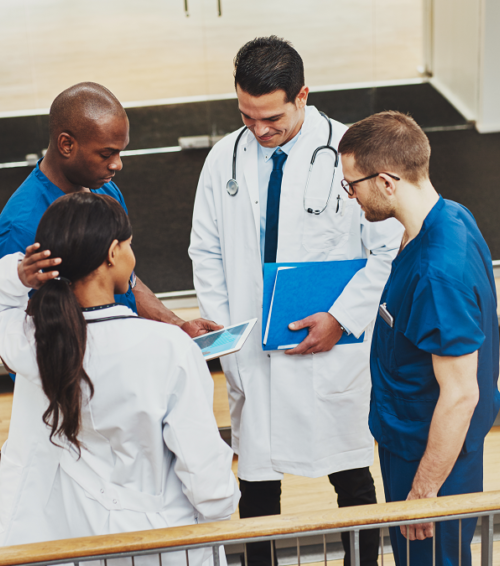 What is locum tenens? You may have heard some of your colleagues discussing this lucrative career path, its flexible hours, and its promise for greater work-life balance. For those who want to learn more, we're answering some of the most frequently asked questions about locum tenens careers:
1. What Is Locum Tenens?
Latin for "to hold one's place," "locum tenens" refers to temporary short- and long-term positions at healthcare facilities. Locum tenens staffing and recruiting companies such as Barton Associates facilitate matches between providers seeking work and facilities in need of coverage across the U.S.
2. What Is a Locum Tenens Assignment?
Depending on the facility's need, locum tenens assignments can range in duration from a day to a year or more. Locums may take on a variety of on-the-job tasks depending on the specialty, setting, location, and other factors.
3. Who Can Be a Locum?
Facilities in need of staffing coverage seek locum tenens physicians, nurse practitioners (NPs), PAs, dentists, and certified registered nurse anesthetists (CRNAs) across multiple specialties and career stages.
4. What Are Locum Tenens Physicians and Advanced-Practice Clinicians?
During a nationwide physician shortage that's projected to leave the U.S. short by up to 100,000+ physicians by 2030, advanced-practice clinicians such as NPs and PAs have stepped up to fill the need. Locum tenens physicians, NPs, and PAs take locum tenens assignments in a variety of practice settings and locations across the country.
5. Why Should I Do Locum Tenens?
Locum tenens assignments allow providers the freedom to choose when they work, where, and for how long. This flexibility is a common favorite benefit for providers who choose to go locum — especially those eager to escape the busy schedules and hospital politics of traditional full-time work. Locum tenens also offers the opportunities to travel, build a diverse skill set, earn competitive compensation, experience nontraditional settings, and care for populations in need.
6. How Does Locum Tenens Work?
Your Barton Associates recruiter will get to know your skill set, preferences, and goals to find the best positions for you. Next, they'll submit your information to the jobs you're interested in pursuing and arrange interviews. Once there's a match, your recruiter will handle the licensing, credentialing, and travel details. All you need to do is show up!
7. Is Locum Tenens Right for Me?
There a number of reasons to pursue locum tenens. How do you know when it's time? Which signs should you look for? We put together a quick quiz to help you find out. Take it here!
8. Are Locums Self-Employed? Are They Independent Contractors?
Locum tenens providers are independent contractors. As such, they can take advantage of certain benefits during tax season. Learn more about doing your taxes as an independent contractor in "The Barton Associates Tax Guide for Locum Tenens Providers: 2017–2018 Edition," available for free download here!
9. How Do Locums Get Paid?
As independent contractors, locums submit their hours on a weekly basis and receive gross pay accordingly. The process is made easy through Barton's online portal: After your submittal, timesheets will be approved by the client and later processed by our billing team. Payments are sent two Fridays after the end of the work week.
10. Which Hospitals Use Locum Tenens?
Hospitals, practices, and companies across the U.S. use locum tenens staffing to meet a variety of short- and long-term needs. Barton works with contract research organizations (CROs), corporate clinics, correctional facilities, dental offices, in-home health and well-being services, independent medical exams (IMEs), Indian Health Service (IHS) facilities, insurance companies, law firms, medical spas, mobile clinics, urgent care facilities, telehealth services, and more!
11. What Is the Best Locum Tenens Company for Physicians?
At Barton Associates, we're the locum tenens experts. With 10 offices across the country, an extensive client network, and a dedicated team of recruiters and specialists, Barton is fully equipped to provide physicians and clinicians with the resources, career guidance, and locum tenens placements they seek.
What is locum tenens to you? Learn more in our Guide to Going Locum!