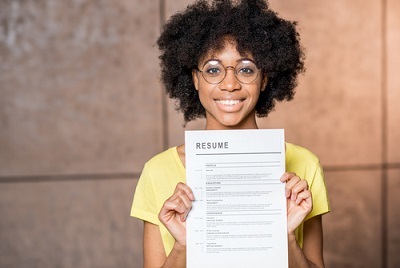 More often than not, young adults will not draft a formal resume until they enter college. Creating your first resume can be a daunting task, and making the necessary edits to perfect it can be even more distressing. We've all been through the struggle, so here are some dos and don'ts of college resume building that are sure to guide you in the right direction!
Don't make it too long
In your early 20's, there's no reason for your resume to be longer than a page in length along with an additional page for a cover letter. If you find yourself struggling to narrow down a long list of jobs, campus activities, and community service, try to focus primarily on the tasks, activities, and skills that are relevant to the position you are applying for. You should be able to summarize each experience you have in one or two bullet points which you can then expound upon in a formal interview. This article from Monster.com goes into further detail regarding resume length.
Do show a wide variety of experience, and make it exciting
In the limited space you have to show your worth to a potential employer, be sure to showcase a range of activities and skills that you possess to give a "big picture" idea of who you are. What makes your unique experience a valuable asset to the company you are applying for? Mention awards, study abroad experience, clubs, athletics, and other activities that will make a hiring manager want to bring you in for an interview.
Don't copy and paste from the job posting
This might sound like a no brainer, but it happens. Hiring managers are going to disregard your resume immediately if they see that you were too lazy to come up with a creative means of proving that you are "a diligent worker who is proficient in Microsoft Excel." If you see a specific qualification in the job description that you possess, be sure to highlight that within your experiences, but make it unique, exciting, and relative to you.
Do tailor your resume to each position
It's going to take a little bit of work, but highlighting specific elements that pertain to each job you apply for will make a world of difference to the person reading it. For example, if you see that a company is seeking competitive employees, highlight activities such as a college sport or debate team you were on in order to show that you would fit that role. Additionally, any hobbies or interests you have that might spark a connection with a hiring manager are always a plus and will make them value the effort you took to personalize your resume for their specific position.
Don't falter in formatting
Colored and hard-to-read fonts, large paragraphs of text, and lack of uniformity will make your resume impossible to read and distract from the material itself. A simple, straight to the point, uniform resume will allow hiring managers to focus on what you actually do rather than how you put it on paper.
Do have someone proofread and assist with style
It's easy to overlook grammar and formatting errors when you're staring at your laptop screen for hours on end. Whether you visit a career counselor, a trusted professor, or another professional, getting an additional set of eyes to read over your resume is crucial. You should visit them more than once, too- from when you first begin drafting a resume to when you make your final edits, having a second opinion can be the key to putting your best work down on that paper.
Barton Associates hires entry-level, money motivated individuals who are looking to grow within a company. Once you've finalized your bulletproof resume, head over to our careers page to submit your application!