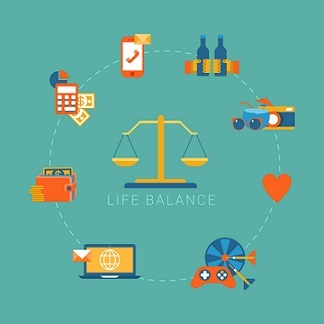 According to a CNBC article, in 1817 "Welsh manufacturer and labor rights activist Robert Owen [coined] the phrase 'eight hours labor, eight hours recreation, eight hours rest,' dividing the day into three equal eight-hour parts." While we have since drifted from this standard, Labor Day serves as an annual reminder that we need to find a happy medium between work, play, and rest. As a college senior, this can feel near-impossible, though. Whether you identify as someone who is all work and no play or the other way around, here are some tips for finding that three-part balance.
Avoid spreading yourself too thin
If you're anything like me, you want to do it all. If you're someone who chooses to load up on classes, part-time jobs, tons of clubs, or all of the above, you should take a step back and truly evaluate the situation. Are you giving your best effort to all of these activities? Are you giving your best in any? If you answered no to both, maybe it's time to cut back- whether it's dropping a club or class or simply reducing hours at work, you need to give yourself a break in order to improve your productivity in the things you do love and ensure you have some time for your own health, too.
Make time for your physical health
If you love intramural sports, yoga classes, or simply going for walks to unwind, be sure to make some time throughout the week for those activities. Additionally, try to cook a meal in your room once in a while rather than opting for fast food or skipping meals altogether. Keeping your mind and body in shape are crucial to your success, so be sure to give your health as much time and effort as you give to all of your other activities.
Stay organized by planning ahead
Knowing when you have to complete assignments and work-related tasks allows you to make a schedule for yourself, therefore preventing unwanted stress and confusion. By planning a time and place to complete your responsibilities, you'll have an easier time figuring out when you will have time for the fun stuff, too.
ENJOY IT
Your senior year is arguably one of the most important years of your life, but it is also the last year you have to truly enjoy spending each day surrounded by some of your best friends. Work hard and stay focused, but be sure to enjoy the ride.
Are you graduating this year? Barton Associates is seeking entry-level talent to join our teams in all of our offices nationwide!