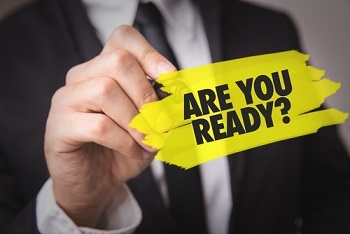 As a soon-to-be graduate, you've probably only interviewed for part-time or on-campus positions thus far, which are often a much different experience than an interview for a full-time position. Because of this, you might find yourself feeling nervous and unprepared, but have no fear- we have compiled a list of must-haves for every interview you'll find yourself in!
1. Extra copies of your resume
You've undoubtedly submitted your resume to the company at least once before, but be sure to come with a few copies in hand just in case. You may not know exactly how many people are interviewing you, but it's smart to bring at least five- you can always take the unused copies to your next interview if needed!
2. A notepad and pen
Although you should check with the interviewer beforehand, generally it's acceptable (and even sometimes encouraged) to take notes during an initial interview. If you're interviewing for several positions within a short period of time, it's easy to mix up details about primary responsibilities, PTO, important people to know, and so on. Additionally, taking notes shows interviewers that you have a genuine interest in the position. Just be sure not to overdo it- remember, this is a job interview, not a lecture.
3. Any questions you have for the interviewer
It's virtually impossible to apply to a new position and not have a single question for the interviewer- you can't possibly know everything about the company! If you feel that you have a respectable understanding of the position you're applying for, don't be afraid to ask about things like the company history, the culture within the office, or the interviewer's experience working for the company. Learning more about the positives and negatives of the day-to-day will help you gauge whether or not this is a position you would accept if given an offer. Further, asking questions proves that you did your homework and have a genuine interest in obtaining this position, both of which will impress your interviewers tremendously.
4. Information about the company and interviewer, if possible
A surefire way to stand out amongst the competition is to learn as much about the company you are applying for as possible before you head into your interview. This not only gives you a better understanding of what you are getting yourself into, but it proves to interviewers that you are a serious applicant who values their time. Even more impressive is if you can learn a bit of information about the interviewers themselves by connecting with them on LinkedIn. If you find out that your interviewer played the same sport as you in college or shares an interest in travelling, these can be key conversation starters.
Are you searching for full-time work after graduation? Gather up your resume and references and send them over to us! At Barton Associates, hardworking, money-motivated individuals start in entry-level roles and can see their first promotion within their first year at our company. Visit our website to learn about career opportunities for you: https://www.bartonassociates.com/careers/