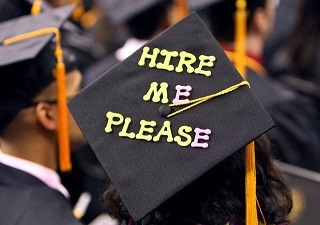 When your graduation date is fast approaching and it seems as though you are one of the only students in your class that has yet to land a job in the "real world," don't fret– you are most definitely not alone. Despite the pressure you may be receiving from parents or the simple fact that it may be a discouraging prospect, there are plenty of ways to work towards your dream career after graduating. Keep reading for some helpful tips to boost your job search!
Connect with your career center on campus.
Most college career centers service students well after they graduate– some even serve them for life! So, even if you find yourself in your mid-40's without a steady career, the career center can still be of service to you. They have plenty of leads on jobs, tips for resume building and interview etiquette, and advice for you if you are having trouble deciding on a field of work.
Revisit your resume.
Even if you do not make it to your campus career center, you can still revise your resume on your own to make sure that it is the best representation of your latest work. If you have done any recent internships, on or off-campus jobs, participated in clubs or community service, or received any awards, make sure those are listed. Utilizing keywords that employers search for can make your resume more accessible in online databases, so browse their websites and career pages to see if you notice any terms that come up consistently. You may also want to add in basic skills you have acquired in order to cater to the positions you are applying for.
Network, Network, Network!
There is a reason you hear networking stressed so much in college– because it works. Make sure you stay active on LinkedIn and keep your social media pages looking professional. Staying in contact with classmates, professors, faculty, and past co-workers can be beneficial as well. If they know you are on the lookout for a job opening, they will be more inclined to help you out if you keep lines of communication open. Finally, do not be afraid to attend career fairs at your college or in your community, especially considering the fact that their purpose is to hire people like you.
Do not get lazy– if you wait on the job search, you risk missing opportunities.
If you feel as though you are looking at the same handful of companies each time you search for jobs, try broadening your search to some smaller-name ones. Also, try not to fall into the "I'll just take the summer off" mentality. While you are taking a break from the job search, there are hundreds of other recent graduates who are looking to fill the positions that you may have been searching for. After graduation, treat every day as if your current job is finding a job, and devote at least a few hours a day to searching online, calling businesses, and establishing connections with potential employers.
Consider an internship, even if it is unpaid.
An internship is not going to provide you with your dream job right out of the gate. However, it will give you crucial experience and serve as a resume builder for your continued job search. Companies look kindly on students who devoted time to interning throughout college because they already have some experience in the "real world" of employment, so there is no reason to stop interning once you graduate if it continues to serve as a stepping stone to your career.
While the career search following college may seem like a daunting task, it can be manageable. Be sure to devote time to searching every day, and be ready to sacrifice in order to get the job you want.
Barton Associates is always looking for hardworking, money-motivated college students and recent graduates to add to the team. Visit the main page on our website to learn more about our company's goals and information for applying: https://www.bartonassociates.com/careers/