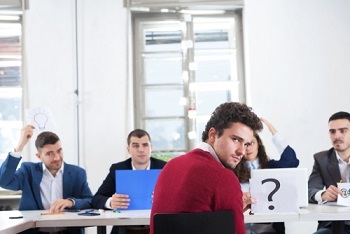 You've probably heard that you should always ask questions during a job interview, but some questions are much better than others. If you want to ensure that the hiring manager doesn't throw your resume in the trash as soon as you walk out the door, be sure to refrain from using these not-so-great questions in your next interview.
"How much money will I be making?"
Salary is definitely an important factor for your acceptance, but this shouldn't be the question you lead off with unless you are applying for a sales role or any other commission-based position. If this is the initial interview, asking about salary may indicate that your main priority is money rather than a career opportunity, and that can serve as a red flag to employers. It might also indicate that you are assuming you've already secured a job offer, which could be off-putting. Later in the interview process and upon being offered the position are much more appropriate times to pose this crucial question.
"How will this job benefit me?"
The problem with this question is in the wording. You mean well, of course, because you hope to learn about growth opportunities and benefits to the position beyond a salary and paid time off. However, this phrasing suggests that your employer needs to prove the worth of the position to you, rather than the other way around. Instead, try asking something like "what do you enjoy most about working here?" to get more insight into company culture as well as show your interest in the interviewer's personal experiences with the company.
"How long will I have to wait to get promoted?"
This question is similar to the last one in that the wording is off-putting. While you are curious as to how you will grow within the company, it's ultimately up to you to determine how successful you will be in your newfound role. This question may also suggest that you don't care about the position you are applying for, but rather, are using it as a stepping stone to something better. Instead, try asking something like, "what are some opportunities for growth within this company?"
"Do you do background checks?"
100% suspicious. Don't ever ask this. Another one to erase from your brain- "do you monitor internet usage?"
Anything that you could have easily looked up beforehand.
This includes the typical duration of shifts, names of upper management employees, how long the company has existed, how many offices there are, etc. If you searched for general company information beforehand and were unable to find it, you might want to preface your question with "I didn't see this listed on the website, but…." Either way, make sure you do your research.
Looking for some good interview questions to replace with these ones? Check out on of our other blog that highlights some excellent questions to bring with you, and be sure to visit our website to find out how you can secure an interview with us!