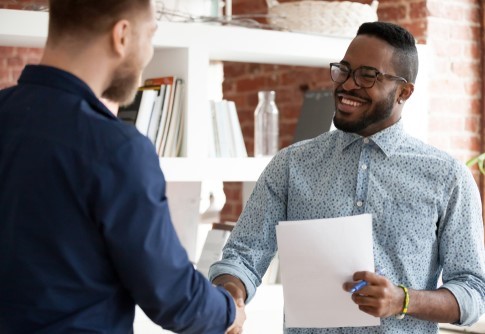 Sales is a career path that welcomes people with diverse backgrounds, fields of study, and work experience. Whether you studied finance in college or waitressed for five years, your ability to communicate effectively with people and develop an extensive understanding of your company are just two of the many driving factors for success. Once you've acquired the role, your determination to close sales and rise through the ranks in your company will make you stand out against your coworkers and competitors. Here are some steps you can take in the early stages of your sales career that will help you earn your first promotion.
Connect with your boss
It's easy to get lost in the shuffle of new hires, especially if you work for a large company. Make an effort to get to know your boss well from the start to make sure you're on their radar when a promotional opportunity arises. Even if you aren't one of the top-performing salesmen by the end of your first month, a positive relationship with your boss will prove that you're not someone they should give up on just yet.
Maintain a positive attitude from day one
It can be discouraging to spend the entire day on the phone without closing a sale, but that's the nature of sales. The worst thing you can do is hang up the phone after your 15th declined offer and decide you're done for the day. Instead, pick yourself back up and dial a new number- who knows, the next call could be your best one yet.
Set yourself apart from the pack
Your management will be quick to notice when you're the first to pick up some extra projects or lend a helping hand to a coworker. Additionally, be the person that comes in a bit early to prepare for the day and stays late to finish everything on their to-do list to prove that you're devoted to the position. An individual who goes the extra mile will undoubtedly be noticed more than someone who sits back and waits for someone else to take care of the problem at hand.
Be eager to learn and able to adapt
Speaking at Stanford University in 2011, Mark Zuckerberg insisted that "in a world that's changing really quickly, the only strategy that is guaranteed to fail is not taking risks." Sticking to old habits or using one method to address every problem is a surefire way to fail. In order to stay resilient and keep up with the competition, you should make every effort to educate yourself on industry news and be willing to adapt your selling strategies in order to achieve success. This means you should also be open to constructive criticism, taking the advice that your managers give you and using it to perfect your strategies.
Set a target and power through it
The most obvious- and arguably most difficult- way to earn your promotion is simply to crush your job. Sales isn't for everyone, but if you do have a natural talent for selling, being the best at your job is a guaranteed way to get noticed by your boss. If you're having trouble making your first sale or get stuck in a rut in your first few months, ask your managers for feedback- they've been in your shoes before, after all.
Have you thought about a career in sales? Barton Associates is the perfect place to start! Our team members receive a competitive base salary, comprehensive benefits, uncapped commissions, and plenty of opportunities to rise up to management through our promote-from-within growth structure. What are you waiting for? Let's get started.