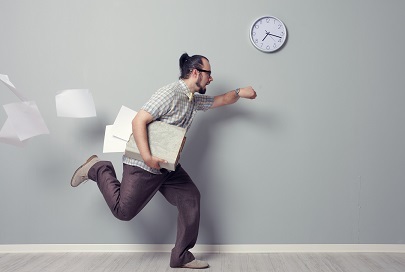 If you're anything like me, most days you drag yourself out of bed well past the initial ring of your alarm and race the clock to get ready for work. All this rushing around may add unnecessary stress to your morning and definitely doesn't look good in terms of work performance if you consistently arrive late. However, the first step is acceptance, and once you come to terms with the fact that you may have poor time management skills, you can continue reading to figure out how to correct these habits in ways that go beyond simply avoiding the snooze button.
Plan your outfit/pack your lunch the night before
Rather than destroying your closet at sunrise to find something decent to wear to work, take fifteen minutes before bed to plan one or two outfits for the next day. This way, you have a definite option and a backup just in case. Additionally, packing your lunch the night before allows you to grab it on your way out the door and will save you the money that you might spend if you forget it entirely.
Leave notes around the house for important reminders
Rather than relying on your memory first-thing in the morning, leave sticky notes in a convenient spot the night before to remind yourself of important items for your day. Never again will you find yourself halfway to work wondering if you forgot something!
Place the essentials in a designated spot
If you're someone who frantically searches for their keys every morning, you might want to consider designating a place for them. If you put your necessities in the same place every day, you will save yourself time and gain some peace of mind.
Make a quick and easy breakfast at home
Take the extra 10 minutes to make and eat your breakfast at home rather than hoping you'll have time to stop. Detouring to your local bakery adds unnecessary time to your commute, and skipping breakfast altogether does nothing but hurt your productivity levels, so its best to be safe rather than sorry.
Set a timer for your morning coffee
Most new coffee makers have a timer function so you can schedule your morning pot at a convenient time. This will save you the Starbucks trip and allow you to run straight out the door with a piping hot mug.
Stay off of social media
It's tempting to see what you missed on Facebook the night before, but it's a major time waster. If you take the train or another passenger-form of transportation, you can check for updates then, or simply wait until lunch.
Once you begin using some of these tips and find that you have a little bit of extra time on your hands, head over to our careers page to learn about some full-time career opportunities for you!