Working in Hardwick, MA
Discover All Our Hardwick Office Has to Offer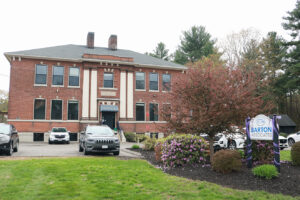 Located in central Massachusetts, our peaceful Hardwick office is the perfect place to build a rewarding and challenging career! Located along MA-32 N, this office is perfectly situated between Amherst and Worcester.
About the Office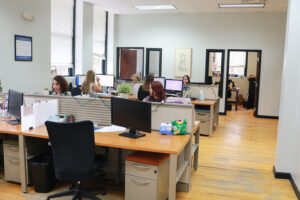 In February 2013, Barton Associates' office moved from its space at the Hardwick Kilns to the classic renovated building that was formerly home to the Wheelwright School. Although one of our smaller offices, the Hardwick location houses many of our sales support team members and is situated between Springfield and Worcester, MA.

The Hardwick office is located at 1776 Barre Road, and is one of our most unique office buildings. Built in 1913 to accommodate schoolchildren living in the paper mill village of Wheelwright, the building has plenty of old-school charm, literally! A little league baseball field is located directly behind the building, though our employees use it for kickball more often than baseball.

An Idyllic Location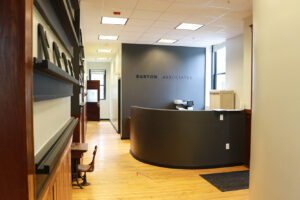 If you're looking for a peaceful work environment that's still close to areas of interest, then the Hardwick office is for you:
Hardwick, MA to Boston, MA: 1 hour 35 minutes by car, approx. 74 miles

Hardwick, MA to Springfield, MA: 51 minutes by car, approx. 36 miles

Hardwick, MA to Worcester, MA: 39 minutes by car, approx. 23 miles
Nearby Sights and Attractions
While Hardwick is central to several cities, you don't have to travel for hours to find some fun. Here are just a sample of the many great local attractions you can take advantage of when you work in Hardwick:
Six Flags New England
If you're a theme park lover, roller coaster enthusiast, carnival game pro, or all three, Six Flags New England is a nearby attraction that you'll love. Located right over the Massachusetts border in Agawam, this Six Flags has plenty of rides and even a water park for those hot summer days. 
Mass Central Rail Trail 
Only two minutes down the road from our office you'll find part of the Mass Central Rail Trail. Once a historic railroad line, this 104 mile trail is now a linear park open to cyclists, hikers, and joggers. 
Quail Hollow Golf & Country Club
Hit the links! Quail Hollow Golf & Country Club is an 18-hole, semi-private golf facility built in the historic Quabbin watershed. Located in the quaint town of Oakham, "Quail," as it is often referred to by fans, is easily found just 16 miles northwest of Worcester off Route 122.
MGM Springfield
Feeling like a high roller? The MGM Springfield is right across the Massachusetts border and includes a state-of-the-art casino, a wide variety of shops, and tasty restaurants. 
Ready to Make a Difference?
Join our team in Hardwick and start building your new career!