The Locum Tenens Experts®
Barton Associates is a leading national Locum Tenens agency for physicians, nurse practitioners, physicians assistants, dentists and CRNAs.
Barton Associates is a leading national Locum Tenens agency.
We Are Here to Help
Is your facility in need of a locum? Select "Looking to staff". Are you a healthcare professional looking for a job? Select the option that best describes you.
For Locum Tenens Providers
At Barton Associates, we offer healthcare jobs for locum tenens physicians, doctors, NPs, PAs, dentists, CRNAs, and most travel healthcare professionals in all 50 states. Whether you are a seasoned healthcare professional or just starting in the locum tenens job market, Barton Associates has the locum tenens experience and resources to find you the perfect locum tenens job opportunity; quickly and efficiently.
Learn More
For Locum Staffing & Hiring Managers
Barton Associates is a leading national healthcare staffing company. We recruit doctors, physician assistants, nurse practitioners, dentists, CRNAS, and healthcare professionals in a wide variety of specialties. Barton Associates can quickly find the right healthcare professional match in our vast database and place them in locum tenens jobs at hospitals, practices, and organizations nationwide. Let us help with your healthcare staffing needs.
Learn More
Learn More About Barton Locum Tenens Job Opportunities
Select your provider type to see how we can help
We work with thousands of hospitals, medical practices, and healthcare organizations across the United States that need talented travel healthcare professionals for short and long-term locum tenens job engagements.
Learn More About Locum Tenens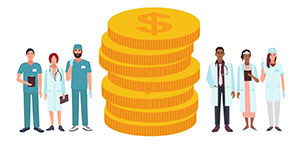 Locum Tenens Salary Guides
Whether you're just starting to explore your medical career options, or if you're a tenured physician or advanced practitioner, working locums are needed now more than ever to fill staffing gaps due to medical provider and physician shortages nationwide. Barton works with thousands of healthcare organizations and facilities across the country who are offering competitive locum tenens salaries to talented candidates.
Barton Reviews
Locum Tenens Healthcare Success Stories

Dr. Zainab S., M.D. — The best agency I worked and still working with. The best consultant I worked and still work with. I am more than happy working with this agency. Connors Perkins is my consultant.
Lisa T., APRN — Love working for Barton! My recruiter is awesome, always on top of things, pay is regular and on time, good jobs. I can't complain. I'm able to work close to home without being owned by a company.
Dr. Cynthia O., D.O. — I have always enjoyed and hope to continue the working relationship I have with Barton Associates. I really especially enjoy working with Anthony Grace who has always and continues to be very courteous, and professional and caring. He is indeed a great asset to your agency. Dr. Owens.
Howard C., Healthcare Professional — Absolutely the best experience I've had with a locum tenens company...He was immediately responsive to any request/need I would have, even if it was late at night on a weekend.
Check out some more reviews from our other providers!
2021 and 2022 Locum Hero Testimonials
2022 LOCUM HERO DR. LEONARDO ALONSO, DO
"Barton Associates is a very respected company with a long track record. You want to choose the right staffing company that's been established and that has good support for you. They're going to take care of your credentialing, present you and your CV to a facility, and make sure it's the right fit."
2021 LOCUM HERO DR. PRERNA MONA KHANNA, MD
"My passion is disaster response and humanitarianism, and locum tenens has afforded me the ability to be able to do that. I have had experiences through locums that I otherwise wouldn't have, and my entire lifestyle, my entire being, the essence of my professional work and much of my personal lifestyle just would not have happened if it wasn't for the ability to work in locum tenens."
IMLC Crash Course
STATE LICENSING FOR PHYSICIANS
The Interstate Medical Licensure Compact (IMLC) is an innovative agreement that's designed to speed up the licensure process for physicians who need or want to work in multiple states. The combined sigh of relief from locum physicians across the country was palpable when the IMLC was implemented in 2014.
Read further about the IMLC, its history and participating states, and take our IMLC Qualification Quiz!
The Barton Locum Tenens Experience
A Locum Tenens NP Shares How Working With Barton Shaped Her Career
How Does Locum Tenens Work? Q&A With Healthcare Providers