Working in Windsor, CT
Discover All Our Connecticut Office Has to Offer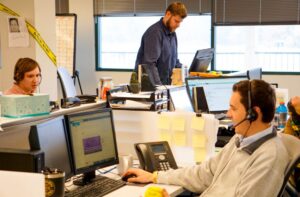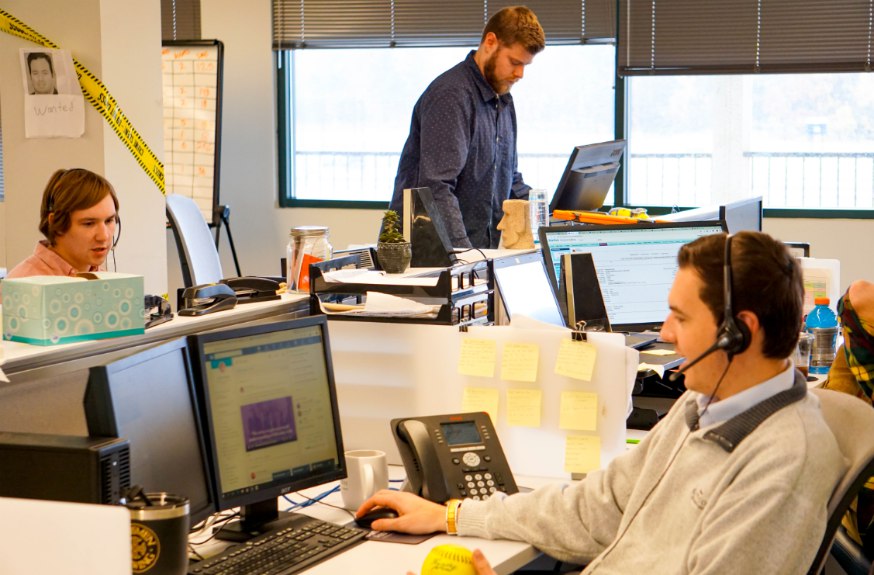 Located in the heart of the Connecticut River Valley, our bustling Windsor, CT office is the perfect place to build a rewarding and challenging career!
A commuter's dream, this office is situated between Springfield, MA, and Hartford, CT, and is just a short drive from its exit off I-91, making it a prime location for western New England residents.
About the Office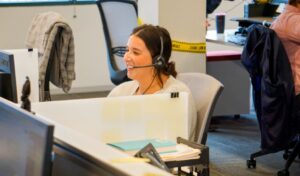 After quickly outgrowing our original 5,200-square-foot space in Enfield, we moved to our current location in Windsor in April 2017. With an open floor plan and plenty of conference and breakout spaces, our Windsor office is home to employees working in many different internal departments, including recruiting, licensing, and marketing. There is also ample free parking on-site. 
The Windsor office is located at 1001 Day Hill Road, and is part of a building shared by a variety of other businesses such as a gym, a pho restaurant, a coffee shop, and soon, a brewery! Take a trip outside of the building and you'll also find some other great lunch spots, including Day Hill Deli, Huasteca Mexican Restaurant, Buffalo Wild Wings, and Moe's Southwest Grill. Of course, there are also traditional fast food options close by, like Subway and McDonald's.
Bringing your own lunch? No problem! Our Windsor office offers a kitchen area and an outside balcony with picnic tables where you can eat and relax while you're on break.
A Prime Location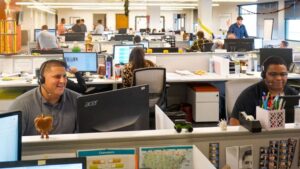 If you're looking for a work environment close to major urban areas, then the Windsor office is for you:
Windsor, CT to New York City: 2 hours 30 minutes by car, approx. 127 miles
Windsor, CT to Boston, MA: 1 hour 45 minutes by car, approx. 110 miles
Windsor, CT to Providence, RI: 1 hour 45 minutes by car, approx. 80 miles
Windsor, CT to Springfield, MA: 25 minutes by car, approx. 21 miles
Windsor, CT to Hartford, CT: 15 minutes by car, approx. 10 miles
Nearby Sights and Attractions
While Windsor is central to many major cities, you don't have to travel for hours to find some fun. Here are just a sample of the many great local attractions you can take advantage of when you work in Windsor:
Six Flags New England
If you're a theme park lover, roller coaster enthusiast, carnival game pro, or all three, Six Flags New England is a nearby attraction that you'll love. Located right over the Massachusetts border in Agawam, this Six Flags has plenty of rides and even a water park for those hot summer days. 
New England Air Museum
Right in nearby Windsor Locks, CT, is the New England Air Museum, a stunning exhibition that houses over 80 airplanes and many other artifacts from the history of human flight. Perfect for kids and aerospace enthusiasts alike, this museum is a great place to spend a rainy day. 
The Mark Twain House & Museum
Connect with Mark Twain and his many literary classics at the Mark Twain House & Museum in Hartford, CT! This attraction is Twain's old home, where he and his family lived from 1874 to 1891.
MGM Springfield
Feeling like a high roller? The MGM Springfield is right across the Massachusetts border and includes a state-of-the-art casino, a wide variety of shops, and tasty restaurants. 
Ready to Make a Difference?
Join our team in Windsor and start building your new career!