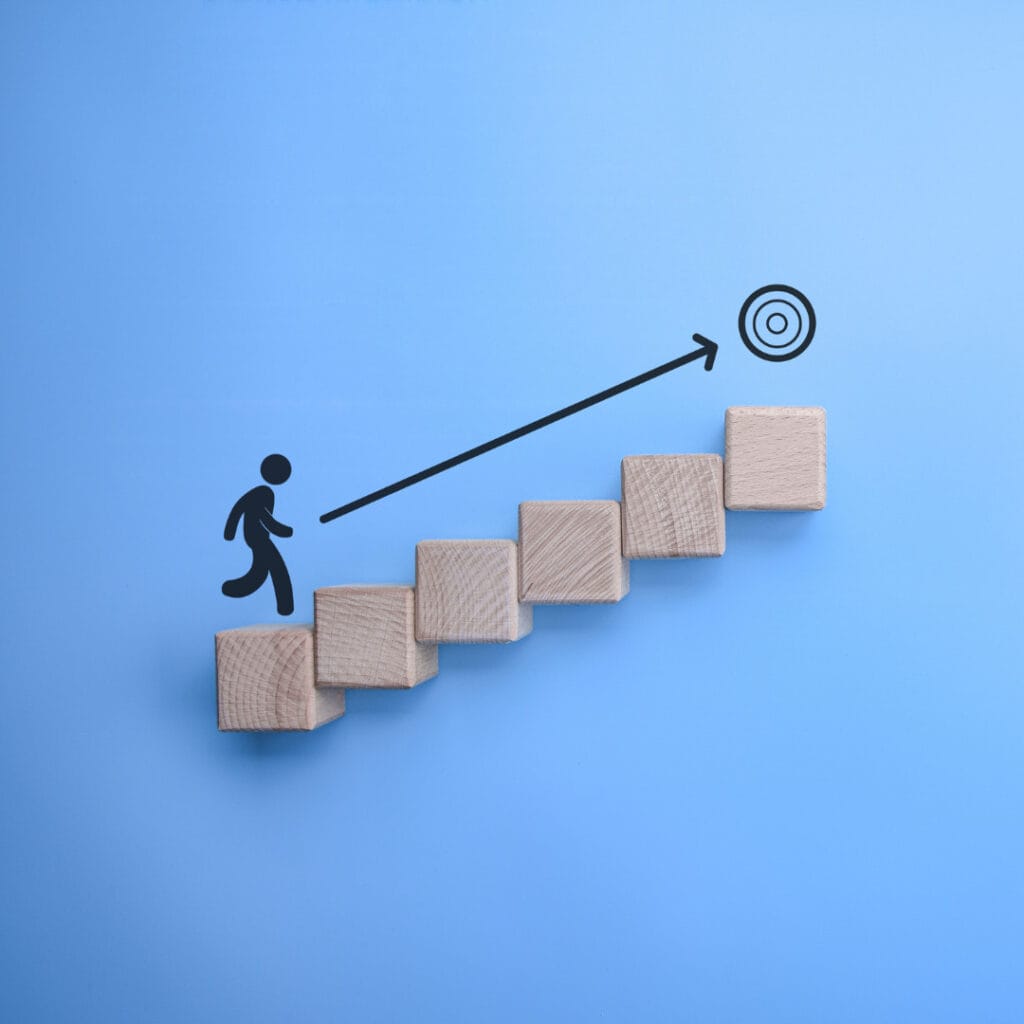 Whether you're years into your job or just getting started, growing as a professional is an important aspect of moving up the ladder and expanding your career. But finding effective ways to improve can be difficult between the responsibilities of your personal life and job. November is National Career Development month, and to celebrate, we're giving you five tips you can take that will help you elevate your professional life. 
1. Set 'SMART' Goals
Before you set off on your career development journey, it's crucial that you set realistic goals for yourself. Goals vary from person to person—some are more short-term than others—but when done right, they all help measure your progress and set clear lines for what you want to achieve.
Don't just go setting any type of goal—make sure they're "SMART" goals, which stands for specific, measurable, achievable, relevant, and time-bound. Following this framework will ensure that you place your time and attention on actionable items you can change in your daily life. 
Here are some examples of SMART goals that a person focused on career development might make:
By the end of the year, I will have billed my clients $50,000 in services. I will accomplish this goal by spending more time on the phone finding new clients and going to networking events to uncover new selling opportunities.
By the end of next year, I will have improved my leadership and communication skills by setting up monthly check-in meetings with people on my team. I will measure my progress by writing reflections each month.
By the end of my professional development course, I will have earned at least a B+. I will accomplish this by spending time studying and going to classes. 
2. Seek Out New Learning Opportunities
As you're working towards your SMART goals, take advantage of the many learning opportunities that might come your way. These opportunities can take many forms and might not be obvious at first glance, so keep your eyes out for anything that might teach you something new.
Read a book related to your industry or your career development goals, or seek out online or in-person classes to find new perspectives and strategies that might help you achieve your goals. Learning opportunities aren't limited to reading or taking a class—observe how others in your professional and personal life handle their responsibilities, and ask them questions.
3. Foster Meaningful Relationships
It's hard to improve all by yourself—that's why it's important to lean on your professional and private network to get advice on achieving your goals. One of the best ways to do this is to find a mentor who is willing to have you under their wing.
A mentor can be someone in your industry who you respect but don't directly work with, or even a colleague who is more knowledgeable than you in a specific subject or area. By humbling yourself and becoming a mentee, you'll gain important knowledge that will help you develop your career in ways that are meaningful to you.
4. Ask for Feedback
As you go on your career development path, it's critical that you take stock of your progress and ask for feedback wherever you can! This requires you to be proactive and ask questions—whether this be to your direct manager or your co-workers.
Different perspectives will help you identify where you're falling short of your goals, which is an important part of rectifying and making a change for the better.
5. Challenge Yourself
Ultimately, successful career development comes down to challenging yourself—if you don't place yourself in an uncomfortable position, you won't make any meaningful progress.
Take on extra responsibilities, push yourself by taking professional development classes outside of work, or do anything that will push the boundaries. Taking a jump into the unknown can be scary, but you'll be glad you did! 
Grow a Rewarding Career at Barton
If you're looking for a challenging and rewarding work environment, consider applying for one of our open positions on our job board today!