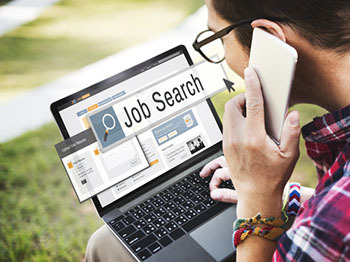 How do I effectively search for a job?
Beginning a job search can be very overwhelming. You may find yourself not knowing where to start. In today's job market, there are tons of ways to not only apply for jobs, but also boost your resume and make yourself look like a prime candidate for any position you apply for. Here are the best practices to follow when searching for a job.
Clean Up Your Social Media Pages
Believe it or not, if an employer is strongly considering bringing you onto the team, they will look into your social media page. Typically this will happen if you are one of the final candidates and the hiring manager wants to learn more about each candidate to set one apart from the rest. Because of this, it is a good idea to review any posts that you would not deem appropriate for your new potential employer to see. This includes photos of you drinking alcohol or doing any drugs, offensive content, or posts directed at previous employers. A clean social media page will show your employer that you are mature and can handle the job you've applied for.
Refresh Your Resume
Your resume is (obviously) the centerpiece of your application. What is special about your resume that the hiring manager will notice? When you create your resume, keep in mind that the hiring manager likely sees hundreds of other resumes per day. An analogy that one of my professors used in college was "all of the other resumes are like pencils on a conveyor belt. You want your resume to be the pen." Be sure to make any information pertinent to the job stand out at first glance. Give the employer a reason to learn more about you.
Along with your updated resume, be sure to write cover letters for each job you apply for. Cover letters are a great way for you to further explain your qualifications and value you would bring to the company you are applying to. Your cover letter should contain background information about you, why you are a good fit for the role, and what you will bring to the team. Be sure to include keywords from the job description as that will help make your cover letter stand out from the rest.
Utilize LinkedIn
There are so many ways to apply for jobs, but your best friend will be LinkedIn. The job market is so competitive, so sometimes the difference between getting an interview or not is all in who you know. LinkedIn allows you to see if any of your connections work at the company you are applying to. This information gives you an advantage because you are then able to reach out to your connection and see if they can refer you. Referrals get pushed to the top of the hiring manager's stack of resumes.
Although LinkedIn is incredibly useful, that does not mean you should disregard other major job boards such as Indeed and Glassdoor. Apply to jobs in as many places as you can.
Don't Give Up
Chances are you will not hear back from a majority of the companies you apply to. This is unfortunate, but normal. Many companies do not take the time to let all their applicants know they have been rejected for one reason or another. It is easy to get discouraged when this occurs. It is important to remain resilient and continue to apply to as many jobs as possible. Sometimes the classic 'throw spaghetti at the wall until it sticks' mentality is the best way to approach job searching.
Since you are looking for a job, check out to see what we have for openings! We have open jobs all over the country, so apply to one today!