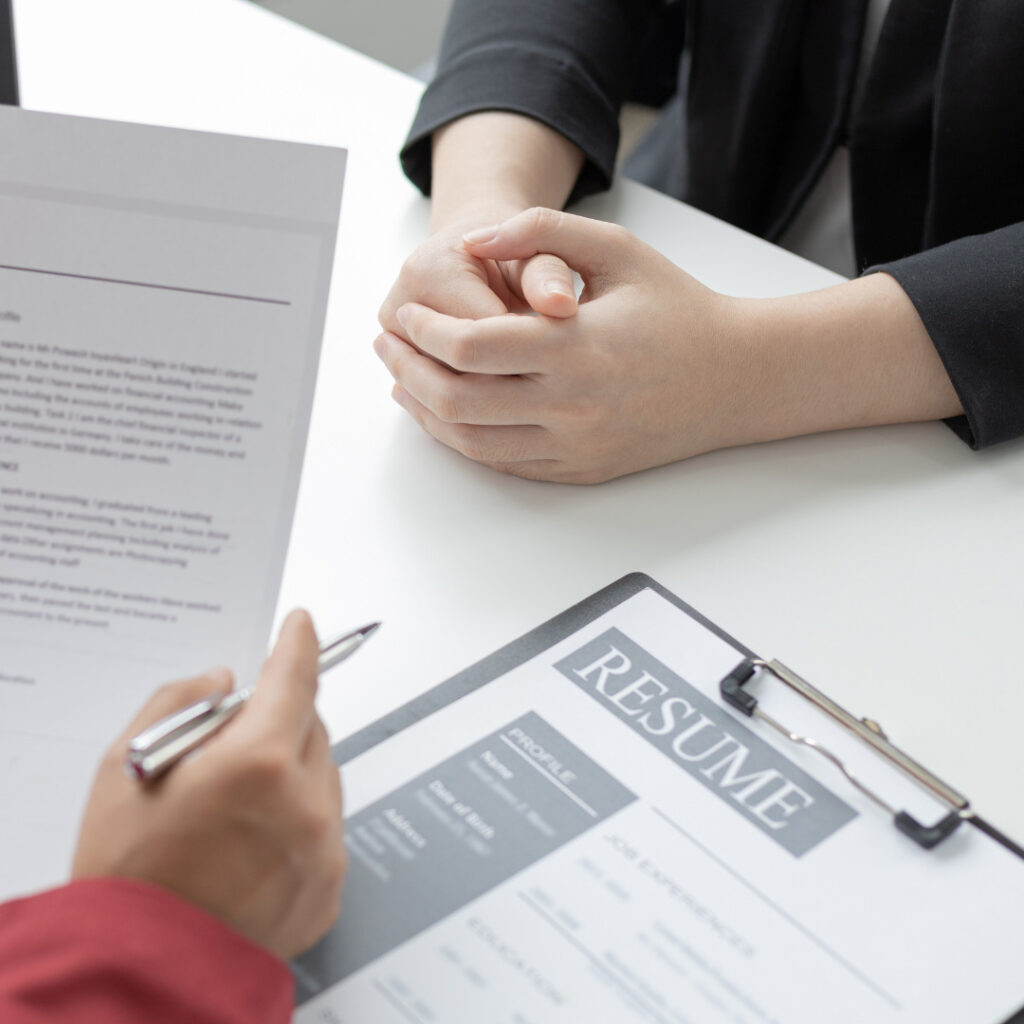 You've worked hard to get to this moment: after many long days of sending out your resume to no avail, you've finally heard back from a company that wants you to come in for a job interview. While you're probably incredibly excited about landing an opportunity to sell yourself and your skills—and you should be, this is a great step forward in your career—it's normal to also feel anxious leading up to it. But don't fret, we're here to help you prepare by providing some crucial tips on how to nail an interview.
The Job Interview Dos
No matter if it's your first or hundredth job interview, there are a few things you want to make sure you do throughout all stages of the process.
1. Research the Company
We get it, you've probably been sending out a ton of applications to a bunch of open positions in the hopes one would reach out. Now that one has, it's time to really do your homework and research the company. Use the internet to find out as much as you can about the company's mission, values, history, and place in the industry. Interviewers want to see that you've done your due diligence before the interview and may be gauging your knowledge of the company throughout the conversation.
2. Have Questions Ready
Job interviews often end with the interviewer asking, "do you have any questions for me?" Don't catch yourself off guard during this crucial moment—make sure you have thoughtful questions at the ready! Interviewers want to know that you are engaged and serious about the role. Ask more about the job responsibilities, how your progress or success will be measured, or anything else that you want the answer to. Make sure these questions are related to the job responsibilities, as you can ask questions regarding salary, paid time off, and vacations if you're offered the position.
3. Arrive Early and Dress Professionally
On the day of your job interview, make sure to arrive at least 10 minutes early. This will show the company that you're responsible and timely, and will also ease your nerves as you won't be rushing. Don't forget to dress to impress, preferably business professional if you're attending the interview in person. 
4. Relax and Smile
When you're finally in the room with your interviewer, it's crucial to make sure you maintain a positive demeanor throughout the conversation. Sit up straight, smile, make eye contact, and let some of your natural excitement for the opportunity shine through. Companies want to hire people who are enthusiastic about the position.
5. Follow Up 
After your interview has ended, don't fall off the face of the Earth. Send your point of contact a thank you note that reiterates your excitement for the position. This level of engagement goes a long way, and your interviewer is sure to notice your enthusiasm.
The Job Interview Don'ts
Now that you know what you should do when preparing and conducting a job interview, here are some important tips regarding what you should avoid.
1. Don't Speak Negatively About Previous Employers
When you're talking about your past work experience, keep your emotions and personal feelings to yourself. Making negative comments about previous employers will demonstrate to your interviewer that you may be quick to hold a grudge, or that you are not mature enough to handle the position. Stick to talking about your previous job responsibilities and how you leverage your skills to get tasks done.
2. Don't Interrupt The Interviewer
A good interview will feel like a natural conversation, but remember, you are constantly being vetted. While you may have the urge to jump in when you have something to say, take a step back and stay engaged by listening and speaking when it's your turn. Don't worry, you'll have plenty of time to say what you want to convey!
3. Don't Be Too Humble
Modesty is a virtue, but during a job interview, you want to sell yourself. Don't downplay your previous experience or responsibilities—instead, be proud of them and use them to your advantage! You want to talk about what you are good at, and while this may feel uncomfortable or self-aggrandizing, remember that you're in a job interview.
4. Don't Lie
This should be an obvious one—but your resume and cover letter must be an accurate reflection of your skills and experience. Use your interview time to explain these topics in greater detail, but don't embellish. Doing so will likely land you in hot water later on down the line.
5. Don't Forget to Bring Extra Copies of Your Resume
Although the company has a copy of your resume from your application, it's always a smart idea to bring a few extra copies to hand out. Doing so shows you are organized and prepared, which are great skills to have in any job.
Grow Your Career With Us
Now that you know how to nail a job interview, it's time to start putting your resume out there for companies to see. We have openings in all of our nationwide locations—apply to one online today!