Nurse Practitioner Salary Guide
Nurse practitioners are increasingly in demand, but more than half of permanent NPs still report that they're underpaid for their work. 
While it's not the only reason, NPs choose locum work, locum tenens NP jobs frequently pay better than salaried permanent roles. 
How much more? The boring truth is that the range of locum pay varies dramatically based on specialty, location, urgency, contract duration, and experience.
To help you make as informed of a decision as possible, we've provided some benchmarks for top specialties as well as some important NP pay considerations.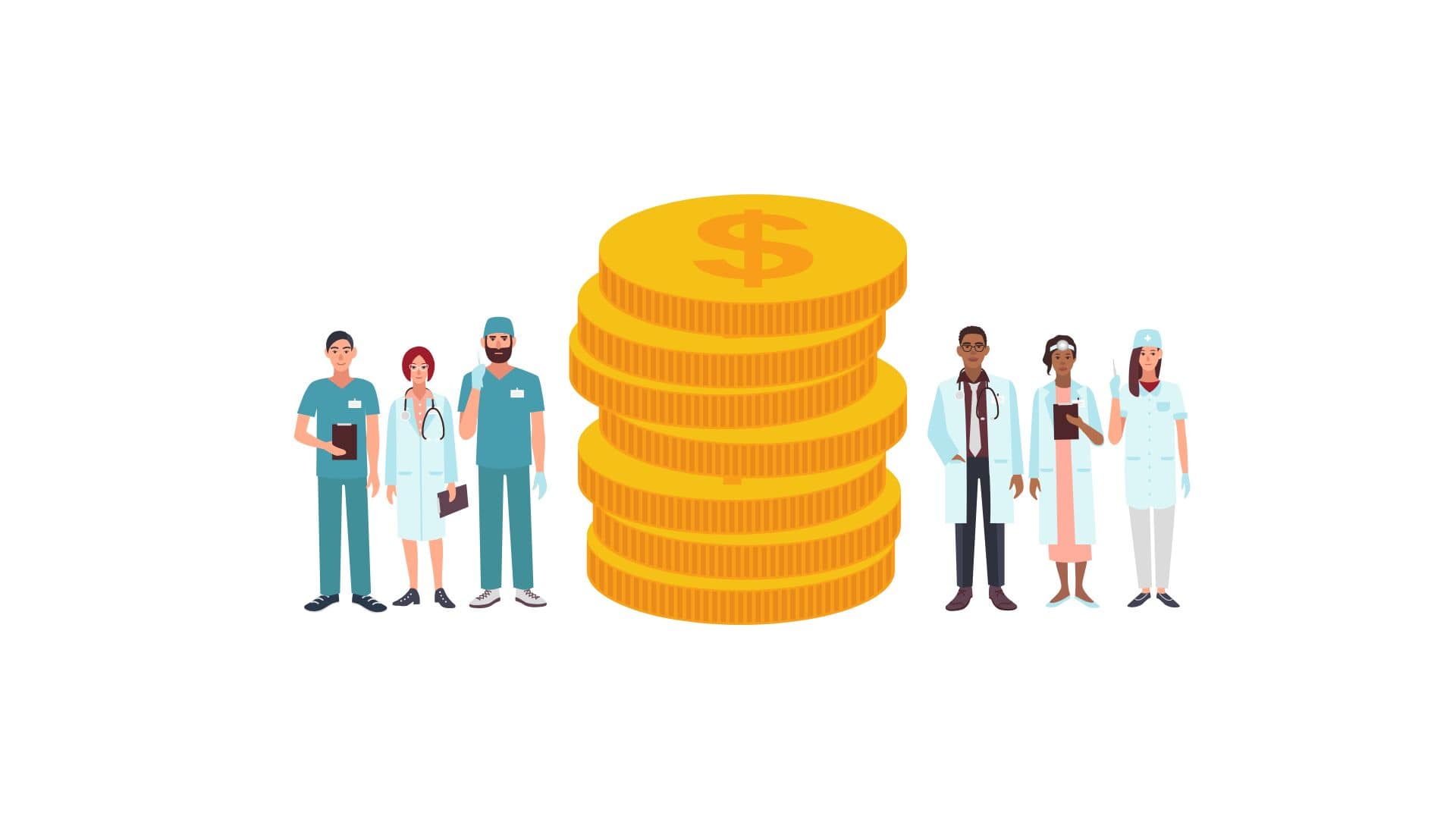 How Much Do Nurse Practitioners Make?
The average annual nurse practitioner salary is $121,610, according to the United States Bureau of Labor, when they last updated the figure in 2022. 
Medscape's survey of 1,500 nurse practitioners found a similar number: $118,000. This includes a base compensation of $111,000 and $7,000 in additional income.
The majority of nurse practitioners report feeling underpaid. Last year, 52% of NPs said they did not feel fairly compensated, which was the highest dissatisfaction rate recorded among all advanced practice registered nurses (ARPNs). In contrast, only one-third of CRNAs said they didn't feel fairly compensated. (CRNA's reported an average salary of $225,000.) 
How Much Do Locum Nurse Practitioners Make?
The short answer: hourly nurse practitioners (including locum NPs) reported average annual earnings of $143,000 – that's a 22% increase over the salary for perm NPs.
The long answer is slightly more complicated. While perm NPs are more likely to be salaried, locum NPs are independent contractors earning an hourly rate.  Locum NP salary also traditionally has a wider range of pay depending on the urgency of the facility, the location, and the NPs specialty. 
Finally, because locum NP assignments tend to be short-term (but not always), whether or not the NP takes time off between assignments factors into their earning potential.
Locum Nurse Practitioner Rates
Over the last year, locum NPs across specialties made an average of $93 per hour. If you were to extrapolate that rate over a year (at 40 hours per week), the average locum salary comes out to $193,000. 
As discussed above, there are several reasons you can't directly compare the wages of a locum worker to a salaried worker or an NP who operates their own practice, but it does underscore the fact that on an hourly basis, locums tend to earn significantly more than their perm counterparts.
What Factors Determine Nurse Practitioner Salary?
Many factors determine NP salary, but they don't always impact locum and perm providers the same way. Here are a few of the top factors, and how they can guide your salary expectations:
Region/State:
Region is a big factor in NP pay, but which states pay the best can differ dramatically for locum and salaried workers. For salaried NPs, pay is more closely correlated with cost of living in a state.
However, because locum pay is more impacted by urgency and talent shortages, some of the highest-paying states for locum workers are some of the lowest-paying for perm NPs.
Which states pay nurse practitioners the most money?
For salaried nurse practitioners, the pacific states pay the best: Washington, Oregon, Nevada, California. NPs in each of these states made between $125,000 and $160,000, according to the BLS' 2022 NP labor report.
New England is also one of the highest-paying regions for nurse practitioners, with NPs in Vermont, New Hampshire, Rhode Island, and Connecticut also earning between $125,000 and $160,000.
Kansas, Missouri, Arkansas, and Tennessee are among the worst states salary-wise for NPS, with nurse practitioners in these states reporting an annual salary of $99,000 to $114,000. Locum NPs in those states, however, can often earn amongst the highest rates depending on the facility and need.
Nurse Practitioner Experience:
Experience impacts NP pay, but only to a certain point. NPs with 11+ years of experience earned 10% more than those with 10 or less years of experience ($135,000 vs $123,000). 
However, after that point, there was no discernible difference in pay. NPs with 21 years or more of experience reported identical salaries to those with 10 or more years of experience.
NP Specialty:
Specialty is an enormous factor for NP earning potential. While most NPs have one of a handful of advanced practice certifications (Family, Psychiatric, Pediatric, Adult Gerontology), hospitals and facilities hire NPs in more than 120 specialties.  
Which NP Specialties Make the Most Money?
Generally, NPs in surgery specialties make the most money. While the average locum NP makes between $65 and $110 per hour, NPs in surgery specialties make an average range of $90 to $150 per hour. The highest earning surgery NPs make even more than that upper average range.
NP Salary Guide by Specialty
Family Practice Nurse Practitioners
More than half of all nurse practitioners cite family practice as their specialty. Their pay is squarely in the middle of the pack amongst NP specialties, but the high volume of NP family practice jobs means that family practice NPs often have more choice than their peers.
How much do family practice NPs make?
Family practitioner NPs made an average of $118,000 in annual salary last year, which is identical to the average salary for all NPs. (This is partly because family practice NPs make up such a large proportion of the total NP population.)
Locum family practice NPs made a range of $65 to $100 per hour, with the average family practice NP making $84 an hour. At 40 hours a week, that would result in an average annual salary of $175,000.

Psychiatric Nurse Practitioners
Psychiatric NPs were among the top paid specialties in 2022, and are also one of the fastest-growing specialties. Locum psychiatric NPs are also amongst the most in-demand hires by hospitals and facilities in 2023.
How much do psychiatric NPs make?
Psychiatric NPs made an average of $145,000 in annual salary last year, which is considerably higher than the average salary for all NPs. 
Locum psychiatric NPs made a range of $75 to $110 per hour, with the average family practice NP making $103 an hour. At 40 hours a week, that would result in an average annual salary of $214,000.
Pediatric Nurse Practitioners
Pediatric NPs are as in-demand as ever, but their pay tends to be in the lower-middle of the pack amongst all nurse practitioner specialties. On average, perm and locum pediatric NPs make around the same pay as family practice NPs.
How much do pediatric NPs make?
Psychiatric NPs made an average of $113,000 in annual salary last year, just slightly less the $118,000 reported by family practice NPs.
Locum pediatric NPs made a range of $65 to $100 per hour, with the average pediatric NP making $87 an hour. At 40 hours a week, that would result in an average annual salary of $181,000.
Go Locum, Earn More
EASILY INCREASE YOUR FAMILY NURSE PRACTITIONER SALARY
Find out how much more you could make as a locum family practice NP using Barton's Locum Tenens Salary Tool.
*Actual rates may vary based on experience, location, and other factors. Contact your recruiter for more information. Calculations based on Barton Associates data, and publicly available data from the following sources: Bureau of Labor Statistics, Salary.com, and Ziprecruiter.com.
Find Locum NP Jobs
THE LATEST OPPORTUNITIES FOR LOCUM NURSE PRACTITIONERS
Locum Tenens Nurse Practitioners Trust Barton
THOUSANDS OF NPS RELY ON BARTON ASSOCIATES FOR THEIR LOCUM ASSIGNMENTS

Jill S., Nurse Practitioner — Lael F., in NV is amazing. She has gone above and beyond to help me find work and to make sure I am happy and settled. When there is a problem, she follows up within 10-15 min, sometimes faster!
Patricia A., Locum Tenens Nurse Practitioner — Barton rocks. My recruiter gets it. I recommend my clinician friends sign up to work locums with Barton. Pronto!
Susan S., Locum Tenens Nurse Practitioner — Prompt pay. Great customer service!
Check out some more reviews from our other providers!
BARTON'S 3-STEP PROCESS
How It Works
Barton coordinates your job search from start to finish!
1
TALK WITH A REP
We'll schedule a phone consultation with a Barton Associates team member to discuss your interests, goals, and work history in order to get a sense of what you're looking for in your next job.
Your Barton team will then go to work, compiling a list of open jobs in our extensive network that match your interests and skill set.
2
REVIEW YOUR OPTIONS
Once you've had a chance to evaluate your list of opportunities, your Barton rep will submit your information to facility you want to take an assignment at.
If there's a match, we'll work with the client manager on next steps.
3
START YOUR JOB!
Don't worry! Barton Associates will handle licensing, credentialing, and travel arrangements before you arrive.
Your Barton rep will also work with your new facility to ensure you're set up and ready to go on day one.
LEARN MORE
Complete the following form to learn more about how we can help you find the perfect opportunity