Location is an important consideration for any job,  but especially for 
physician assistants (PAs).
 When comparing all 50 states, some offer better practice regulations and more autonomy than others. In what states can Physician Assistants practice independently? And
which states offer the best benefits for physician assistants to practice in? 
Let's take a look at which states are the most PA-friendly.
Challenges Faced by PAs
Much of PAs' scope of practice is determined on-site, at the practice level. Some states require PAs to pass a state-level exam and/or limit the number of PAs with whom a physician may practice. Although this may seem prudent to managing physicians' workload, it can cause problems in areas that suffer from the ongoing physician shortage.
For more information about PAs' capabilities and limitations, visit "Can a PA Do That?"
Can PAs Practice Independently?
It depends on what you mean by "independently". Physician assistants do not possess the same level of autonomy as nurse practitioners (NPs). NPs can practice independently with full practice authority in 26 states. Meanwhile, physician assistants require supervision from a physician to some degree in every state. However, the degree of supervision can vary dramatically from state to state.
States are increasingly making progress towards independence for physician assistants, however. In the last 2 years, North Dakota, Utah, and Wyoming have recently eliminated the legal requirement for a specific relationship between a PA and a physician or any other healthcare provider.
Can a PA Open Their Own Practice?
Yes, a physician assistant can open their own practice, but scope of practice laws still apply. Because physician assistants must collaborate with a physician in order to practice medicine, a physician would need to be involved in a supervising role. The extent of the physician's involvement depends on each state's individual regulations.
Physician Assistant Scope of Practice Explained
The AAPA outlines four practice categories that states use to determine the scope of practice for a PA. The four practice categories are defined by the AAPA accordingly:
Optimal – PAs can practice to the full extent of their medical education, training, and experience. PAs continue to collaborate, consult, and/or refer to the appropriate member(s) of the healthcare team as indicated by the patient's condition, the PA's competencies, and the standard of care. The healthcare team, and/or their employer, may establish guidelines for collaboration, consultation, and/or referral beyond state laws and regulations.

Advanced – PAs practice to the full extent of their medical education, training, and experience, but must comply with additional administrative requirements as mandated in state law and/or regulation.

Moderate – State law and/or regulation requires additional administrative burdens that impact the practice environment. The PA and the healthcare team are limited in flexibility due to these administrative burdens.

Reduced – State law and/or regulation restrict the healthcare team and PAs' ability to practice in at least one element of PA practice. Requires outdated practice models of limited delegated authority and/or restrictive supervision requirements.
Physician Assistant Scope of Practice By State for 2023
More than half of states practice "reduced" or "moderate" scope of practice for PAs. Per the AAPA, you can find the current scope of practice for each state in 2023, as depicted in our chart below.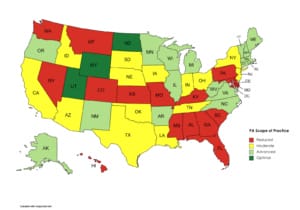 In What States Can Physician Assistants Practice Independently?
North Dakota, Wyoming, and Utah are the three states where PAs experience the most independence. These are the only three states the AAPA grades as an "Optimal Practice" environment for PAs.
While it has historically been impossible for a physician assistant to truly operate independently, these three states have newly eliminated the  legal requirement for a specific relationship between a PA and a physician or any other healthcare provider.
The Best States for PAs
The best states for PAs are located in the East, North Central, and West. Many states are beginning to rethink the role of PAs, especially in light of the recent decision surrounding the revision of the AAPA's "Guidelines for State Regulation of PAs." It may not immediately impact what states physician assistants can practice independently, but these changes are grant PAs greater autonomy and more opportunities to practice.
The East
Massachusetts, North Carolina, Rhode Island, and Vermont provide an excellent practice environment and have all six key elements of a modern PA practice.
The Bay State is one Northeastern state that allows PAs considerable autonomy. The capital, Boston, is known for its robust medical community, and the Leominster-Gardner area, a Boston suburb, offers some of the most competitive salaries and promising employment rates in the nation.
North Carolina
As one of the friendliest states for PAs, North Carolina lacks many of the heavy restrictions its neighbors place on PAs. Raleigh, the state capital, offers a high average salary.
Similar to how it treats NPs, Rhode Island is also a welcoming state for PAs. Although it doesn't offer as competitive a salary as other states, its general understanding and accommodating attitude toward laws that affect healthcare professionals is a refreshing option for those looking to work as a PA.
Vermont
The Green Mountain State also offers autonomy to PAs and allows their scope of practice to be determined at the practice level. Ranking right below North Dakota in annual mean salary, the state pays well above the national average and has a welcoming job market.
Connecticut, Delaware, Maine, and New Jersey follow closely behind, having five of the six key elements.
North Central
Michigan, Minnesota, and North Dakota have all six key elements and afford PAs the opportunity to practice in a favorable regulatory environment.
A 2016 healthcare modernization bill expanded Michigan's scope of practice for PAs. By recognizing PAs as full "prescribers" rather than limiting their care to "delegated prescriptive authority," the bill grants PAs greater practice autonomy than they had before. Under this new law, physicians are also recognized as "participating" instead of "supervising" physicians, removing the responsibility of supervising PA practice from physicians and granting greater autonomy to PAs.
Legislation enacted in 2016 made the Land of 10,000 Lakes the fifth state to achieve all of the six key elements of PA practice. The new law also removed administrative burdens for PAs starting practice.
A generally rural state, North Dakota offers some of the most autonomy for PAs. The state does not limit the number of PAs who can collaborate with a single physician and allows PA scope of practice to be determined on-site. According to the Bureau of Labor Statistics, North Dakota is also among the top-paying states for PAs.
Illinois, Ohio, and South Dakota limit the PA-to-physician ratio, but still offer practice autonomy and prescription authority to PAs.
The West
Alaska, Arizona, and Wyoming all allow PAs to provide patient care in a modernized practice environment. These states have five of the six key elements.
With more PAs per population than any other state and improvements to its PA practice laws, Alaska has created a great regulatory environment in which to care for patients. Having five of the six key elements, PAs are able to make critically important contributions to the state's healthcare workforce.
Arizona is one of a handful of states that have an autonomous PA regulatory board charged with overseeing the licensure, investigation, and discipline of its own PAs. With its regulatory board and five of the six key elements, the Grand Canyon State provides PAs with a progressive practice environment and restricts only the number of PAs working with an individual physician.
Wyoming
Recent legislative changes in Wyoming granted PAs the ability to complete a medical certification of death and to prescribe opiate antagonists to individuals at risk of an overdose or who may encounter another person experiencing an overdose. Besides this new authority, PAs working in Wyoming have their scope of practice determined on-site and the ability to write prescriptions.
The country's population and healthcare system will continue to grow, and state laws must reflect the needs these changes demand. Granting PAs and NPs greater autonomy is just one way they have begun to do so. Nationwide, PAs and NPs are proving that these legislative updates help not only themselves, but also their patients. As their autonomy increases, the nation's overall health — and its perspective on these expert healthcare professionals and their capabilities — should improve.
Want to learn more about locum tenens PA jobs with Barton Associates? Check out our latest listings now!
Explore Our Locum Tenens PA Jobs
This article was completed with help from Dr. Melissa DeCapua, DNP, PMHNP, and AAPA Director-at-Large (now President-Elect) Beth Smolko, MMS, PA-C.
Editor's Note: Written in 2019 and Updated in 2023