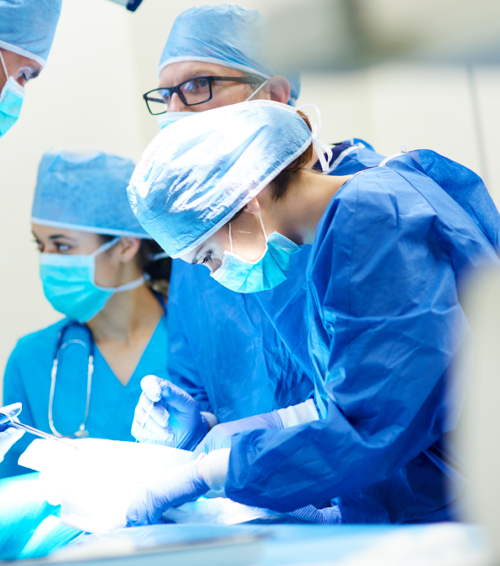 Editor's Note: Updated September 2021
For those who follow trends in the healthcare field, one of the most concerning patterns in recent decades is the increase in doctors who are specializing and the resulting decrease in general practitioners. In many cases, trends in the physician assistant (PA) profession follow those of medical doctors. PAs are flocking to the opportunities provided by specialty areas in greater numbers — but at what cost to primary care practice?
What Are the Most Popular PA Specialties?
According to the National Commission on Certification of Physician Assistants' "2018 Statistical Profile of Certified Physician Assistants," a detailed portrait of the profession by the numbers, the top ten specialties for PAs are:
Family medicine/general practice: 19.2 percent.
Surgical subspecialties: 18.5 percent.
Emergency medicine: 13.0 percent.
Internal medicine subspecialties: 9.4 percent.
Internal medicine general practice: 4.7 percent.
Dermatology: 4.0 percent.
Hospital medicine: 3.5 percent.
General surgery: 2.9 percent.
Pediatrics: 1.9 percent.
Obstetrics/gynecology: 1.5 percent.
In 2015, the National Procedures Institute predicted that radiology, surgery, mental health, emergency medicine, and urgent care would soon be the most popular PA specialties.
PAs who have yet to decide on a specialty have found a solution in locum tenens assignments. As locum tenens providers, PAs are able to work in a variety of specialties and practice settings without the permanency of a traditional practice position.
Top Physician Assistant Specialties Explained
1. Surgery
Surgical subspecialties make up the second-most-popular specialty area for PAs, with general surgery at No. 8. Salaries in surgical subspecialties tend to be higher than average, with PAs making around $115,000 per year. PAs who specialize in surgery work under surgeons and participate in preoperative and postoperative care, diagnostic tests, and surgical procedures. Some of the most popular surgical subspecialties for PAs include cardiology and orthopedics.
2. Emergency Care
Emergency care is not only the third-most-common specialty area, but it is also one of the highest-paying specialties for physician assistants, with annual pay ranging from $116,000 to $140,000. Apart from the pay, what attracts many PAs to emergency medicine is the chance to work with a high level of autonomy (especially in small, isolated or rural emergency departments) and to work with patients with life-threatening conditions.
3. Urgent Care
Like emergency medicine, urgent care is attracting PAs in large numbers and for many of the same reasons: In many clinics and centers, the collaborating physician may not be present, which allows the PA to practice with significant autonomy. Like with emergency care, the income for urgent care specialties is attractive, with many PAs making around $130,000 a year.
4. Dermatology
PAs in dermatology treat a variety of skin conditions and diseases and work with patients wishing to undergo cosmetic surgery. Dermatological PAs are heavily involved in preoperative and postoperative workups and patient care as well as assisting in surgical procedures. With annual incomes reaching roughly $130,000 a year, dermatology is also one of the highest-paid specialties for physician assistants.
Physician Assistant (PA) Trends and Current Issues
The potential for increased annual income and professional advancement is prompting many PAs to venture into specialty practice. But, there is a downside: As more PAs turn to specialty practice, fewer are willing to go into primary care.
Many primary care PAs practice with high levels of autonomy and perform many of the same functions as their MD counterparts, including taking histories and exams, interpreting tests, formulating diagnoses, and creating treatment plans. Many PAs also enjoy the fact that primary care allows them to develop long-term relationships with patients while also treating a variety of conditions.
However, there has been a downward shift in the number of PAs interested in general practice: Researchers note that the number of PAs entering primary care has been decreasing since 2009. PAs who choose to specialize are doing it for many of the same reasons as doctors: They perceive that these specialty areas will bring better work-life balance and increased compensation.
The good news? According to the same researchers that noted the decrease in primary care PAs:
"Actions that increase the number of primary care physicians are also likely to increase the percentage of primary care PAs. The PA profession should therefore continue to support workforce policy measures that successfully increase the number of primary care clinicians including loan repayment, improved levels of reimbursement for primary care physicians, and expansion of Title VII, Section 747 of the Public Health Service Act, which aims to increase the quality, size, and diversity of the primary care workforce."
How to Pursue a PA Specialty
Efforts to attract PAs to primary care practice are important for a number of reasons. The increased number of PAs has helped mitigate the healthcare crises caused by the shortage of physicians. Locum tenens PAs have been especially helpful in filling voids by temporarily easing patient loads and practicing in underserved rural areas. PAs also enjoy training that is shorter and less expensive than physician training, allowing them to more quickly enter the workforce and meet patient needs.
PAs are expanding into a variety of specialty areas because of career opportunities and higher incomes. However, with this increase in specialization comes a decrease in the number of PAs entering general practice. Luckily, many of the programs in place to increase primary care physicians can also help to recruit and retain primary care PAs. As the physician shortage continues to exacerbate, PAs will continue to fill in the spots left in their absence, and be in demand because of it.