Chances are you have chosen the locum tenens career path because of its flexible nature. A key factor in a provider's decision to go locum is often having the ability to travel around the country. One of the major things holding providers back is not having the appropriate state license.
As you know, each state has their own timeframe in which a new license can be issued. However, here are the states where you can get a new dentist license in two months or less.
At a quick glance, Vermont and Utah have the fastest turnaround time. Read on to learn about the specifics of each state.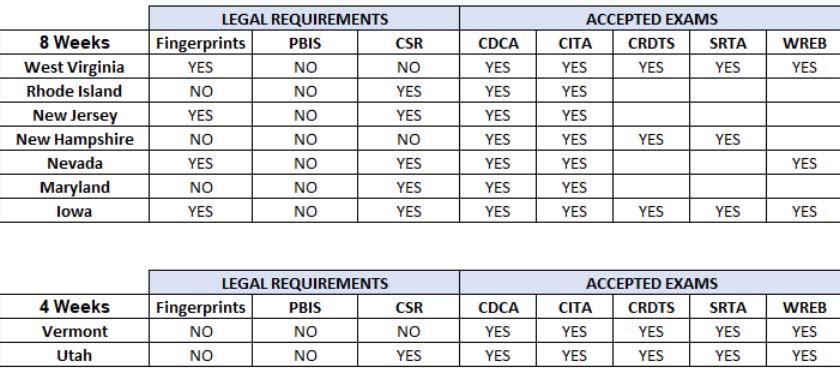 Additional Information
Iowa
Never been to Iowa before? Check out our open jobs and see what it has to offer!
Maryland
Obtaining a Maryland license within this timeframe is contingent on the passing of the ADEX exams.
Never been to Maryland before? Check out our open jobs and see what it has to offer!
Rhode Island may be small, but there is no shortage of opportunities! Check out our open jobs now!
Nevada
What better way to use your newly earned locum tenens money than going to the casinos! Check out our open jobs in Nevada!
New Hampshire
The exam must have included a clinical periodontal/scaling component. The Board will not accept the 2018 WREB exam. You must register for a DEA within 90 days after licensure.
New Hampshire is full of mountains and scenic forests! Check out our open positions in New Hampshire now!
New Jersey
Everyone has heard of the famous Jersey Shore! Want to see it for yourself? Take a look at our open jobs in New Jersey!
Rhode Island
Once all items are in the application, it will take roughly 3-5 days to issue the license.
Utah
For endorsement, the dentist must have 6,000 active clinical practice hours in the past five years. The dentist must have CPR, BLS, or ACLS. For an upgraded permit, the dentist must have a letter from a local anesthesia class instructor verifying the course.
For the most up-to-date licensure requirements, always be sure to check with your local Board website.
You haven't REALLY skied if you haven't been to Utah. Check out our open jobs now and don't forget your ski equipment!
Vermont
If you like maple syrup, ice cream, and cheese, say no more! Check out our open jobs in Vermont now!
West Virginia
Depending on criteria such as board specialty certification exams, months worked before applying for the license, and other key factors, obtaining this license could take a little bit longer than two months.
Have you ever wanted to sing Take Me Home, Country Roads IN West Virginia? Now is your chance! Take a look at our open jobs in West Virginia now!
Want to learn more about locum tenens with Barton Associates? Fill out the form and one of our representatives will reach out to you!