About Us | Locum Tenens Staffing Experts
Founded in 2001, Barton Associates are the locum tenens staffing experts. We are a leading national locum tenens physician (doctor), NP, PA, CRNA and dentist staffing and recruiting firm. Barton Associates has the experience, resources and scale needed to efficiently match talented locum tenens physicians, NPs, PAs, CRNAs, and dentists with great healthcare facilities and practices across the United States in a wide variety of practice areas.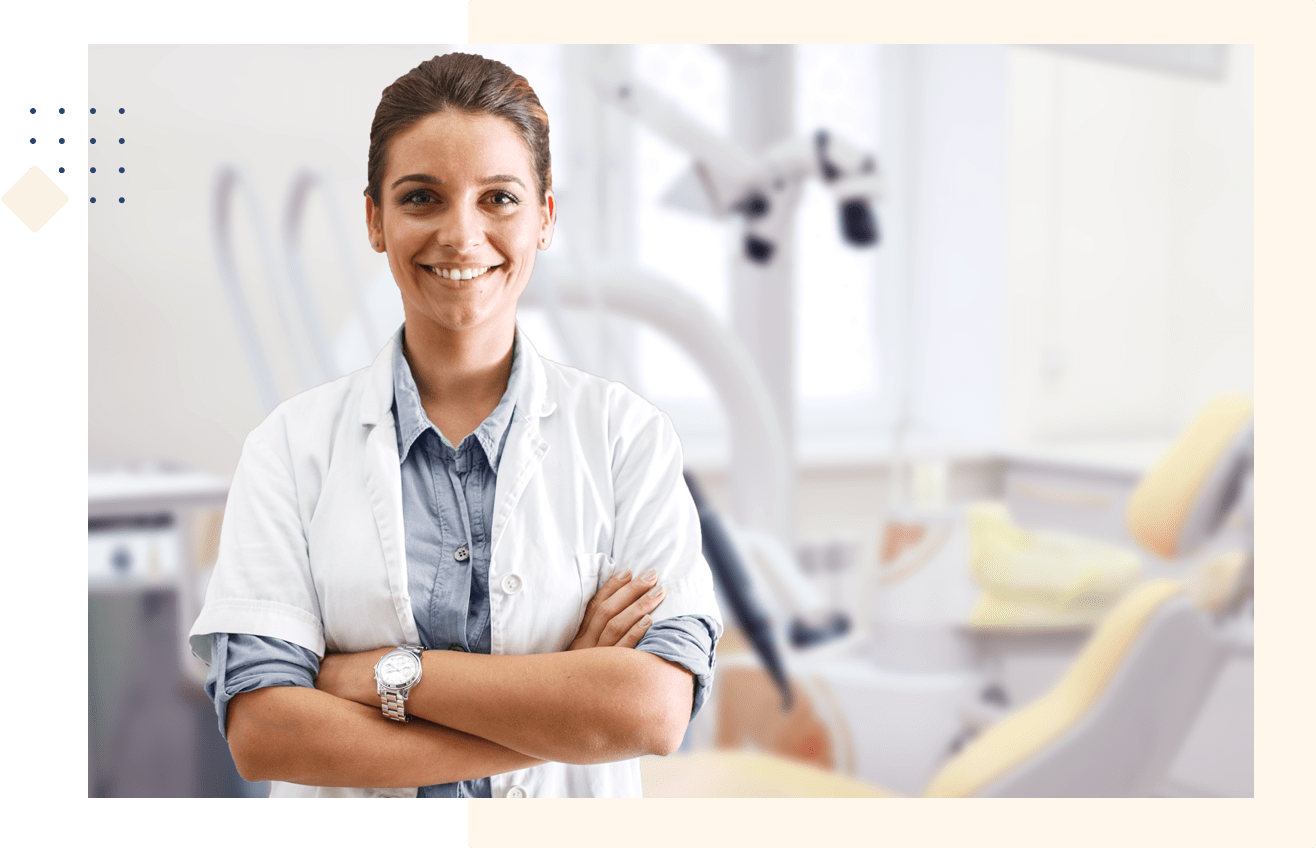 Who is Barton Associates?
THE LOCUM TENENS EXPERTS®
Inspired by the pioneering, humanitarian work of Clara Barton, Barton Associates recruits skilled providers in a wide variety of specialties, so that we can quickly place them in locum tenens assignments at hospitals, practices, and organizations nationwide. Learn more about our namesake, and how it influences our leadership in guiding the Barton teams to success while giving back to communities near and far.
Our mission is to staff facilities nationwide with locum tenens providers so that underserved areas can receive the quality healthcare they deserve. The physician shortage continues to grow, therefore the need for qualified healthcare providers is at an all-time high. Without locum tenens providers, patients in need would otherwise go unseen.
Read on to learn more about how we plan to execute this mission.
Experienced Locum Tenens Staffing & Recruiting
A PROACTIVE MODEL
Every day, our locum tenens recruiters and account managers engage with new physicians, PAs, NPs, dentists, CRNAs, and healthcare facilities and practices interested in taking advantage of our locum tenens services. What does our proactive approach mean for you? Basically, that our network of skilled locums and great healthcare facilities and practices across the country grows all the time. Our team is well positioned to match the right provider with the right practice and at the right salary — quickly and efficiently.
Explore Barton Associates, and keep up to date with new and exciting Barton news.
How Barton Operates
DECADES OF EXCELLENCE
Exclusive Focus
Being an industry leader requires focus. At Barton Associates, we concentrate exclusively on locum tenens physician, PA, NP, dentist and CRNA staffing and recruiting. This has allowed our team to develop the strong relationships and comprehensive understanding needed to effectively serve clients across the United States. This is all we do. We're the locum tenens staffing experts.
Extensive Resources and Scale
Barton Associates is an established, growing national locum tenens company with 10 recruiting and staffing centers (and more on the horizon). We have the resources, scale, and commitment needed to quickly and efficiently match skilled locums with great temporary jobs across the country, now and into the future.
Whether you're a skilled physician, PA, NP, dentist or CRNA seeking a locum tenens job or a healthcare facility or practice in need of coverage, you can trust Barton Associates to help you find the perfect match.
Experienced Team
In 2001, Barton Associates has continued to expand its national footprint, opening new offices throughout the country, adding hundreds of new jobs. With a pulse on the healthcare staffing market, Barton Associates, saw a need for additional service offerings, opening Barton Healthcare Staffing, a nursing and allied health staffing company in 2018, and Wellhart, government-focused temporary staffing support in 2019.  All three businesses are composed of highly-skilled professionals with extensive experience in the staffing and recruiting industry.
The History of the Locum Tenens Experts
Barton Associates Celebrates 20+ Years Helping Healthcare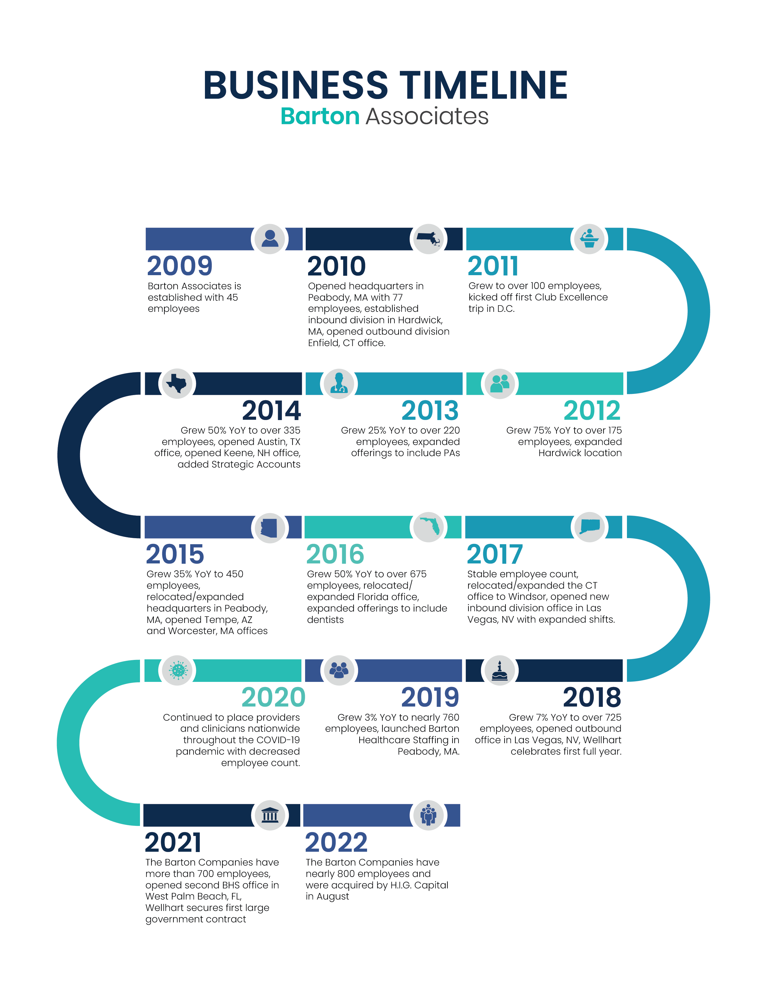 Follow Barton
Locations
CORPORATE HEADQUARTERS (BOSTON AREA)
300 Jubilee Drive
Peabody, Massachusetts 01960
Local: 978.317.8562
Fax: 978.513.7688
CENTRAL MASSACHUSETTS
1776 Barre Road
Gilbertville, Massachusetts 01031
Local: 413.497.2669
Fax: 413.477.8339
120 Front Street
Worcester, Massachusetts 01608
Local: 774.243.0278
Fax: 888.510.7905
CONNECTICUT
1001 Day Hill Road
Windsor, Connecticut 06095
Local: 860.776.2486
Fax: 866.843.0421
FLORIDA
501 Village Blvd
West Palm Beach, Florida 33409
Local: 561.683.7093
Fax: 561.747.3130
TEXAS
9001 N IH-35
Suite #100
Austin, Texas 78753
Local: 512.973.8368
Fax: 512.954.9833
NEW HAMPSHIRE
149 Emerald Street
Keene, New Hampshire 03431
Local: 855.642.0404
Fax: 603.283.7850
ARIZONA
1050 West Washington St.
Tempe, Arizona 85281
Local: 480.829.3184
Fax: 888.912.5047
NEVADA
3634 S. Maryland Parkway
1st Floor
Las Vegas, Nevada 89119
Local: 725.696.9672
Fax: 888.304.7975