Locum Tenens Healthcare Providers
Locum tenens healthcare providers travel more. Experience more. Learn more. Get more from your career as a Barton Associates locum tenens healthcare provider.

Contact Barton Today
Complete the form and learn why PAs, NPs, CRNAs, Physicians, and Dentists are choosing to become Locum Tenens providers!
Choosing the Locum Tenens Life for Healthcare Providers
Locum tenens is a form of healthcare staffing that offers healthcare providers career growth, flexibility, the ability to travel, and new opportunities. Latin for "holding one's place", locum tenens providers fill gaps in coverage at facilities nationwide.
There is a critical shortage of healthcare providers in the United States — and this shortage is growing at an alarming rate. In many markets and areas of practice, the supply of doctors is not sufficient to meet patient needs.
Just take a look at this graph from the American Association of Medical Colleges (AAMC)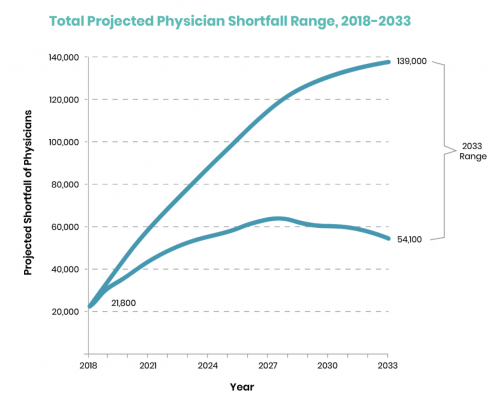 As a result of the physician shortage, organizations are increasingly turning to locum tenens, and Barton Associates as a top medical staffing agency to solve their staffing challenges, ensure patient access and continuity of care, and generate revenue. With the ever-increasing demand for healthcare services and the flexibility and benefits of practicing medicine as a locum tenens provider, more and more physicians, nurse practitioners, physician assistants, dentists and CRNAs are making locum tenens their career of choice.
Pros of Being a Locum Tenens Provider
WHAT DOES IT MEAN TO BE A LOCUM?
Do you know what it means to be a locum tenens provider? Whether it be from your studies, chatter from colleagues, or independent research of your own, at some point you've probably heard about locum tenens. It's good that you are aware of it, but did you realize what a great opportunity it truly is? With locum tenens, you will experience being a provider from a whole new perspective. Here are some of the pros of going locum:
– Pick your own schedule
– Experience new practice settings
– Have the potential to earn more than your permanent counterpart
– Travel anywhere in the country
On top of all the wonderful reasons to become a locum tenens provider, you will also be performing meaningful work. The purpose of locum tenens providers is to help staff underserved areas and facilities that are in immediate need of coverage. In most cases, patients would be going unseen without the help of locum tenens providers.
Who Can Become a Locum Tenens Provider?
ALL HEALTHCARE PROVIDERS, REGARDLESS OF CAREER STAGE
New Graduates Who Are Just Starting Out
As a new graduate, locum tenens can offer a foot-in-the-door to help you gain real-world experience. While practicing, you will build your resume (and your confidence), all while traveling to new locations where you will meet new people and figure out the types of facilities best suit your skill set. We won't lie, there are many advantages to starting out your career as a locum.
Senior Providers Who Have Worked for Years
Are you entering the twilight of your career but you are not quite ready to retire just yet? Locum tenens helps seasoned NPs, PAs, physicians, CRNAs, and dentists scale back their hours while still providing care to those who need it.
Experienced Providers Who Are Looking for a Change
If you are several years into your career, there's a good chance that you have thought about a change. While a career change may not be in the cards, becoming a locum tenens provider might be the opportunity you've been looking for. Explore the U.S., provide care in underserved communities, and experience different work environments. Do all of this as a locum tenens provider!
The Barton Advantage
THE PREMIER PARTNER FOR YOUR LOCUM TENENS CAREER
Battle Student Debt
Locum tenens providers can make more than their permanent counterparts, which is a great way to tackle student loan debt. Barton locums also learn about how to navigate taxes as independent contractors. Learn More
Enjoy Independence
Escape the office politics, bureaucratic headaches, and immobility of a traditional position so you can focus on your career and on providing high-quality patient care.
Malpractice Insurance Provided
Barton Associates provides A-rated malpractice insurance for all locum tenens providers on assignment, free of charge. Learn More
See the Country
Locum tenens assignments are a great way to explore the country. Travel costs related to your assignment (such as airfare, hotel, and car rental) are covered.
Gain Valuable Experience
Explore new practice settings without committing to a permanent position. Sharpen your skills, build a powerful CV, and lay the foundation for a successful career. Learn More
New License Assistance
Barton can pay new state licensing fees for you and assign a licensing expert to help you navigate the process, opening the door to new opportunities across the United States. Learn More
Ready to Find a New Locum Opportunity?
HERE ARE A FEW OF OUR RECENTLY POSTED LISTINGS