Montana | Locum Tenens Travel Lifestyle
More than 50 years after Lewis and Clark explored the Montana region in 1805, settlers found gold which led to a flurry of more people coming to the region to make their fortune. The land became a U.S. territory in 1864 and a state in 1889.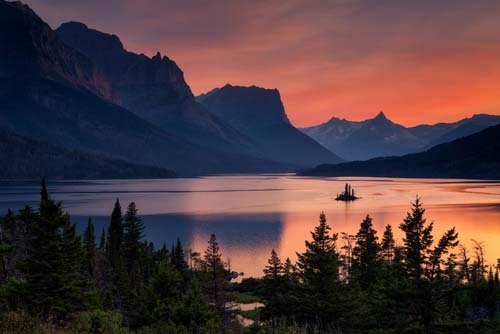 Ready for your next locum tenens assignment?
Contact Barton Associates Today
What You Need to Know About Montana as a Locum Tenens Healthcare Professional
Did you know that? Neither did we. That's why we've created these travel guides for you to utilize before going on your next locum tenens assignment. We know you won't always know much about the state you are traveling to. To help you make an informed decision, we've compiled information from TripAdvisor, state government pages, and tourist information sources to give you a glimpse into life in Montana.
Remember, this is not an exhaustive list. Just a few nuggets of high-level information to get you started in your own research.
Locum Tenens Jobs in Montana
REVIEW OUR JOB LISTINGS

Dermatologist
Looking for your next locum tenens opportunity? Look no further! Our client in Montana is looking for a dermatologist to begin coverage in early March 2024. Hours include 8a – 5p shifts from Mondays – Fridays. The selected locum will be handling acne, eczema, biopsies, excisions, med orders, and other... View This Job
WHAT YOU NEED TO KNOW ABOUT VISITING MONTANA AS A LOCUM TENENS PHYSICIAN, NURSE PRACTITIONER, PHYSICIAN ASSISTANT, CRNA, AND DENTIST
Montana: A Brief History
Native American tribes living on the land felt that the settlers were encroaching on their way of life. In 1876 the Lakota Sioux, Cheyenne, and Arapaho tribes banded together to take back their land, defeating the U.S. Army at the Battle of the Little Bighorn in 1876. Despite this victory, the Native Americans were ultimately defeated, and settlers continued to build on the land.
Here are some other fun facts about Montana:
To this day, Native American tribes still live in Montana, including the Blackfeet, Crow, and Cheyenne.

Montana's name comes from the Spanish word montaña, roughly meaning "mountainous."

Montana has its own version of oatmeal: Cream of the West, a roasted wheat cereal that local families have been eating since 1914.

Evel Knievel is from Montana.

The original entrance to Yellowstone National Park is in Gardiner, Montana.

Montana is the only state with river systems that empty into the Hudson Bay, Pacific Ocean, and the Gulf of Mexico.
See for yourself everything that Montana has to offer! View our job board or fill out our form to have a representative give you a call.
What is there to do and see in Montana?
Glacier National Park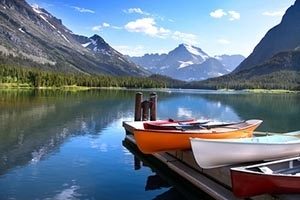 Glacier National Park stands proudly as the Crown of the Continent in Northwest Montana. This outstanding scenic area comprises mountain ranges, alpine meadows, thick forests, tall waterfalls, countless sparkling lakes, and numerous glaciers. It's a real adventure paradise with iconic landscapes, enticing repeat visitors for years to come.
Explore a National Forest
Montana is home to a remarkable 10 national forests comprising nearly 20 million acres. This vast, wide-open space has come to define the Montana experience, and no visit is complete without trekking through these public lands. From the Kootenai to the Custer-Gallatin, the western half of the state is home to many of these national treasures.
At least five national forests are within a short drive of Missoula, home to the University of Montana. And the Lolo National Forest surrounds the city. This proximity to public lands offers residents and visitors backyard access to adventure hot spots, like Rattlesnake and Blue Mountain National Recreation Areas.
Big Sky Resort
Big Sky Resort, home to some of the "Biggest Skiing in America," is approximately an hour's drive south of Bozeman. The slopes are known for their abundance of snow, with an average of 400 inches per year. Thousands of skiers and snowboarders descend onto the resort come winter. Still, with 5,750 skiable acres, there's plenty of room to make some turns.
Museum of the Rockies
The Museum of the Rockies adds to Bozeman's status as one of Montana's best cities. Along with its planetarium, the museum — part of the Smithsonian Institution — is renowned for its excellent displays of dinosaurs and dinosaur eggs. The collection includes skeletons and realistic models of the numerous species found in the state.
The museum's dinosaur collection is one of the largest in the US and includes the world's biggest Tyrannosaurus skull. Other highlights include a T-Rex thighbone with soft-tissue remains and the T-Rex skeleton at the museum entrance known as "Big Mike." All these prehistoric monuments help share the region's history.
Yellowstone National Park
Montana has two main entrances into Yellowstone National Park, the nation's first national park. These two openings, the West Entrance and the North Entrance, also feature gateway communities that are fun places to visit on their own. And it's a world of adventure once you're inside the park, with over two million acres to explore.
There's so much to do and see in Montana that we could not fit it all on one page. But we hope this sparked your interest in living in Montana as a locum.
Ready to see what locum tenens job openings are available in Montana? Visit our current job opportunities page, give us a call, or fill out our application form and a recruiter will contact you by phone.
Remember to sign up for SMS texts to be alerted when new roles in Montana are posted.
Looking for more information about becoming a locum tenens provider? Check out the Barton Blog to learn everything there is to know about the locum tenens life or visit our locum tenens FAQs page.