New York | Locum Tenens Travel Lifestyle
In 1624 the Dutch established a colony on what's now Manhattan Island called New Amsterdam. It was renamed New York once the British took control of the area in 1664. Did you know that? Neither did we. That's why we've created these travel guides for you to utilize before going on your next locum tenens assignment.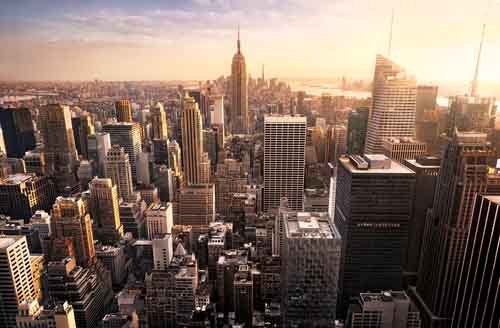 Ready for your next locum tenens assignment?
Contact Barton Associates Today
What You Need to Know About New York as a Locum Tenens Healthcare Professional
We know you won't always know much about the state you are traveling to. To help you make an informed decision, we've compiled information from TripAdvisor, state government pages, and tourist information sources to give you a glimpse into life in New York.
Remember, this is not an exhaustive list. Just a few nuggets of high-level information to get you started in your own research.
Locum Tenens Jobs in New York
REVIEW OUR JOB LISTINGS Right Arrow
WHAT YOU NEED TO KNOW ABOUT VISITING NEW YORK AS A LOCUM TENENS PHYSICIAN, NURSE PRACTITIONER, PHYSICIAN ASSISTANT, CRNA, AND DENTIST
New York: A Brief History
With approximately 8.5 million residents, New York City is the most highly populated state in the country.
Here are some other fun facts about New York:
Famous New York residents include U.S. presidents Theodore Roosevelt, Franklin D. Roosevelt, and John F. Kennedy.

New York is the only state that borders both the Atlantic Ocean and the Great Lakes.

750,000 gallons of water crash over Niagara Falls every second.
See for yourself everything that New York has to offer! View our job board or fill out our form to have a representative give you a call.
What is there to do and see in New York?
New York City is sometimes viewed as a state of its own in the eyes of tourists. For that reason, we have compiled a list of things to do in both upstate New York as well as New York City.
New York City
Statue of Liberty
America's most iconic sight, the Statue of Liberty is at the top of every first-time visitor's list of things to do in New York. It was France's gift to America. Built in 1886, it remains a world symbol of freedom and is one of the top attractions in America.
It is one of the world's largest statues, standing just under 152 feet tall from the base to the torch, and weighing approximately 450,000 pounds.
Central Park
A walk, peddle, or carriage ride through the crisscrossing pathways of Central Park is a must-do on anyone's New York City itinerary. In winter, you can even lace up your skates and glide across Wollman Rink. This huge park in the city center, a half-mile wide and 2.5 miles long, is one of the things that makes New York such a beautiful and livable city.
9/11 Memorial and Museum
The World Trade Center's twin 110-story towers once dominated the Manhattan skyline but were destroyed by suicide-piloted jetliners on September 11th, 2001, with a tragic loss of life. Where the two towers of the World Trade Center once stood, now stand two square reflecting pools, each one acre in size.
Known as the National September 11th Memorial, the area is a moving tribute to the almost 3,000 people killed as a result of attacks on September 11th, 2001 and also the six people killed in the earlier World Trade Center bombing in February, 1993.
Times Square
Lined with huge, brilliantly lit billboards and screens, Times Square is the place to go in New York in the evening, but still exciting at any time of day. This is the location of New York's New Year's Eve Celebrations and the famous "ball drop" at midnight, when the square and surrounding streets are filled with people.
Times Square is busy and perpetually crowded but has its own unique appeal. Bleachers set up at one end are a great place to take a break and appreciate the scene.
New York State
Niagara Falls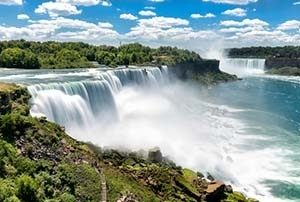 Niagara Falls is one of the natural wonders of North America, drawing millions of visitors each year. Located along the border of Canada and the United States, there are actually three waterfalls within the park – Bridal Veil Falls, American Falls, and Horseshoe Falls. Horseshoe Falls is the widest and tallest, dropping 167 feet from a 2,700-foot-wide ledge.
Finger Lakes
According to Iroquois legend, the long, narrow lakes in the landscape west of Syracuse were formed by the impression of the fingers of the Great Spirit. The numerous lakes that make up the Finger Lakes region offer a range of outdoor opportunities in a visually stunning landscape.
Cute towns and resorts are dotted along the lakeshores of the main lakes, most of which are particularly busy during the summer months. Some interesting ways to explore the area are on the Cayuga Trail, the Seneca Lake Trail, and the Keuka Trail.
Lake Placid
The world-famous winter sports resort of Lake Placid, at the foot of Whiteface Mountain, has twice hosted the Winter Olympics (1932, 1980). Today the town is a major tourist center, located in beautiful natural surroundings with lakes and hills.
While it is perhaps best known internationally for its winter recreation, particularly skiing, the town is a popular summer destination as well. All kinds of unique shops and restaurants line the main tourist strip through town.
There's so much to do and see in New York that we could not fit it all on one page. But we hope this sparked your interest in living in New York as a locum.
Ready to see what locum tenens job openings are available in New York? Visit our current job opportunities page, give us a call, or fill out our application form and a recruiter will contact you by phone.
Remember to sign up for SMS texts to be alerted when new roles in New York are posted.
Looking for more information about becoming a locum tenens provider? Check out the Barton Blog to learn everything there is to know about the locum tenens life or visit our locum tenens FAQs page.
LIVING THE NEW YORK LIFESTYLE!
Video Reel: Adventures in New York
Summary
---
Experience through a travel healthcare professional what adventures there are to see and do in New York City!