Tennessee | Locum Tenens Travel Lifestyle
The state got its nickname, The Volunteer State, from some impressive volunteer work. During the War of 1812, an estimated 20,000 troops volunteered to fight, and in 1846, 30,000 Tennesseans enlisted for the Mexican-American War. Did you know that? Neither did we. That's why we've created these travel guides for you to utilize before going on your next locum tenens assignment.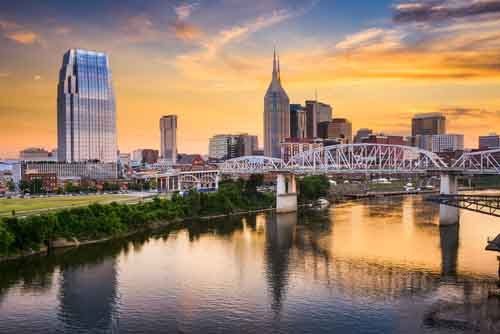 Ready for your next locum tenens assignment?
Contact Barton Associates Today
What You Need to Know About Tennessee as a Locum Tenens Healthcare Professional
We know you won't always know much about the state you are traveling to. To help you make an informed decision, we've compiled information from TripAdvisor, state government pages, and tourist information sources to give you a glimpse into life in Tennessee.
Remember, this is not an exhaustive list. Just a few nuggets of high-level information to get you started in your own research.
Locum Tenens Jobs in Tennessee
REVIEW OUR JOB LISTINGS
WHAT YOU NEED TO KNOW ABOUT VISITING TENNESSEE AS A LOCUM TENENS PHYSICIAN, NURSE PRACTITIONER, PHYSICIAN ASSISTANT, CRNA, AND DENTIST
Tennessee: A Brief History
Almost half of the state of Tennessee is farmland. This is largely due to the state's top resource being fertile soil.
Here are some other fun facts about Tennessee:
Tennessee's state bird is the mockingbird.

Graceland, singer Elvis Presley's Memphis mansion, gets more visitors than any other U.S. home except for the White House.

Visitors to the Country Music Hall of Fame in Nashville can see costumes, instruments, and artifacts from stars like Brad Paisley, Keith Urban, and Miranda Lambert.

The Great Smoky Mountains are known as the "Salamander Capital of the World," and the park alone has 30 different species.
See for yourself everything that Tennessee has to offer! View our job board or fill out our form to have a representative give you a call.
What is there to do and see in Tennessee?
The Great Smoky Mountains National Park
There's no better place to begin your Great Smoky Mountains National Park adventure than in the small town of Gatlinburg. From downtown Gatlinburg, you can easily drive to the park's most popular areas, or simply jump on the chairlift and head for the hills at the Ober Gatlinburg, a ski resort and amusement park offering year-round activities.
Graceland and the Elvis Presley Memphis Complex
As popular as the White House in Washington D.C., Graceland and the Elvis Presley Memphis Complex is considered one of the top attractions in the historic city of Memphis.
Undoubtedly the most famous rock 'n' roll residence in the world, Graceland Mansion remains a place of pilgrimage to fans from far and wide, and tours of this fine, stately home provide a unique glimpse into the King's life (nothing has been changed since he passed away there in 1977).
Home of the Blues: Memphis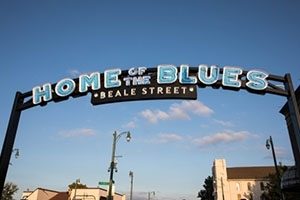 Then, of course, there's Memphis, home of gospel and blues music. It's here you'll find the famous Beale Street, where the greats like Elvis got their big break. Highlights of a visit to the "Home of the Blues" include the Memphis Music Hall of Fame, as well as WC Handy's House, where the "Father of the Blues" himself lived and worked.
Be sure to add the Memphis Rock 'n' Soul Museum to your Tennessee sightseeing itinerary. This popular tourist attraction highlights the great musical pioneers from the 1930s through to the 1970s. The STAX Museum of American Soul, with its replica of the original Stax Records studio, should also be on your must-see list. So, too, should Sun Studio, where stars such as Jerry Lee Lewis, BB King, and Roy Orbison began their careers.
Lookout Mountain
Overlooking Chattanooga and offering some of Tennessee's best views, Lookout Mountain makes for an excellent day- or half-day outing. Getting there is half the fun, especially aboard the wonderful Lookout Mountain Incline Railway, a mile-long journey on trolley-style cars at an incline of 73 percent.
Once at the top, you've got a number of excellent natural attractions to choose from. These include Rock City with its dramatic cliffs and great views, and Ruby Falls, the deepest cave and largest underground waterfall in the US.
The Titanic Museum
Despite the fact that Tennessee's connection to the RMS Titanic is perhaps a little tenuous at best, it shouldn't stop you from visiting the world's largest Titanic Museum in Pigeon Forge. Just a stone's throw from Dollywood, the building itself is spectacular, built in the shape of the ship and half the scale of the original.
Highlights include more than 400 Titanic related artifacts in 20 unique galleries designed to create the illusion that you're actually on the ship. Self-guided tours take approximately two hours, and it's time well spent.
The Parthenon, Nashville
No visit to Nashville would be complete without visiting the huge Parthenon. One of Tennessee's most remarkable attractions, it can be found in Centennial Park, just a short walk from the city's downtown core. This impressive life-size replica of the original Parthenon in Athens, Greece was built to commemorate the state's centenary in 1897.
There's so much to do and see in Tennessee that we could not fit it all on one page. But we hope this sparked your interest in living in Tennessee as a locum.
The Country Music Hall of Fame® and Museum
Located in Nashville, The Country Music Hall of Fame® and Museum seeks to collect, preserve, and interpret the evolving history and traditions of country music. Through exhibits, publications, and educational programs, the museum teaches its diverse audiences about the enduring beauty and cultural importance of country music.
Ready to see what locum tenens job openings are available in Tennessee? Visit our current job opportunities page, give us a call, or fill out our application form and a recruiter will contact you by phone.
Remember to sign up for SMS texts to be alerted when new roles in Tennessee are posted.
Looking for more information about becoming a locum tenens provider? Check out the Barton Blog to learn everything there is to know about the locum tenens life or visit our locum tenens FAQs page.