Texas | Locum Tenens Travel Lifestyle
It's said that the Caddo tribe greeted Spanish settlers by saying Tay-yas, which means "friends"—and sounds like "Texas." Did you know that? Neither did we. That's why we've created these travel guides for you to utilize before going on your next locum tenens assignment.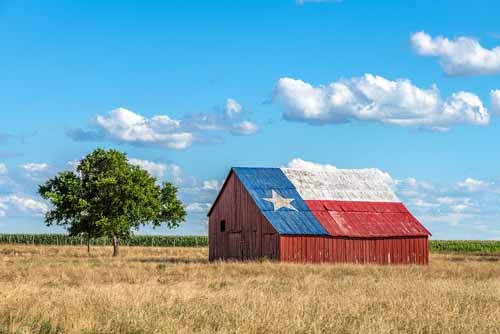 Ready for your next locum tenens assignment?
Contact Barton Associates Today
What You Need to Know About Texas as a Locum Tenens Healthcare Professional
 We know you won't always know much about the state you are traveling to. To help you make an informed decision, we've compiled information from TripAdvisor, state government pages, and tourist information sources to give you a glimpse into life in Texas.
Remember, this is not an exhaustive list. Just a few nuggets of high-level information to get you started in your own research.
Locum Tenens Jobs in Texas
REVIEW OUR JOB LISTINGS
WHAT YOU NEED TO KNOW ABOUT VISITING TEXAS AS A LOCUM TENENS PHYSICIAN, NURSE PRACTITIONER, PHYSICIAN ASSISTANT, CRNA, AND DENTIST
Texas: A Brief History
Although Texas is widely known for its oil rigs, they are also famous for their cattle, wool and cotton production, and wind turbines.
Here are some other fun facts about Texas:
There are approximately 12 million cattle in Texas.

Texas' wind turbines stretch for more than 100,000 acres and at one point provided 45 percent of the state's electricity.

Juneteenth, the federal holiday that celebrates freedom for enslaved people, started in Texas.

Tex-mex is a local cuisine created by combining Mexican food and American cooking.
See for yourself everything that Texas has to offer! View our job board or fill out our form to have a representative give you a call.
What is there to do and see in Texas?
San Antonio's River Walk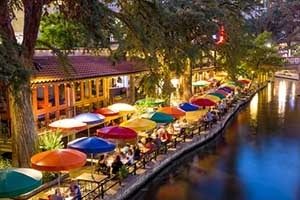 Stretching for several miles along the San Antonio River in the heart of the city, the River Walk is lined with restaurants and lovely outdoor patios, where you can sit and dine alongside the river. Built below street level, this pedestrian walkway hugs the river as it winds and weaves through the city, and is as popular among locals as it is for tourists, day and night.
Although strolling along the river is the most popular thing to do here, another great way to enjoy the ambience of the area is on a leisurely cruise on a river boat. These run all the time and range from standard sightseeing trips to dinner cruises.
The Alamo
The Alamo is one of the most important historic sites in America. Part of a mission station established in 1718, it was built by Franciscans in 1744 and by 1836, had been converted into a fort. It became famous during the Texas Revolution, when a small force, including Davie Crockett and James Bowie, barricaded themselves against an overwhelmingly superior Mexican army some 3,000 strong. While the defeat saw all 187 defenders killed, the cry of "Remember the Alamo!" rallied the state to eventually overcome the Mexicans.
Space Center Houston
Just 30 minutes' drive from the heart of Houston, Space Center Houston is one of the most popular tourist attractions in Texas. This is a wonderful place to learn about space exploration, upcoming missions, NASA's latest projects, and possibly even meet an astronaut. Space Center Houston is also home to Johnson Space Center and Mission Control, which can be visited on a tour.
Big Bend National Park
In the Chihuahuan Desert of West Texas, on a huge bend in the Rio Grande River, lies some of the most dramatic and uniquely beautiful scenery in the state. Mountains, canyons, and the river flowing along the border, separating the United States from Mexico, offer a diverse range of recreational and sightseeing opportunities for visitors to Big Bend National Park.
While most people simply enjoy touring along the roads, the park offers a full range of things to do. Outdoor enthusiasts will enjoy the extensive network of hiking trails and the beautiful campgrounds. Paddling along the Rio Grande or enjoying a picnic and wading into the water are other popular activities on warm days.
The USS Lexington, Corpus Christi
Moored off the shore just a few minutes' stroll from the center of Corpus Christi, the mighty USS Lexington is one of the largest surviving vessels to have served in WWII. This important aircraft carrier was launched in 1943 and now serves as a naval museum.
Natural Bridge Caverns
Just a short drive from San Antonio, the spectacular Natural Bridge Caverns are part of a vast underground network consisting of more than 10,000 different stalactite formations. The largest such cave network in the US accessible to the public, Natural Bridge Caverns includes highlights such as the 40-foot-high King's Throne, a massive wall of stalactites found in one of the largest caverns, the Castle of the White Giants.
There's so much to do and see in Texas that we could not fit it all on one page. But we hope this sparked your interest in living in Texas as a locum.
Ready to see what locum tenens job openings are available in Texas? Visit our current job opportunities page, give us a call, or fill out our application form and a recruiter will contact you by phone.
Remember to sign up for SMS texts to be alerted when new roles in Texas are posted.
Looking for more information about becoming a locum tenens provider? Check out the Barton Blog to learn everything there is to know about the locum tenens life or visit our locum tenens FAQs page.