Virginia | Locum Tenens Travel Lifestyle
According to National Geographic, In 1776 another famous Virginian, Thomas Jefferson, wrote the Declaration of Independence. And in 1788, following the Revolutionary War, Virginia became the tenth U.S. state. But in 1861 Virginia seceded, or withdrew from the Union, what was then the United States. This came at the beginning of the Civil War, a conflict between southern states that wanted to pull out of the Union including Virginia and the states in the North. Virginia rejoined the Union in 1870, about five years after the Civil War ended. Did you know that? Neither did we. That's why we've created these travel guides for you to utilize before going on your next locum tenens assignment.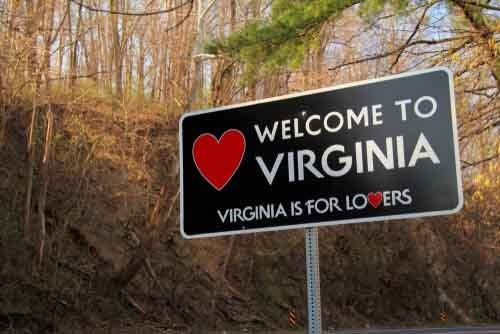 Ready for your next locum tenens assignment?
Contact Barton Associates Today
What You Need to Know About Virginia as a Locum Tenens Healthcare Professional
We know you won't always know much about the state you are traveling to. To help you make an informed decision, we've compiled information from TripAdvisor, state government pages, and tourist information sources to give you a glimpse into life in Virginia.
Remember, this is not an exhaustive list. Just a few nuggets of high-level information to get you started in your own research.
Locum Tenens Jobs in Virginia
REVIEW OUR JOB LISTINGS
WHAT YOU NEED TO KNOW ABOUT VISITING VIRGINIA AS A LOCUM TENENS PHYSICIAN, NURSE PRACTITIONER, PHYSICIAN ASSISTANT, CRNA, AND DENTIST
Virginia: A Brief History
The area that's now Virginia was home to the first English colony in North America, and Virginia was thought of as one of England's dominions, or territory. That's why it's nicknamed the Old Dominion State.
Here are some other fun facts about Virginia:
Virginia was named after Queen Elizabeth I, who was called the Virgin Queen.

Eight U.S. presidents were born in Virginia: George Washington, Thomas Jefferson, James Madison, James Monroe, William Henry Harrison, John Tyler, Zachary Taylor, and Woodrow Wilson.

Hickory, oak, maple, pine, and magnolia trees all grow in Virginia.
See for yourself everything that Virginia has to offer! View our job board or fill out our form to have a representative give you a call.
What is there to do and see in Virginia?
Colonial Williamsburg
Few places can recreate a setting for the period of the American Revolution as well as Williamsburg, where the original 18th-century buildings are either still standing or have been faithfully reproduced on their original foundations. Here, you can stand where Patrick Henry gave his stirring speech, walk the same streets as Thomas Jefferson, and savor a meal where George Washington enjoyed seafood dinners. Williamsburg was the capital of Virginia from 1705 and throughout the Revolution, and the final battle of the war was fought nearby, so it was a hotbed of the independence movement, along with being one of the most prosperous and politically active colonial capitals.
Virginia Beach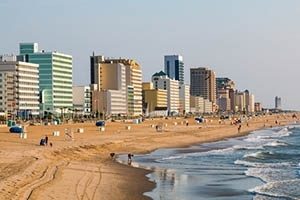 Named for the wide expanse of golden sand that stretches from just east of Norfolk, Virginia Beach is a very popular and often crowded resort town with the expected hotels, amusements, and a long boardwalk. If the Atlantic Ocean is not warm enough for the children, take them to the 19-acre Ocean Breeze Water Park, with Caribbean-themed waterslides, a wave pool, and water playground. The Virginia Aquarium and Marine Science Museum explores the climate, sea floor, and fauna of the coast, with an 800,000-gallon aquarium, hands-on exhibits, and a touch tank. Outdoors is an aviary, nature trail, marshlands to explore, and an adventure park.
Arlington National Cemetery
Spread across 600 acres overlooking Washington, D.C., Arlington National Cemetery is where some of the most famous people in the United States are buried. The most visited are the grave of President John F. Kennedy and the Tomb of the Unknown Soldier. Kennedy's grave is marked by a slate headstone covered with Cape Cod fieldstone and contains inscriptions of his 1960 inaugural address carved in marble, as well as an eternal flame. The Tomb of the Unknown Soldier is carved of white marble and watched over by an honor guard 24 hours a day, seven days a week, 365 days a year. It contains the remains of soldiers from both World Wars, the Korean Conflict, and the Vietnam War.
Mount Vernon
George Washington's home from 1754 until his death 45 years later, Mount Vernon was a work in progress under Washington's close supervision, even while he was leading the Continental Army during the Revolution. The architectural design, construction, and even interior décor in each renovation and addition received his personal attention, resulting in the gracious 21-room plantation house you see today. You may be surprised at the vivid paint and wallpaper colors throughout the house, but these shades were popular in the late 18th century — the bright green walls in the "New Room" were Washington's favorite. Unlike many historic homes, Mount Vernon is filled with personal reminders of George and Martha Washington: family portraits, crests, and the couple's belongings.
Luray Caverns
Luray Caverns contain breathtaking examples of calcite formations within an extensive underground system that sometimes feels more like an alien landscape than a terrestrial natural landmark. Visitors can walk through the caves and admire these limestone crystals, which have, over the centuries, formed an impressive landscape. Among the highlights are Titania's Veil; the giant Double Column; interior lakes, which magnify the scene; and a one-of-a-kind musical instrument called the Great Stalacpipe Organ, which creates music using the stalactites themselves.
Virginia Aquarium & Marine Science Center
The Virginia Aquarium and Marine Science Center provides a wide range of exhibits and activities for the entire family and is one of the most popular family attractions in Virginia Beach. Aquarium residents include several varieties of turtle, including Loggerhead Sea Turtles and Green Sea Turtles, water-dwelling reptiles like Komodo dragons and tomistoma, predators including sandbar sharks, and entertaining mammals including harbor seals and otters. The center also has a variety of educational exhibits and activities for all ages, as well as a six-story theater, which has regular showings of 3-D nature films.
There's so much to do and see in Virginia that we could not fit it all on one page. But we hope this sparked your interest in living in Virginia as a locum.
Ready to see what locum tenens job openings are available in Virginia? Visit our current job opportunities page, give us a call, or fill out our application form and a recruiter will contact you by phone.
Remember to sign up for SMS texts to be alerted when new roles in Virginia are posted.
Looking for more information about becoming a locum tenens provider? Check out the Barton Blog to learn everything there is to know about the locum tenens life or visit our locum tenens FAQs page.