Virtual Staffing Gives You Access To Providers Nationwide
Barton Telehealth is an easy way to deliver multispecialty care to your patients. Our solution is both flexible and scalable to meet your specific needs.

How it Works
Getting Started is Easy
Simply tell us what provider type you need and when, and we'll coordinate coverage. Our provider will log in to the system to consult with your patients, who will be seen at your facility as if they were coming in for a regular, in-person visit.
You don't need any special hardware or third-party software. All that is required is a computer, webcam, microphone, and a high-speed internet connection.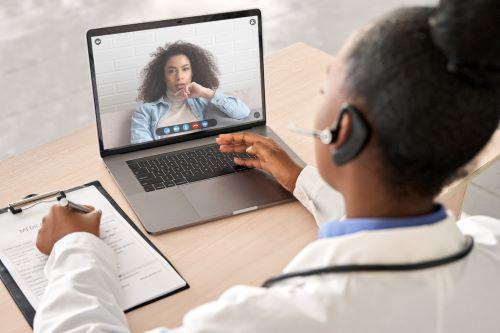 Barton Associates 2021 Client Telehealth Survey
SEE THE RESULTS
In Barton Associates' 2021 Client Telehealth Survey, we set out to gauge facility adoption and usage of telehealth in hopes of providing insight into telehealth usage and trends in 2022 and beyond. Our survey of 230 staffing managers and facility administrators across the country explores how facilities utilized telehealth in 2021, and what benefits or obstacles telemedicine posed for their departments and the patients within them.
How Barton Telehealth Can Help
Increased Capacity
Barton Telehealth gives your organization the ability to increase capacity quickly. Regardless of the situation, you can staff up to make sure patients are seen.
Budget-Friendly Performance
Save money while adding efficiency. Barton Telehealth helps your operation avoid travel-related expenses typically associated with on-site staffing services. We bring the providers to you — virtually!
Easy Onboarding Process
Getting started with Barton Telehealth is fast and easy, giving your team the flexibility needed to react quickly, operate at peak efficiency, and thrive.
Set Up and Go
Barton Telehealth does not require expensive, specialized equipment. All your team needs is a computer with a webcam, a microphone, and a high-speed internet connection.