LOUISIANA EMERGENCY INTAKE SHELTER ASSIGNMENT INFORMATION
LAST UPDATED: [ ] 1:00PM EDT – PLEASE CHECK BACK FREQUENTLY FOR UP-TO-DATE INFORMATION.
Thank you for doing business with Barton & Associates, Inc. ("Barton"). We are thrilled that you were able to use our services to find a locum tenens placement that suits your business and professional needs. As you know, the Pomona EIS project that you have decided to perform services for is a federal project, and as a result, subject to certain security and other restrictions. To aid in your navigating this placement, we've put together a few insights and tips below.
Nothing in this document is intended or should be construed to alter your independent contractor relationship with Barton.
When You First Commence Your Placement:
We understand that you may enter the [[[LOCATION NAME]]] at [[[GATE/DOOR/ETC]]].
Given the time it takes to park and get through security, it is recommended that you arrive at [[[START TIME(S)]]] in order to ensure you meet your contractual start.
As a reference, if you input the following to your GPS for directions, you should be able to easily navigate to the appropriate location at which you agreed to render services:
[[[NAME OF THE FACILITY]]]:
[[[PHYSICAL ADDRESS LINKED TO A GOOGLE MAP]]]
Or click on the link below:
[[[LINK TO THE GOOGLE MAP]]]
At the access point, please inform Security that it is your first day. In order to assist you and allow access to the site, Security will show you to the [[[ENTRANCE INFORMATION]]]
There is parking available at the gate where you can park each day you render services.
As you know, when you chose to accept this particular placement opportunity, you agreed to follow certain guidelines imposed by the Federal Government, the Prime Contractor, and/or other Subcontractors with respect to health and safety. In order to fulfill those obligations, please follow the steps below:
First, obtain a badge. We understand that going to "badging" first will make your entrance easier so we recommend doing so. Badging is located [[[INFORMATION REGARDING WHERE THE PROVIDER WILL PICK UP THEIR BADGE]]].
In addition, [[[KEEP IF TRUE: obtain a COVID-19 test while on-site before entrance.]]] This occurs at [[[WHERE THE COVID TESTING OCCURS IF IT DOES]]]. If the results of your test are negative, [[[INFORMATION ON NEXT STEPS]]]. [[[EDIT AS NEEDED: As you agreed, you will be tested every 3 days throughout your placement.]]]
[[[EDIT AS NEEDED *** NOTE: WE RECOMMEND THAT YOU KEEP A COPY OF YOUR TESTING IN CASE YOU NEED IT LATER ***]]]
Once you have completed the above steps, it is our understanding that you may be admitted through [[[WHERE THE ENTRANCE IS]]]. There, in order to ensure the safety and security of the patient population, the Federal Government, the Prime Contractor, and/or the Subcontractors will ask you to scan your badge and show your face for confirmation of identity.
Inside the site, we understand that there is [[[INFORMATION REGARDING HOW TO FIND THE LOCATION WHERE THE PROVIDER WILL BE WORKING: EXAMPLE: a white tent area straight ahead. If you proceed over the wooden bridge, you will come to the back entrance of the tent. This is where you can check in and alert the others that you have arrived to render services pursuant to your contract.]]]
If you have any issues, please do not direct them to Barton as we do not control any aspect of your services on the site.
The [[[INFORMATION OF WHO IS IN CHARGE: Charge Nurse on-site (available at 213-507-3627]]], however, can assist with site-specific questions).
Phone Numbers:
Clinical contact while on site:
[NAME]
(xxx) xxx-xxxx
For travel related issues, please call the Travel Department Monday-Friday, 8am EDT to 8pm EDT at (978) 513-7501.
For after hours travel needs, please call World Travel at (888) 305-9160.
For timesheet issues, please email timesheets@wellhart.com or call (888) 509-2260 Monday through Friday 8am EDT to 5pm EDT.
For general inquiries, please email PEIS@wellhart.com or call (888) 509-2260
As always, please feel free to contact your Staffing Specialist directly
Time Card Information for Shifts Covering 2 Calendar Dates:
If you are working a shift that spans more than 1 calendar day (i.e. Monday 7pm – Tuesday 7am), please track all hours within the date that your shift starts.
Example:
Your shift starts at 7pm on 4/29 but ends on 4/30 at 7am, you would put all 12 hours in the boxes for 4/29.  In the example below, on 4/29, the start time is 7:00 PM (toggle) and the end time is 7:00 AM (toggle)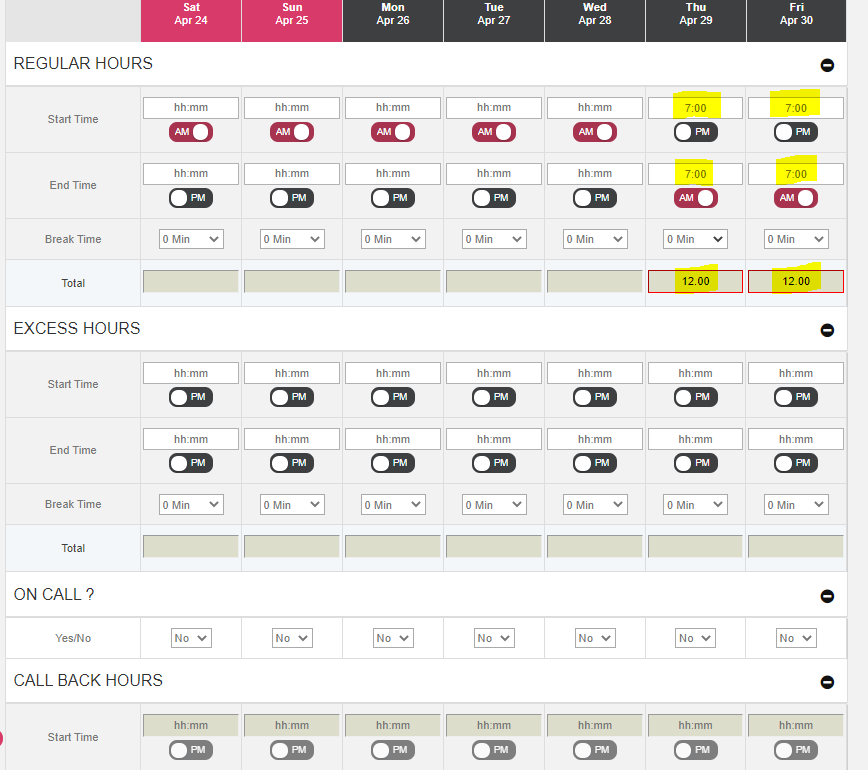 Please fill our all forms via DocuSign before your assignment starts. If you have trouble, please reach out to PEIS@wellhart.com.
1. Time Sheet Information form
Log in to the Time Sheet Portal
2. W-9 Form: Please fill out using the DocuSign – W-9 Form 
3. Direct Deposit: Please fill out using the DocuSign – Electronic Payment Authorization Form
4. 2020 – Form 590 Withholding Exemption: Please fill out using the DocuSign – 2020 – Form 590 Withholding Exemption Form
(California Residents Only)
If you prefer not to use DocuSign, please download the forms, and return via the method outlined on the form.
1. Download the W-9 Form (not recommended)
2. Download your Direct Deposit Form (not recommended)
3. Download the 2020 – Form 590 Withholding Exemption form (not recommended)
4. Download your Weekly Time Sheet
Required Documents:
1. Documentation/Certification of N95 fit test