As a leading locum tenens recruiting and staffing company, Barton Associates is committed to providing valuable resources to providers, hospitals, practices, and companies across the country. In an effort to make the licensing process a little easier for physicians, we created the State Physician Licensing Guide, an interactive tool that offers a snapshot of each state's guidelines.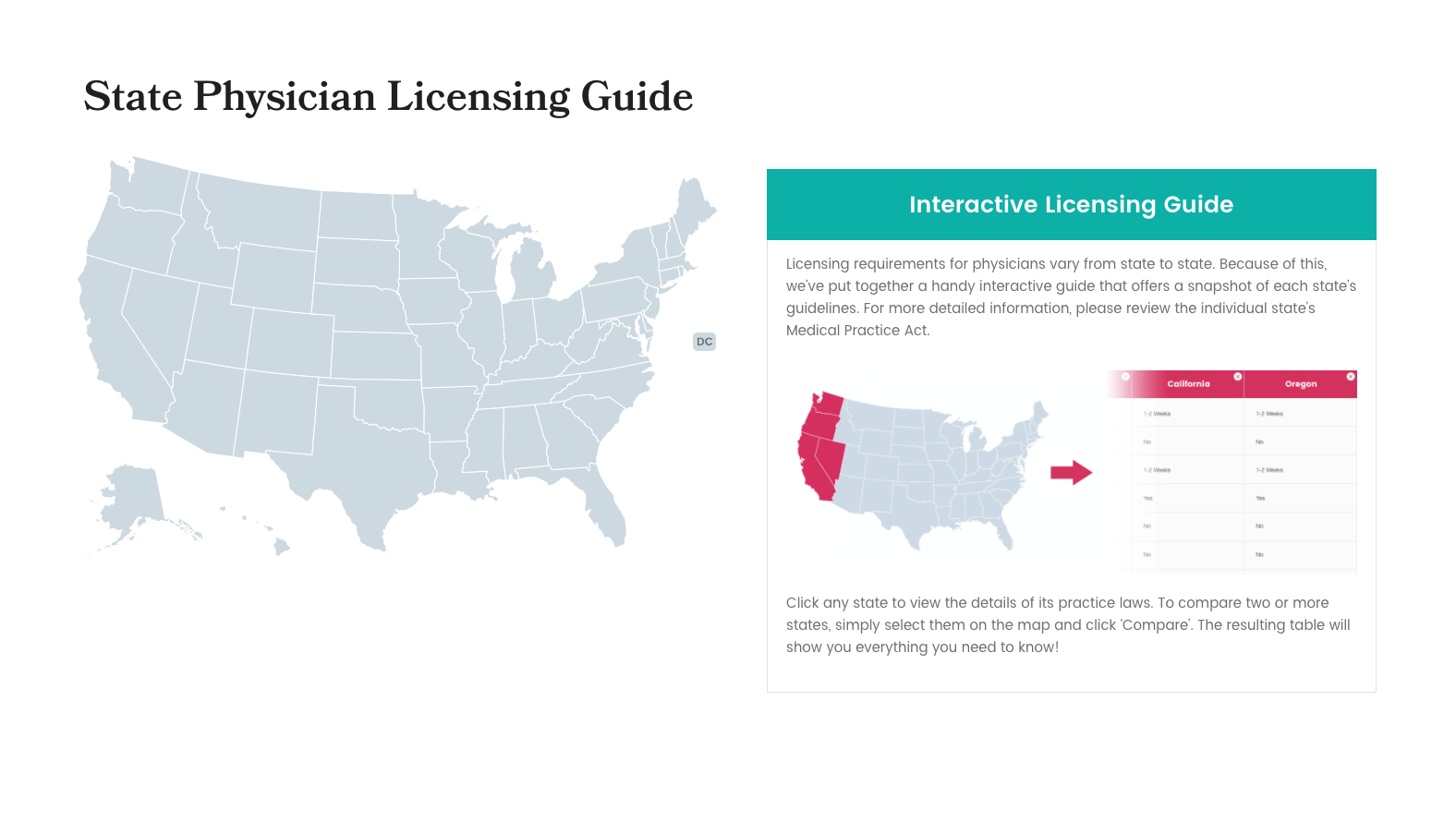 Physicians who work locum tenens jobs must obtain a new license when they work in states where they are not licensed. Each state medical board has different requirements and processes, which can be a source of confusion for many locum tenens providers. Our licensing and credentialing team, who assisted in creating the tool, has extensive experience obtaining licenses for Barton providers nationwide.
The State Physician Licensing Guide allows locum tenens physicians to quickly view and compare details on each state's requirements and processes for medical doctor (MD) licenses and, where applicable, doctor of osteopathic medicine (DO) licenses.
To use the guide, click any state to view details about its practice laws. You can also compare two or more states by selecting them on the map and clicking "Compare." The resulting table will display everything you need to know, including the estimated application process timeline, whether the state offers a temporary state license for locum assignments, the locum license time frame, whether a state board meeting is required to get an application approved or finalized, whether fingerprints are required for application, whether an FCVS is required for application, how much postgraduate training is required for application, and whether a controlled substance registration is required for application.
Barton Associates created the State Physician Licensing Guide to provide physicians with a brief overview of state guidelines. Please review the individual state's Medical Practice Act for more detailed information.
Interested in learning more? This guide is available on our Resources page, along with other helpful tools for locum tenens providers.