Alabama | Locum Tenens Travel Lifestyle
Think about it. You're driving down the highway on your way home from work, thinking about what your next locum tenens assignment will be like. Suddenly, your phone rings and it's your Barton Associates recruiter calling to tell you about this great new opportunity. The only problem is that it is in Alabama, which you know very little about. Your answer is here!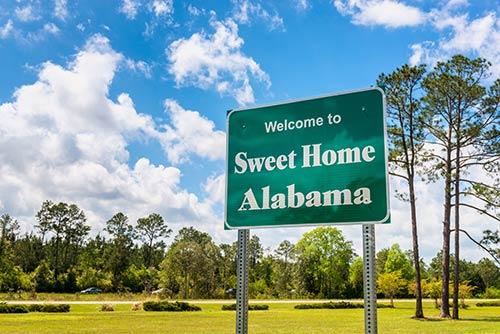 Ready to Hire or Work as a Locum Tenens?
Contact Barton Associates Today
What You Need to Know About Alabama as a Locum Tenens Healthcare Professional
Nobody on the Barton team expects you to know everything about the states you're traveling to. To help you make an informed decision, we've compiled information from TripAdvisor, state government pages, and tourist information sources to give you a glimpse into life in Alabama.
Remember, this is not an exhaustive list. Just a few nuggets of high-level information to get you started in your own research.
Locum Tenens Jobs in Alabama
REVIEW OUR JOB LISTINGS
WHAT YOU NEED TO KNOW ABOUT VISITING ALABAMA AS A LOCUM TENENS PHYSICIAN, NURSE PRACTITIONER, PHYSICIAN ASSISTANT, CRNA, AND DENTIST
Alabama: A Brief History
Alabama joined the union in 1819 to become the 22nd state. Today, Alabama has the nickname "Heart of Dixie" because it is located in the very middle of the deep south. Did you know the region we know today as Alabama used to be occupied by the aboriginals as early as 10,000 years ago?
Here are some other in facts about Alabama's history:
Alabama was at the center of the Civil Rights Movement.

Alabama workers built the first rocket that put humans on the moon.

The world's first Electric Trolley System was introduced in Montgomery in 1886.

Alabama is the only state with all major natural resources needed to make iron and steel.

It is the largest supplier of cast-iron and steel pipe products.
See for yourself everything that Alabama has to offer! View our job board or fill out our form to have a representative give you a call.
What is there to do and see in Alabama?
You won't be working the entire time you are visiting Alabama, so it's probably a good idea to familiarize yourself with all the fun things to do in the area. Here are some tourist attractions to check out during your spare time between shifts:
BIRMINGHAM CIVIL RIGHTS INSTITUTE AND THE CIVIL RIGHTS HISTORIC DISTRICT
The Birmingham Civil Rights Institute provides an in-depth look at the events of the Civil Rights Movement of the 1960s in both Birmingham and the United States, as well as continuing issues that African Americans have faced since. The galleries feature permanent and temporary exhibits on a variety of topics from violent conflict to segregation.
USS ALABAMA BATTLESHIP MEMORIAL PARK
The star attraction of the Memorial Park in Mobile is the 1942 USS Alabama Battleship docked along the waterfront. This BB-60 battleship is nicknamed "the Mighty A," and was decommissioned after the end of WWII. Visitors can tour many parts of the ship, including the captain's cabin, bridge, mess hall, and turrets. The park is also home to the USS Drum, a submarine used during the second World War, which can be toured as well. Also on-site are a variety of aircraft, including a B-52 bomber and an A-12 Black Bird spy plane, as well as military equipment from various conflicts, including tanks and weapons. The park is a memorial to all those who served in WWII, as well as more recent operations.
U.S. SPACE AND ROCKET CENTER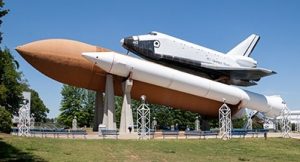 The Space Shuttle on display at the U.S. Space and Rocket Center
The U.S. Space and Rocket Center in Huntsville is an exciting attraction for all ages, providing exhibits, interactive experiences, presentations, and one of the world's largest collections of spacecraft on display. A Smithsonian affiliate, the center's exhibits provide visitors with information on everything from the history of the space race and NASA's growth since then to the International Space Station and beyond. Tourists can experience multimedia presentations at the National Geographic Theater or the Spacedome IMAX, and explore a model of the International Space Station. Visitors also have the chance to see Rocket Park, where 27 rockets and missiles are on display, as well as the gigantic launch vehicles that propel the rockets into space.
Beyond the borders of Alabama, where can I drive in 3 hours?
If you see all there is to see in Alabama while you are on assignment with Barton, take an extended day-trip to a nearby state such as Georgia, Florida, Mississippi, and Tennessee. Alabama is a great location to explore the United States because it borders 4 other states!
Assuming a starting point of Montgomery, traveling to these major cities are a great option:
Atlanta, Georgia: 2 and 30 minutes driving
Pensacola, Florida: 2 hours and 40 minutes driving
There's so much to do and see in Alabama that we could not fit it all one page. But we hope this sparked your interest in living in Alabama as a locum.
Click here for more information on all the benefits you get from working with Barton Associates!
Ready to see what locum tenens job openings are available in Alabama? Visit our current job opportunities page, give us a call, or fill out our application form and a recruiter will contact you by phone.