Michigan | Locum Tenens Travel Lifestyle
Experts believe the name of the 26th state was named after Lake Michigan, which got its name from a native American word that roughly translates to "big lake." Did you know that? Neither did we. That's why we've created these travel guides for you to utilize before going on your next locum tenens assignment.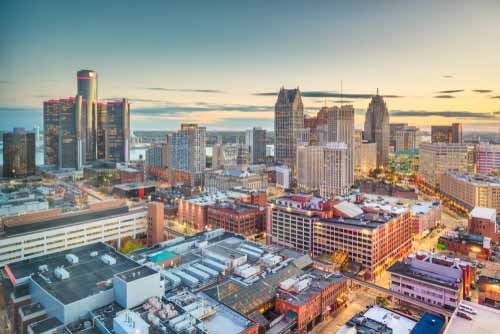 Ready for your next locum tenens assignment?
Contact Barton Associates Today
What You Need to Know About Michigan as a Locum Tenens Healthcare Professional
We know you won't always know much about the state you are traveling to. To help you make an informed decision, we've compiled information from TripAdvisor, state government pages, and tourist information sources to give you a glimpse into life in Michigan.
Remember, this is not an exhaustive list. Just a few nuggets of high-level information to get you started in your own research.
Locum Tenens Jobs in Michigan
REVIEW OUR JOB LISTINGS
WHAT YOU NEED TO KNOW ABOUT VISITING MICHIGAN AS A LOCUM TENENS PHYSICIAN, NURSE PRACTITIONER, PHYSICIAN ASSISTANT, CRNA, AND DENTIST
Michigan: A Brief History
Experts don't agree on the state's nickname "the Wolverine State" because not many wolverines actually live there. A theory as to the origin of the nickname comes from stories about fur traders exchanging animal pelts, including that of wolverines, in Michigan. Another theory comes from a skirmish in 1835 over land in between Michigan and Ohio in which the Michigan natives referred to their neighboring state natives as "wolverines" as an insult.
Here are some other fun facts about Michigan:
Over 40 percent of the state is covered in water—that's more than any other state.

Michigan is home to 360 bird species, including the rare Kirtland's warbler.

Fishing is huge in Michigan thanks to its 3,288-mile coastline – the longest freshwater coastline in the United States.

Corn flakes were created in Battle Creek in 1898

Motown Records, founded in Detroit in 1959, produced music by the Temptations, Diana Ross, the Jackson 5, Stevie Wonder, and many others.
See for yourself everything that Michigan has to offer! View our job board or fill out our form to have a representative give you a call.
What is there to do and see in Michigan?
The Henry Ford
Known collectively as "The Henry Ford," this is a group of three attractions that explore not only the auto legend's life and work, but also the entire scope of American innovation. Visitors can take a step back in time at historic Greenfield Village, where you will see what life looked like in the 19th century.
Isle Royale National Park
Isle Royale lies in northwestern Lake Superior near the Canadian frontier. Shaped by Ice Age glaciers, this 432-square-mile island has many lakes and streams, dense forests, and a variety of wildlife that includes wolves, foxes, moose, otters, ospreys, herring gulls, falcons, and more. This relatively unspoiled tract of country attracts those looking for a remote wilderness experience.
Detroit Zoo
The Detroit Zoo has an impressive variety of animals in multiple habitats representing all parts of the world. African animals live either in the forest or grassland habitats and include everything from aardvark to zebra, with many family favorites like giraffes, lions, lemurs, and several primates.
An arctic habitat is home to the zoo's famous polar bears, and the Australian Outback has sixteen resident kangaroos and two wallabies. The exotic Asian Forest features red pandas and Amur tigers, while the North American habitats feature some of the continent's most interesting animals, including bears, wolverines, and bald eagles.
Windmill Island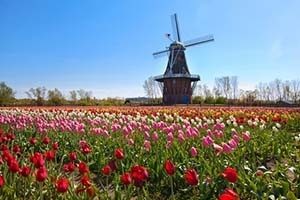 Windmill Island is a 36-acre heritage park filled with manicured flower gardens and Dutch architecture. In May, the park comes to life with 175,000 tulips, and in June the extensive gardens change to annual flowers.
Highlights include an authentic Dutch windmill, DeZwaan, dating to the 1760s and brought from the Netherlands in 1964. Standing 125 feet, the windmill is a symbol of the Dutch heritage of this area and is the only original Dutch windmill exported to America. It is still a working windmill producing stone ground flour for sale.
Where can I drive in 3 hours?
Michigan borders two United States (Indiana and Ohio), but also shares a border with Canada! Assuming a starting point of Detroit, traveling to these major cities are a great option:
Cleveland, Ohio: 3 hours and 25 minutes
Toronto, Ontario, Canada: 3 hours and 15 minutes
Grand Rapids, Michigan: 2 hours and 28 minutes
There's so much to do and see in Michigan that we could not fit it all on one page. But we hope this sparked your interest in living in Michigan as a locum.
Ready to see what locum tenens job openings are available in Michigan? Visit our current job opportunities page, give us a call, or fill out our application form and a recruiter will contact you by phone.
Remember to sign up for SMS texts to be alerted when new roles in Michigan are posted.
Looking for more information about becoming a locum tenens provider? Check out the Barton Blog to learn everything there is to know about the locum tenens life or visit our locum tenens FAQs page.