Ohio | Locum Tenens Travel Lifestyle
Whether you are headed to Ohio for a few days, a month, or a year, there's a lot to appreciate about this Midwestern State! As the seventh most populated state in the U.S., Ohio is bordered by Lake Erie to the North, as well as five other states. These include Pennsylvania to the east, West Virginia to the southeast, Kentucky to the southwest, Indiana to the west, and Michigan to the northwest.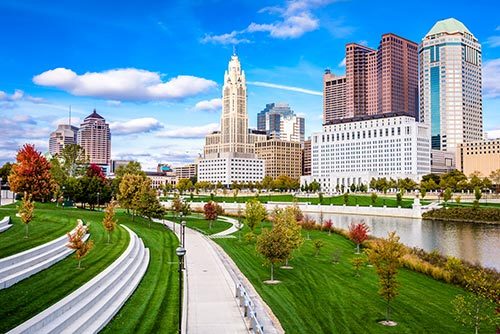 Ready to Hire or Work as a Locum Tenens?
Contact Barton Associates Today
What You Need to Know About Ohio as a Locum Tenens Healthcare Professional
Our recruiters and staffing specialists do not expect you, the provider, to know ins-and-outs of every state in the country. To help you make an informed decision, we've compiled information from TripAdvisor, state government pages, and tourist information sources to give you a glimpse into life in Ohio.
Locum Tenens Jobs in Ohio
REVIEW OUR JOB LISTINGS
WHAT YOU NEED TO KNOW ABOUT VISITING OHIO AS A LOCUM TENENS PHYSICIAN, NURSE PRACTITIONER, PHYSICIAN ASSISTANT, CRNA, AND DENTIST
Ohio: An East and West Coast Corridor Hub
Ever dreamed of traveling from the East Coast to the West Coast? Because of its location, many major east–west transportation corridors go through Ohio – both historic and current. Notably, Ohio is home to 228 miles of the Historic National Road, now U.S. Route 40. Today, Ohio has a highly developed network of roads and interstate highways.
Whether your assignment in Ohio is part of a larger road-trip, or you'll be there for a while, make sure you take some time to take in all that Ohio has to offer, and don't move on too quickly- Otherwise you might find yourself singing like Doris Day: "Why oh why oh why oh, Why did I ever leave Ohio?"
Exploring Ohio
OHIO SPORTS
No matter where your assignment is in Ohio, the state's major cities mean that you will never be more than two hours away from some fun and entertainment. From professional sports teams like the Bengals (Cincinnati), Cavaliers (Cleveland) and Indians (Cleveland again) to the Pro Football Hall of Fame in Canton, sports lovers will find plenty to do.
OHIO MUSEUMS & ARTS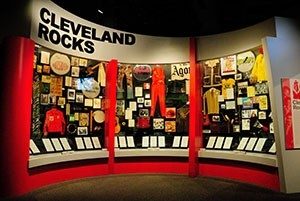 Cleveland has an eclectic selection of museums to visit including the Rock and Roll Hall of Fame
In addition to multiple sports teams, Cleveland is also home to the Rock and Roll Hall of Fame. On the shore of Lake Erie, this museum documents the history of rock music and the artists, producers, engineers, and other notable figures who have influenced its development.
While you are in the area, be sure to also check out the Cleveland Museum of Art – which is renowned for the quality and breadth of its collection, including more than 61,000 objects and spans 6,000 years of achievement in the arts. The museum is a significant international forum for exhibitions, scholarship, and performing arts. One of the top comprehensive art museums in the nation, the Cleveland Museum of Art is free of charge to all.
Last but not least, if you are a fan of the classic movie "A Christmas Story", the Famous Cleveland movie house is located in Cleveland, and open year round to the public for tours. Directly across the street from the house is the official A Christmas Story House Museum, which features original props, costumes and memorabilia from the film, as well as hundreds of rare behind-the-scenes photos.
Closer to Cincinnati or Columbus? Cincinnati, in particular, is home to sites like the Cincinnati Music Hall, American Sign Museum, and the National Underground Railroad Freedom Center. In Columbus, there is an interactive art experience called Otherworld in Ohio, which is like an adult-size funhouse. Similarly hands-on, the center of Science and Industry offers education and activity for all ages.
OHIO NATURE & OTHER POINTS OF INTEREST
If you're looking to spend some time in Nature in Ohio, or simply immerse yourself in some local culture, there are plenty of options for you to choose from!
Ohio has a wide variety of State Parks with short and long hikes, waterfalls, and caves to explore. There are a variety of botanical gardens and activities to do along lake Erie as well. In the summer the lake warms up quickly – and is perfect for a swim or renting a kayak!
If you are interested in a relaxing and educational experience, head to amish country. Regions located through Holmes, Tuscarawas and Wayne Counties offer visitors a glimpse of the unique culture and traditional values of the Amish.
And lastly, if wineries are more your style? In Canton, Ohio is the Gervasi Vineyard, which offers tours and tasting every Saturday afternoon. Not on call for the weekend? Invite a coworker or two to explore this local gem, and you'll be glad that you did.
Beyond the borders of Ohio, where can I drive in 3 hours?
Assuming a starting point of Columbus, OH, traveling to these major cities are a great option:
Pittsburgh, PA: 3 hours driving
Indianapolis, IN: 3 hours driving
Louisville, KY: 3 hours driving
Chicago, IL: Best for a long weekend, Chicago is 5.5 hours away
There's so much to do and see in Ohio that we could not fit it all one page. But we hope this sparked your interest in living and working in Ohio as a locum.
Ready to see what locum tenens job openings are available in Ohio? Visit our current job opportunities page, give us a call, or fill out our application form and a recruiter will contact you by phone.
Remember to sign up for SMS texts to be alerted when new roles in Ohio are posted.
Looking for more information about becoming a locum tenens provider? Check out the Barton Blog to learn everything there is to know about the locum tenens life or visit our locum tenens FAQs page.
LOCUM TENENS DOCTOR LIVING THE CLEVELAND LIFESTYLE!
Video Reel: Locum Tenens in Cleveland
Summary
---
See what the Cleveland Locum Tenens life is like through the eyes of a Doctor!