Missouri | Locum Tenens Travel Lifestyle
As a locum tenens provider, you have the opportunity to travel across the country while doing valuable work. When you have the chance to go anywhere, Missouri may not be the first place you think of- but think again! The "show me" state has a lot to offer, including art, history, wildlife, and some unexpected surprises. Whichever activity interests you, Barton is here to help!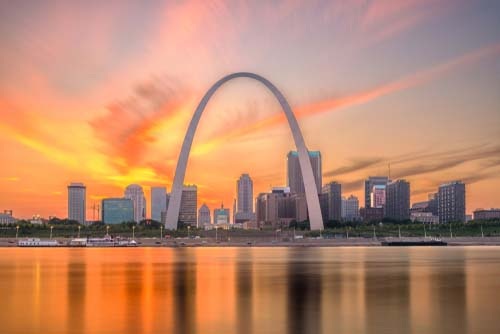 Ready for your next locum tenens assignment?
Contact Barton Associates Today
What You Need to Know About Missouri as a Locum Tenens Healthcare Professional
Our recruiters and specialists are here to support you before, during, and after your assignment. We've compiled information from TripAdvisor, state government pages, and personal recommendations from our staff to give you the best experience.
Locum Tenens Jobs in Missouri
REVIEW OUR JOB LISTINGS
WHAT YOU NEED TO KNOW ABOUT VISITING MISSOURI AS A LOCUM TENENS PHYSICIAN, NURSE PRACTITIONER, PHYSICIAN ASSISTANT, CRNA, AND DENTIST
The state of Missouri got its name from the Missouri River, which got its name from the Missouri Indians, which got their name from speakers of the Miami-Illinois language. Long story short, there were several different indigenous languages spoken by tribes in the Missouri region. Add in the French colonizers, and the linguistic origin of "Missouri" is a bit complicated. But despite that cloudy linguistic history, Missouri is clearly a state to remember, with an abundance of art, culture, and natural land to marvel at. Here's some suggestions to start your Missouri adventure!
Arts and Culture
The Gateway Arch
We can't talk about Missouri without talking about the Gateway Arch. More commonly known as the St. Louis Arch, this landmark has become the quintessential symbol of Missouri. The Arch is made of stainless steel and stands 630 feet tall, higher than the Seattle Space Needle. Most people have seen The Arch, but did you know you can go inside it? For around $15 each, guests can ride small elevator cars to the top of the arch, where an indoor viewing area provides windows to gaze out at the view. If you're claustrophobic- or afraid of heights- this may not be for you, but you can still admire the structure from the safety of the ground.
Saint Louis Art Museum
If you're looking for art, look no further! The Saint Louis Art Museum is one of the premiere fine art museums in the United States. Founded in 1879, the museum hosts a collection of over 34,000 pieces. The expansive selection is categorized by country, culture, and medium and contains pieces from greats like Van Gogh, Picasso, and Monet. Stop in to experience fine art from all over the world!
The Glass Labyrinth
Located at the Nelson-Atkins Museum of Art, the Glass Labyrinth is an interactive outdoor sculpture. Visitors are encouraged to try their hand at solving the maze and enjoy the many other sculptures in the museum garden. Reviewers laud the museum as "fun for everyone" with something different around every corner. The best part is… it's free! There's truly no excuse for missing this oasis in Kansas City.
Natural Wonders
Missouri Botanical Garden
Founded in 1859, the Missouri Botanical Garden is now a National Historic Landmark and considered one of the top three botanical gardens in the world. 79 acres host over 51,000 live plants, outdoor sculptures, and a massive domed conservatory made with 2,425 panes of glass. This architectural marvel, The Climatron, is one of a kind and worth the visit alone.
Rock Bridge Memorial State Park
Aptly named for its bridge made of rock, this state park in Columbus is a favorite recreation spot. The hiking trails here are some of the most popular in the entire state! Visitors can explore the area on foot, bike, or horseback. Unique rock formations, including caves, springs, and underground streams make this area a must-see.
Fantastic Caverns
As you might expect, these caverns are fantastic! Located in Springfield, Fantastic Caverns is the only underground cave in North America with an exclusively ride-through tour. Trams are driven through the cave on a trail that was previously an underground river. Because the tour is seated, guests of all ages and abilities are able to enjoy the experience. Whether it's cold in winter or hot in summer, the cave stays at a perfect 60 degrees.
Can't Get It Anywhere Else
Titanic Museum Attraction
Okay, so technically there are other Titanic museums, but we promise, this one's really cool! Beached in Branson, this museum is a near replica of the original ship. Both the exterior and interior have been recreated to match the famously tragic ocean liner. Visitors are given a truly interactive experience, with opportunities to work in the boiler room, feel 28 degree water, send distress signals, sit in a lifeboat, and explore the museum with hundreds of recovered artifacts.
Leila's Hair Museum
Don't let the name of this place scare you off. Leila's Hair Museum in Independence hosts a collection of over 400 wreaths and 2,000 pieces of jewelry… all made of human hair. See, our quirky ancestors in the Victorian era were really into collecting hair after a loved one passed away, and sometimes they crafted that hair into intricate pieces of art. The concept may be creepy, but the pieces are really quite beautiful.
World's Largest Pecan (Former)
The first world's largest pecan was located in Texas. The second is in Brunswick, Missouri! Texas took its revenge in 2011 and made an even bigger third pecan, but that second pecan is still in Missouri. It's still an impressive size, and with a weight of 12,000 pounds, it's not moving anytime soon. Stop by in October for Brunswick's annual pecan festival and sample all the delicious pecan goodies.
Okay… What else?
Dang, the big concrete pecan wasn't enough for you? Well, lucky for you, Missouri is almost the exact center of the continental United States. Neighboring states and cities are easily accessible, including Nashville, Chicago, Memphis, Topeka, and Indianapolis. Think of Missouri as your gateway to the Midwest!
Now, there's so much to do and see in Missouri that we couldn't fit it all, but we hope this sparked your interest in living in Missouri as a locum tenens provider.
Ready to see what locum tenens job openings are available? Visit our current job opportunities page, give us a call, or fill out our application form and a recruiter will contact you by phone.
Remember to sign up for SMS texts to be alerted when new roles in Missouri are posted.
Looking for more information about becoming a locum tenens provider? Check out the Barton Blog to learn everything there is to know about the locum tenens life or visit our locum tenens FAQs page.
LIVING THE KANSAS CITY LIFESTYLE!
Video Reel: Adventures in Kansas City
Summary
---
Experience what adventures there are to see and do in Kansas City!