North Carolina | Locum Tenens Travel Lifestyle
Originally inhabited by the Algonquian, Iroquoian, and Siouan speaking Native American tribes, North Carolina became one of England's 13 colonies. During the Civil War, when one third of the state's population was actively enslaved, it was the last state that broke from the Union and joined the Confederacy. North Carolina has an extensive and complex history of both regressive ideas and inventive growth. Perhaps the state's biggest claim to fame is that the Wright brothers' first successful flight took place there in 1903. The Civil Rights Movement in the 1960s also brought great change to the state, particularly with the infamous Greensboro Sit-ins. Today, Carolinians enjoy a strong economy fueled by tourism in the presence of cities like Raleigh and Charlottesville, as well as beautiful mountains and beaches.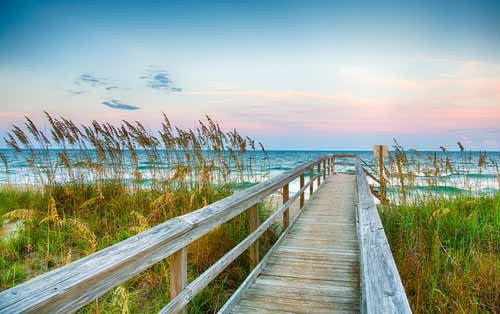 Ready for your next locum tenens assignment?
Contact Barton Associates Today
What You Need to Know About North Carolina as a Locum Tenens Healthcare Professional
If you're headed to North Carolina next on your locum tenens journey, you're in the right place. Here at Barton, we know you can't know everything about every state- after all, there's over 50 US states and territories you can work in as a locum! That's why our recruiters and staffing specialists are here to help. We've created these state pages using online research, visitor reviews, and personal recommendations so you can have the best experience possible. Whether you're a city slicker or mountaineer, there's something in North Carolina for everyone! Read on to see our top recommendations and must-sees.
Locum Tenens Jobs in North Carolina
REVIEW OUR JOB LISTINGS Right Arrow
What To Do In North Carolina
WHAT YOU NEED TO KNOW ABOUT VISITING NORTH CAROLINA AS A LOCUM TENENS PHYSICIAN, NURSE PRACTITIONER, PHYSICIAN ASSISTANT, CRNA, AND DENTIST
Biltmore
This historic country estate once owned by George Venderbilt is a prime example of the economic prosperity North Carolina has enjoyed! Located in Asheville, the estate includes the Biltmore House (which is America's largest home, fyi), gardens, village, farm, inn, winery, shops, restaurants, and more. This isn't just a historic home tour- it's practically a small town, with a wide range of entertainment options. Stop by and experience everything Biltmore has to offer!
Battleship North Carolina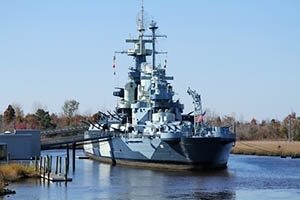 Step aboard the most decorated US Battleship of World War Two. The North Carolina, aptly named, has nine decks that housed US naval crew in the South Pacific. Visitors can explore the crew's quarters, gun turrets, galley, and more. The ship is docked on the Cape Fear River across from downtown Wilmington and open every day. There are many tight and narrow stairs to climb, so bring sturdy shoes.
International Civil Rights Center and Museum
Located in Greensboro, the ICRCM is an archival center, museum collection, and teaching facility focused on preserving the history of the Civil Rights Movement. The museum serves as a national landmark for the sit-in protests that took place in Greensboro in 1960. The F.W. Woolworth Lunch Counter has been historically preserved here so everyone who visits can be inspired to carry on the fight for international civil rights.
The North Carolina Arboretum
Just south of Asheville, The North Carolina Arboretum showcases some of the most beautiful plants from the Southeast United States. Bring your walking shoes and explore acres of gardens, forests, and rotating exhibits. The carefully pruned selection of Bonsai trees are a fan favorite. Much of the arboretum is handicapped accessible, but some areas are more difficult to traverse. Admission is free with the $16 per car parking fee.
Museum of the Cheroke Indian
Journey back in time with a visit to the Museum of the Cheroke Indian. Exhibits give visitors insight into the people that lived in North Carolina long before Columbus set sail. Ancient Cherokee folklore is told through computer animation, and the timeline of the Cheroke people extends all the way into the present day with living history demonstrations from official cultural ambassadors.
Foggy Mountain Gem Mine
It may seem a bit infantile at first, but Foggy Mountain Gem Mine is a local favorite, even amongst adults. Sift through dirt and rock using water flumes, the same way miners did in this area decades ago. Reviewers rave about the knowledgeable and friendly staff that assist guests in each step of the process. You'll take home as many rough cut gems as you like, and can even have them cut professionally onsite.
What Else Can I See?
If you see all there is to see in North Carolina while you're on assignment with Barton, take a day trip to Myrtle Beach, Virginia Beach, Tennessee, or Virginia! North Carolina is a great location to explore the United States because it borders three other states.
There's so much to do and see in North Carolina that we could not fit it all on one page. But we hope this sparked your interest in living in North Carolina as a locum.
Ready to see what locum tenens job openings are available in North Carolina? Visit our current job opportunities page, give us a call, or fill out our application form and a recruiter will contact you by phone.
Remember to sign up for SMS texts to be alerted when new roles in North Carolina are posted.
Looking for more information about becoming a locum tenens provider? Check out the Barton Blog to learn everything there is to know about the locum tenens life or visit our locum tenens FAQs page.
LOCUM TENENS HEALTHCARE PROFESSIONAL LIVING THE NORTH CAROLINA LIFESTYLE!
Video Reel: Locum Tenens in North Carolina
Summary
---
See what the North Carolina Locum Tenens life is like through the eyes of a healthcare provider!