Idaho | Locum Tenens Travel Lifestyle
When you can go anywhere in the country as a locum tenens provider, Idaho may not be the first place you think of. But you'll find that this state is actually a hidden gem (because its nickname is the gem state… get it?) With endless natural beauty, rich history, and abundant resources, there's something for everyone in Idaho.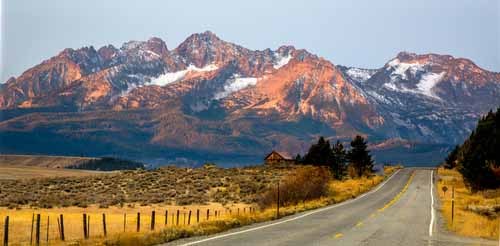 Ready for your next locum tenens assignment?
Contact Barton Associates Today
What You Need to Know About Idaho as a Locum Tenens Healthcare Professional
If you've ever thought about living in the Pacific Northwest, locum tenens is a great way to try it out! Our recruiters and staffing specialists at Barton are here to help you before, during, and after your assignment. These State-by-State articles are just one of many resources we make for our providers. In this article we've compiled information from TripAdvisor, state government pages, and personal recommendations from our staff to give you the best experience possible.
Locum Tenens Jobs in Idaho
REVIEW OUR JOB LISTINGS

Physician Assistant - Internal Medicine
Your next locum tenens opportunity awaits in Idaho! Our client, a clinic, is looking for a physician assistant specializing in internal medicine to begin coverage in early January 2024. Hours include 8a - 4p shifts for 3 days per week. The selected locum will be handling admissions, discharges, rounds, H&P's,... View This Job

Nurse Practitioner - Internal Medicine
Your next locum tenens opportunity awaits in Idaho! Our client, a clinic, is looking for a nurse practitioner specializing in internal medicine to begin coverage in early January 2024. Hours include 8a - 4p shifts for 3 days per week. The selected locum will be handling admissions, discharges, rounds, H&P's,... View This Job

Pediatric Dentist
Looking for your next locum tenens opportunity? Look no further! Our client in Idaho is looking for a pediatric dentist to begin coverage immediately. Hours include 8a - 4p or 9a - 5p shifts. The selected locum will be handling crowns, fillings, root canals, hygiene checks, and other dentistry procedures.... View This Job
WHAT YOU NEED TO KNOW ABOUT VISITING IDAHO AS A LOCUM TENENS PHYSICIAN, NURSE PRACTITIONER, PHYSICIAN ASSISTANT, CRNA, AND DENTIST
Due to its location in the west, Idaho was one of the later states to be admitted to the union. The origin of the name is cloudy- to say the least. According to records, the name "Idaho" was proposed by George M. Willing in 1860. Willing claimed the name came from the Shoshone people that originally lived in the area, but later changed his story and claimed it was inspired by a girl named Ida. The United States Congress ultimately went with a different name, but over time the territory came to be known as Idaho anyway. To this day there's no clear origin of the name, and Willing isn't around anymore to clarify. Maybe during your Idaho adventures, you'll be the one to figure it out? If that proves too hard though, here's some other fun things to do.
Fuzzy Friends
Yellowstone Bear World
At this drive-through wildlife park, you can come face to face with a bear! Albeit through the safety of your car window, which is probably for the best. Yellowstone Bear World is Idaho's top wildlife attraction, allowing guests to get up close and personal with rocky mountain elk, bison, deer, goats, moose, bears, and more! The critters roam free in their open habitats and visitors get to drive by along a paved road. The park also has a petting zoo, fish feeding dock, bear cub exhibit, and amusement rides. Head to Rexburg, Idaho for this unique experience.
Seven Stars Alpaca Ranch
If grizzly bears aren't your thing, these fluffy farm animals may be better. This family-owned and operated ranch is home to goats, donkeys, sheep, miniature horses, chickens, and of course, alpacas. The farm is open to visitors by appointment in the morning, when you can help herd the alpacas from the field to the pasture. In the afternoon you can take a self-guided tour and interact with the animals. Sonia and Andy are around to answer questions and help take photos! The reviews are in, and this is a must-see.
Treats and Eats
Idaho Potato Museum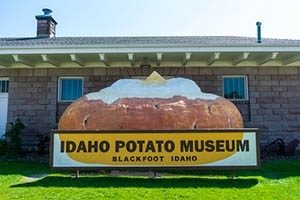 As one reviewer put it, "you'll be surprised how interesting a potato can be"! If you want to learn everything and more about potatoes, this is the place to be. This small museum displays the proud history of the Idaho potato we all know and love today. Not only that, but the baked potatoes in the café are delicious! One reviewer said if you're within 100 miles of the museum, you HAVE to go. Stop in to see the exhibits and grab a snack, and don't forget to take a picture with the giant potato out front.
3 Horse Ranch Vineyards
If Idaho is the hidden gem of the United States, then 3 Horse Ranch Vineyards is the hidden gem of Idaho. The winery is a bit out of the way, along some dirt roads, but don't be put off by the drive. This is a wonderful (and delicious) place to spend an afternoon. Visitors recommend booking a reservation and staying for a meal- the food gets just as much praise as the wine. Sit out back on the patio for a view of the hills, or stay inside and enjoy the homey atmosphere. You can't go wrong either way.
History and Heritage
Old Idaho Penitentiary
Sites like this harken back to the days when the west was, well, wild. In 1972, the Idaho Territorial Prison started taking in the worst the west had to offer, and closed its doors on the last prisoner 101 years later. Now it's open to the public! Visit year-round for tours through solitary confinement, cell blocks, and the gallows. The prison has a history of high-profile escapes and scandals. Guided tours are available, or you can explore at your own pace. Even if you've toured prisons before, this one is guaranteed to be unique.
Sacajawea Interpretive Center
Although the expedition has been named after its leaders, Lewis and Clark, Sacajawea was an essential part of it. This center aims to honor her legacy and impact on the history of the west. Located in the Salmon River Valley, the center tells the story of the region, Lewis and Clark, Sacajawea, and the Agaidika Shoshone-Bannock Tribes. Admission to the center is $5, but visitors can walk the grounds and trails for free. The 70 acre park contains teepees, informational exhibits, and statues.
Lava Hot Springs
After you've trekked all over Idaho exploring, sit back and relax in the pools at the Lava Hot Springs. Guests say the experience is best when it's a bit chilly out in the off season- this place is popular and can get busy! Five outdoor pools are fed from the ground-up with natural hot mineral water that can reach 112 degrees Fahrenheit. If you're sore and tired after hiking, this is the place to go. The best part is the grounds are ADA accessible, making it simple for wheelchair users and those with mobility issues to join in on the fun.
What Else Can I Try?
Once you've seen all of Idaho, there's plenty more to do! Depending on where you are in the state, you may only be an hour away from major attractions. Yellowstone National Park, located in northwest Wyoming, shares a border with Idaho. Likewise, Salt Lake City and Spokane are within driving distance! If you venture out a bit further, you can see Seattle, Portland, Las Vegas, or even Vancouver. Whatever you choose, you're guaranteed a good time.
There's so much to do and see in Idaho that we can't fit it all on one page. But we hope this sparked your interest in living in Idaho as a locum!
Ready to see what locum tenens job openings are available in Idaho? Visit our current job opportunities page, give us a call, or fill out our application form and a recruiter will contact you by phone.
Remember to sign up for SMS texts to be alerted when new roles in Idaho are posted.
Looking for more information about becoming a locum tenens provider? Check out the Barton Blog to learn everything there is to know about the locum tenens life or visit our locum tenens FAQs page.